With conflict in Gaza, ISIS on the front page and Westboro Baptist protesting funerals, when religion is discussed, fundamentalism often takes center stage. Lost beneath the headlines are the important roles devotion and ceremony play in the ways many of us define ourselves, often summoning a lineage stretching back centuries. The speaker in Rachel Mennies' first full-length poetry collection, The Glad Hand of God Points Backwards (Texas Tech University Press), takes her faith seriously, using keen rendering of family history, descriptively paired with rituals of Judaism, in a compelling 76-page read.
Mennies, a Philly native who teaches at Carnegie Mellon University, won Texas Tech's 2014 Walt McDonald Poetry Prize. The Glad Hand seems a worthy choice for the honor. Poetry has long been an outlet for making sense of one's identity, be it religious, sexual or racial, and the work here illustrates this with its focus on family. As members of disparate tribes, we're often receptacles for wisdom gained from the storied trials of ancestors.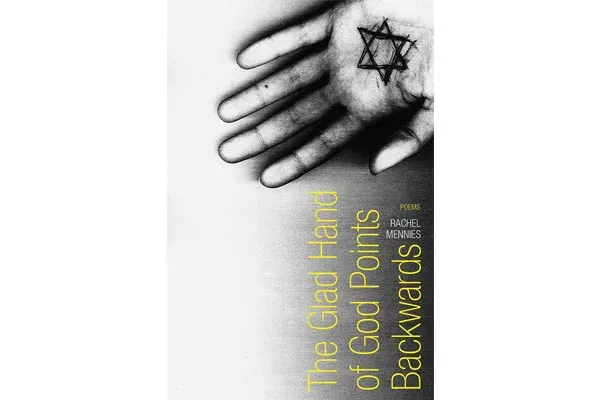 Sometimes, families are defined by loss. In "How Grandmother Paid Her Passage to New York," Mennies writes, "One by one her mother sold her silver spoons / and heirloom bracelets; goodbye porcelain bear, / silk blouses, patent-leather Mary Janes, the scarves / and stud earrings for newly pierced ears, the red wool coat / spotted walking on another tiny body's shoulders ..." The listing of sold goods works well, highlighting their unimportance in hindsight to the implied cost of the coming Holocaust.
While the collection includes a Hebrew glossary, the poem "For Rose" is a concise meditation on naming: "Practical, we take the names of our dead / because the dead are sturdy — stern mantles / of opportunity, watching as we shoulder them / from windowpanes, closets. Rose — one curling r / makes hundreds of us, Rachels, Rivkas, Renates, / Richards, Ronalds ..."  It's an interesting reminder of the significance names hold.
While The Glad Hand necessarily deals (allusively) with difficult instances of persecution, and has moments of darkness, it also mixes in humor. A favorite, "The Joke," adds levity to the seriousness of being Jewish in the past century. Family gossip, especially amongst female relations, is a rich area Mennies mines for a change in tone. In some of my favorite poems, food takes a lead role. "In Preparation" preserves a well-balanced personal account with strong images and straightforward language, the hallmark of a potent debut.