Last year, Rachael Yamagata opened for Joshua Radin at the Carnegie Library Music Hall on Valentine's Eve — the night before the day of love. On a dark stage, in a room full of couples on dates and women in pairs, she played her piano, opened her heart and reassured us, tenderly, and with grit, "Everything will be alright ... if you just stay the night."
This reaching sentiment from her 2004 debut's standout "Be Be Your Love" feels as relevant today as a decade ago, when it appeared on the Sisterhood of the Traveling Pants soundtrack — an of-the-time collection featuring Chantal Kreviazuk, a pre-"I Kissed a Girl" Katy Perry, and the Valli Girls, a manufactured pop group featuring two out of three Haim sisters.
Yamagata's music is a darkly reassuring sort — hopeful and comforting, but wistful for human connection and, even more, for a connection with one's deepest self. The 38-year-old singer-songwriter is at work on a new album slated for an early-2016 release. It'll be Yamagata's fourth studio LP, and her first since 2012's Heavyweight EP, on which Yamagata sang of yet another heartache: "I am readying myself for a change ... Has it happened yet?"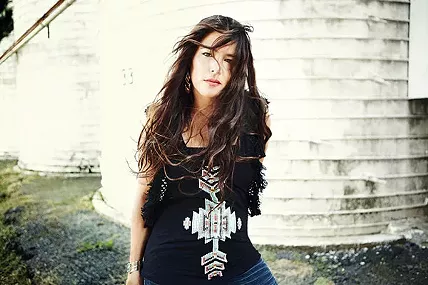 Last year you celebrated the 10th anniversary of Happenstance by playing the album in full at a handful of shows. How does it feel to get up on that stage and, essentially, perform a version of yourself that existed a decade ago?
It was a joyful experience, actually. The angst within some of those songs has a transformed beauty for me now based more on youth and the purity of first heartbreaks. It was nostalgic and exciting because the audience was filled with people who really felt connected to that record, and we all got to go back in time. I appreciated the songs for their poptastic-ness in a new way, and I'd never played the record live like that front to back, so it was really special.
Looking back on the decade since Happenstance, what's your proudest accomplishment?
I'm most proud to have found creative ways to weather any industry storms, and still be playing and making music as my life to this day. I don't play it safe with my releases. They can be dramatically different from each other, and I'm grateful to still be inspired by writing and recording.
I heard that Kathleen Edwards is taking a break from music to open a coffeeshop called Quitters. If you were to put the pause on releasing and performing music, what would you do?
I'd dig a pond out of the swamp that lives on my property. I'd fix my roof and clean out the woods. Anything with nature or working on land relaxes me. I'd love to travel somewhere new and build houses or something like that …
You worked with Mandy Moore on her 2007 album Wild Hope, which is a completely underrated masterpiece. Tell me about that experience.
She's a sweetheart and a badass. I also love her album Amanda Leigh that she did with Mike Viola. She was incredibly dedicated, extremely well educated about all genres of music, and relentless in her pursuit of a great lyric. She inspired me to go further in my writing and not just go with the first phrase that comes to mind. I'm definitely a fan.
Your music is so deeply romantic and deeply heartbreaking. The lyric from "Elephants" — "To those of you falling in love … keep it good, keep it kind, keep it right" — is something I think about at the beginning of every new relationship. What's the best advice about love you can give?
Love yourself first with all of your heart, and then you will have the world to give. Love without fear. Stand true to what you know you deserve, and insist upon it.
I've seen you perform in a church's chapel, a dive bar, a historic library concert hall. How does your performance change based on the venue you're playing?
I love to take advantage of setting when possible. I'll mix up the set list to indulge in the magic of a place for sure. A chapel and the spiritual feel, acoustics and such — that may lead to an a cappella version of "Elephants" because I know the room will support it. However, I've also done that in the divey bar where no one is paying attention and it's a weekend night. It's dramatic and a challenge and faces the circumstance head on. Both experiences are inspiring to me. For me, there is beauty in the darkest of places, and if I can bring it out and create a special experience, well, that makes me happy.