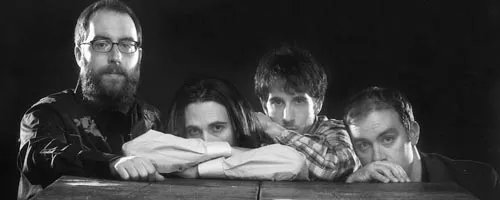 In a way, Race the Ghost began as an attempt to chase a ghost: the ghost of its members' younger days. Benjamin and Vincent Bruni and Frank and Michael Salati grew up in New Kensington, together from elementary school through North Catholic High School. All the while they grew together as musicians, and continued playing when possible while Michael attended the Art Institute of Pittsburgh and Vincent went to Wheeling Jesuit University. But with school days over, their lives went in different directions, and it was only recently that they all realized that they missed playing music.
Thus was born Race the Ghost, a youthful and at times wistful outfit fashioned after any number of '90s indie-rock or, in the Sunny Day Real Estate sense, emo acts.
The foursome produced a self-titled debut in 2005, followed by last year's In the Drink and a brand-new EP, entitled Devil Got My Radio. All were recorded and released by the band, with drummer Michael Salati -- now with a degree in audio production -- taking the helm as producer. Where many self-released early albums are rough around the edges, Race the Ghost's flow smoothly, and sound studio-produced. The band combines a DIY ethic -- proudly using its own equipment to record -- with a professionalism often lacking in the age of cheap audio software and the CD-R.
Vincent Bruni's vocals immediately recall Morrissey, but don't feel horribly derivative; Frank Salati's guitar sails, using shoegazey pedal sounds and harmonics. While the band shines on simple, catchy rock tunes, the little things -- the stirring vocal harmonies in "Nude and Nervous," for example -- show that its members are more mature and thoughtful than many raised on the same music.
There are some wrinkles to iron out, of course. The final track of the full-length, "Part II," feels at times like a number of cobbled-together disparate parts, and breaks into a rapped chorus that seems to come from nowhere. Other occasional, unexpected deviations are slightly jarring. These moments are the exceptions, though -- the discs are, on the whole, remarkably easy on the ears.
Race the Ghost,with Black Moth Super Rainbow and Jack Wilson & Dums. 7:30 p.m. Mon., June 4. Stanwix Triangle Main Stage, Three Rivers Arts Festival, Stanwix Street at Liberty and Penn avenues, Downtown. Free. www.artsfestival.net
Also opening for Kevin Finn. 7 p.m. Wed., June 6 (doors at 6 p.m.). Club Café, 56-58 S. 12th St., South Side. $5. 412-431-4950 or www.clubcafelive.com