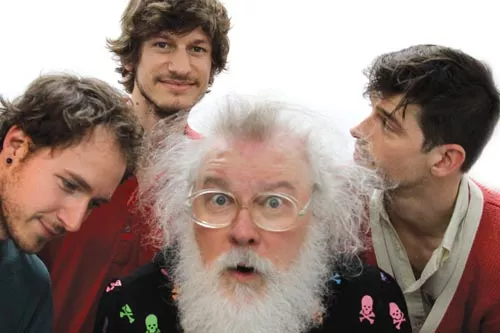 On the phone, R. Stevie Moore sounds nothing like an eccentric recluse, or the high-voiced singer who can be seen in hundreds of videos on YouTube. He sounds more like a gravelly voiced record collector, which is exactly what he is. His tastes know no boundaries, be they genre or decade.
"People say, 'What bands do you listen to?' Since when, this morning?" Moore says. "I love all genres A to Z -- old music, new music, bad music. I love Frank Sinatra, orchestras, hillbilly, you name it."
Moore has indeed been a DJ -- on WFMU, the legendary free-form station in New Jersey -- but he is best known as the archetypal bedroom recording artist. A Tennessee native, he began recording his original songs in the privacy of his own home when he was a teen-ager, in most cases without any help from other musicians. That was more than four decades ago, and since then, he has created the equivalent of 400 full-length albums.
His music can't be summed up simply because it incorporates virtually the whole spectrum of rock and pop music from the 1960s on. A random sampling of Moore could dig up pure pop in the style of The Beatles or The Beach Boys, progressive rock or some random strain of post-punk. And it could happen over the course of one of his albums, all of which are available for purchase via Moore's website, on either cassettes or CD-Rs.
Despite his prolific output, Moore has remained underground throughout his entire career. He has rarely performed in public. Still, he has managed to cultivate a devoted following, which includes artists like The Apples in Stereo's Robert Schneider, and psychedelic folk singer Ariel Pink. With a backing band in tow and bass in hand, Moore is now traveling the country performing a few nuggets from his catalog. After being something of a hermit for most of his life, he's being greeted the same way his heroes were in their prime.
As he discusses his massive discography, Moore sounds both modest and confident in his accomplishments. "That's explained easily by the simple fact that I always have a tape recorder going," he says. "There's nothing on the cutting-room floor and no outtakes. There's no such thing as that in my world. It's a vanity project but it's also [that] I'm a diarist of sound, and that's pretty much why it's 400 albums."
Knowing where to start with Moore's body of work can be a daunting task, and several vinyl and CD compilations have been released that offer a primer. "I've often had the dilemma of 'I'm shooting myself in the foot by confusing people and offering too much available music,'" he says. "Why hide it? People say 'This man needs an editor,' and I'm the first to agree. But that's not what I'm about."
Last December, he moved back to his hometown of Madison, Tenn. (a suburb of Nashville), after living in Bloomfield, N.J., since 1978. The journey home coincided with a turn of events that generated the attention he had missed all those years. Money raised through online funding platform Kickstarter helped him to record his new album, Advanced (his first available on iTunes). Filmmaker Jon Demiglio contacted him about making a documentary (to be filmed during the tour), which eventually connected Moore with the members of Tropical Ooze, his backing band.
After years of being lost in the crowd, suddenly Moore is being recognized on airplanes, often by hipsters young enough to be his grandchildren. "How do I deal with the age issue? It's heavy on my mind and my heart: having to worry that I look like goddamn Santa Claus or Grandpa whatever. It's hilarious. But it's not like I really blend in with the rest of the people. This white beard is going crazy. And I can't trim it, man. I don't want to."
Moore's live performances run the stylistic gamut, which has been challenging for someone who's never had to sing so much at one time. "I'm doing vocal-shredding heavy metal, hard rock, punk crap and going back-to-back with soft Brian Wilson ballads, just like my albums," Moore says. "I'm killing myself doing this. I'm not used to it, but I can't take these songs out of my set or sing them lightly either. It's a primal-scream therapy when I'm up there."
After recent shows in Northern California, Moore jokes that the audience response made him feel like he needed a bodyguard. "A lot of people are looking up to me like I'm this messiah of DIY, and I guess they're right," he says. "But I'm also just a guy. This stuff just sort of happened this way."
R. STEVIE MOORE with WEIRD PAUL, HOT DOG FOREST. 8 p.m. Sat., June 18. ModernFormations Gallery, 4919 Penn Ave., Garfield. $10-12. 412-362-0274 or www.modernformations.com