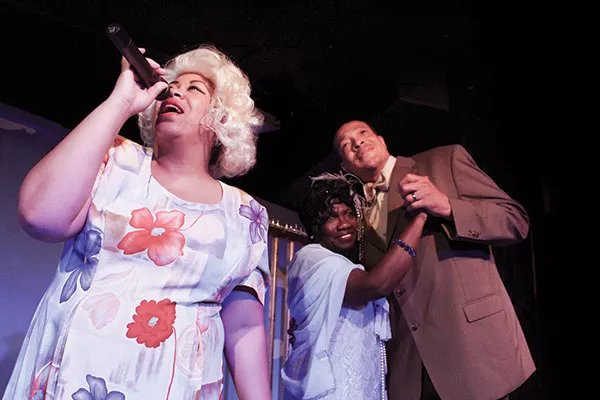 Queens of the Blues is a comic fantasy told through blues and gospel music, receiving its world premiere courtesy of New Horizon Theater.
The characters are all figures from the history of the blues (including God, who never cut a record but is thanked in the liner notes of many albums). Kevin Brown plays Thomas Dorsey, credited as the father of gospel music, who dwells in heaven, singing in honor of the Lord. God sends him to purgatory to convince some blues idols to convert to praising the Lord. The play, by Joe Plummer and Sanetta Y. Gipson, never really elaborates on this premise. But it's an excuse for everyone to sing at each other and explain their parts in the development of the most influential genre in American music.
It feels a little blasphemous to have the blues sung over synthesized MIDI arrangements. But in a show where God doubles as a literal backup dancer, it's probably wise to cast aside the idea of blasphemy. This is a show where Etta James' spirit lurks in limbo until she overcomes her emotional problems through the healing power of song — squeamishness is out of place. It's as if The Blues Brothers didn't star one white man whose public persona revolved around drug abuse and another white man who tells anyone who'll listen about his earnest belief in UFOs. And I say this as someone who watches The Blues Brothers about once a month.
Queens of the Blues, directed by Plummer, should be singled out for special praise for Stephanie Akers' portrayal of Ma Rainey. The show depicts the "mother of the blues," and one of the first American performers to openly sing about lesbianism, without ever feeling like it's winking at the audience and begging you to be impressed by the allegedly cosmopolitan sight of a human being treated like a human.
The performances are all fantastic; all of the singers are extremely talented and I can't remember any joke that didn't pull at least a dad-pun smile. If you can handle the idea of Etta James being sung over a MIDI track, Queens of the Blues does proud the idea of a musical.