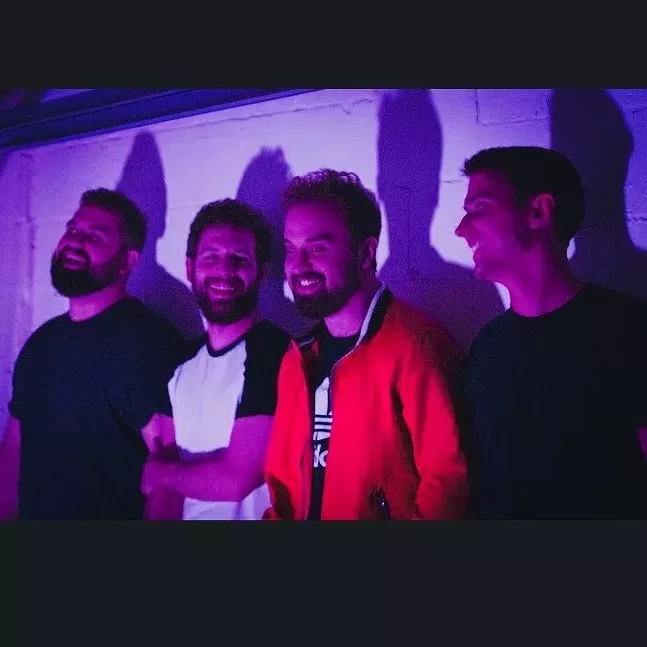 <!——————StartFragment——————>We're stuck at home. Musicians are stuck at home. We're looking for entertainment. Musicians are looking to entertain. So
City Paper
is working with Pittsburgh artists and bands to bring you Quarantunes, a series of at-home performances to bring a little enjoyment to your day.
---
If you're never seen Ugly Blondes perform in their eight years of existence, it can be summed up in two words: loud and fast. In December, the Pittsburgh-based rock band put out its sixth project,
Fluff Capacitor, an eight-song album that
guitarist and vocalist Nate Cross says could probably be performed in only 20 minutes.
Get a taste of Ugly Blondes's
expeditious and energetic live performances with their quarantines
video below. P
roduced, mixed, and edited by
Gareth Blyth (drums and synth), the four-piece band plays tracks "Finisher," "Not Mitch," and "Fluff Emission," from
Fluff Capacitor.


Even though Ugly Blondes just released an album, they are already working on new material.
"
We had five shows planned during April, all of which were obviously canceled," says Cross. "So we're trying to make up for it by having some new songs to play when we can finally have shows again. Also, well probably film some more live in quarantine sessions because, why not?"
<!——————EndFragment——————>
Find out more about Ugly Blondes in the following Q&A. All questions answered by Cross.
How are you adjusting to your new day-to-day routine?
We're doing OK. We all are able to work from home which is good that we can all be isolated. It's boring, but it has its perks.

Name a song that you feel encapsulates our current state.
Honestly, the song "Superbug" by King Gizzard and the Lizard Wizard is a song we keep talking about. It was released just last August, and it's literally about a deadly virus destroying society. When I first heard it, it felt like hearing the plot to a dystopian future science fiction film, and I didn't realize how close we were to something like that becoming a reality. It's a heavy, slow, and scary song that couldn't fit better for these heavy, slow, and scary times.

What's been your favorite way to spend your time at home?
I can't speak for the rest of the band but I've been going on a lot of walks with my girlfriend after work, its really nice to actually have time for exercise.


Tell us about the craziest dream you've had while quarantined.
I had a dream I was kidnapped and locked in an abandoned apartment with trash falling out of the closets and cupboards. Honestly, it wasn't that bad but it woke me up in the middle of the night.


How can people support your music during this time?
You can listen to our music on all streaming services, download our music on our Bandcamp
, watch our YouTube videos on our channel, and also subscribe to our label Steel City Death Club's YouTube channel for more content.
Want to participate in CP's Quarantune series? Reach out to Jordan at jsnowden[at]pghcitypaper.com.