When Karla Boos began adapting The Winter's Tale as a Baroque opera, her biggest challenge, ironically, was Shakespeare's words. And not because she dislikes them. "I worship Shakespeare," says Boos, whose Quantum Theatre stages the Bard regularly. Rather, the difficulty was that Shakespeare's plays are, to put it mildly, full of words, and Boos would have to cut most of them to accommodate all the music.
"I thought arias would be a lot of text," she admits today. But while crafting the show with music director Andres Cladera and members of Chatham Baroque, she learned that arias by the likes of Handel and Bach usually include just four lines of lyrics.
Initially, Quantum's artistic director found it "horrifying" to reduce dialogue like jealous King Leontes' famous "Is whispering nothing?" speech to a handful of words. "I freaked out," she says. But eventually, she found that the music — like the piece from Vivaldi's Bajazet she matched to Leontes' speech — contributed its own magic.
Ultimately, Boos had to cut about three-fourths of the play's dialogue. She and her collaborators set the text for the arias to nearly 50 compositions by Baroque masters, and the opera's recitatives to their own original, Baroque-style numbers. Quantum's The Winter's Tale receives its world premiere Sept. 16-Oct. 3. It will be performed by 11 singers and a 10-piece period orchestra, with choreography and movement by Attack Theatre, in the ornate music hall of Downtown's landmark Union Trust Building. Boos directs.
Recasting a classic play as a Baroque opera is an ambitious experiment, but not an unprecedented one. The "pastiche opera" — in which new words are set to music borrowed from another work — was common in the Baroque era (roughly 1600-1750). Boos herself was inspired to approach Shakespeare this way by seeing The Enchanted Island, the Metropolitan Opera's 2011 Baroque pastiche of The Tempest.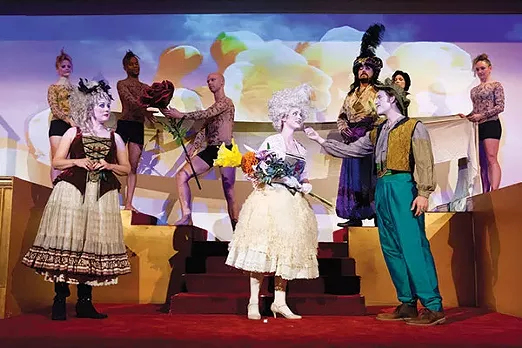 Winter's Tale begins with Leontes impulsively destroying his family: accusing his innocent wife of adultery and condemning his infant daughter to death. But through a series of unlikely, even fantastical events (rampaging bear, aristocrats disguised as shepherds, a statue coming to life), some form of order is restored. Some critics have seen Winter's Tale's blend of comedy and tragedy as problematic, and the 1611 play is not frequently staged. But Boos is drawn to late Shakespeare. "His understanding of human nature at the end of his life is deep to me," she says. "All the later plays are about redemption. ... In these later plays, what was lost, is found."
One criticism of the play, she notes, is that Leontes is driven mad by jealousy instantaneously. But Boos says, "I find that to be the most realistic thing ever, that somebody goes crazy in one second." And as to the play's drastic swings in tone, Boos contends that in stories about human behavior, it's tonal cohesion that is deceptive. But mainly, she considers this tightly structured but wildy embellished play's penchant for extremes of light and dark to be a perfect match for the emotionalism of Baroque music.
Boos and her team began work on the adaptation a year ago. Frequent Quantum collaborator Cladera (Candide, Maria de Buenos Aires) and members of Chatham Baroque — which, like Quantum, is celebrating its 25th year — contributed their encyclopedic knowledge of the Baroque canon. Chatham Baroque members Andrew Fouts (violin), Patricia Halverson (gamba) and Scott Pauley (theorbo) are part of the show's 10-piece orchestra. The cast includes such out-of-town talents as baritone and baroque specialist David Newman, as Leontes, and internationally acclaimed bass-baritone Eugene Perry, as Antigonus. Locally based artists include mezzo-soprano Raquel Winnica Young, as Hermione; tenor Robert Frankenberry, as Polixenes; and countertenor Andrey Nemzer, as Autolycus.
With all that, and four dancers from Attack Theatre also onstage, this is Quantum's costliest production ever, says Boos, and it was made possibly only by a commission from the Benter Foundation.
Quantum creates site-specific theater, often repurposing such non-traditional spaces as old warehouses or parkland. Partly because of opera's acoustic demands, Winter's Tale will live in the Union Trust Building, the century-old landmark built by industrialist Henry Clay Frick. The office building's 10th floor theater — lately used mostly for corporate events — has a balcony and chandeliers, and will seat 260 for this show, for which Quantum (with set designs by Tony Ferrieri) has built a gilded, Baroque-style supplementary stage.
Yet Boos also promises to "explode" the production's carefully crafted Baroque veneer. She'll do that largely through a combination of Attack's contribution, Susan Tsu's costumes (think huge wigs woven with blackbirds) and Joe Seaman's video projections. To make Shakespeare's newly sung lyrics legible, the show will include supertitles projected above the stage. But overall, Boos says, she's going for "barely controlled hysteria" and "brilliant excess."