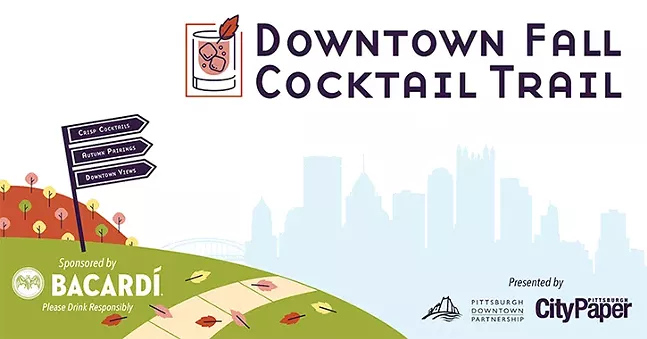 Put away your pumpkins because this year, we've got a better way to celebrate the season. The
Pittsburgh Downtown Partnership
and
Pittsburgh City Paper
have partnered up on the perfect way to experience fall: a cocktail trail.
From Oct. 15-25, you can support the Downtown Pittsburgh restaurant scene on the first-ever Downtown Fall Cocktail Trail, sponsored by Bacardi.
During the ten day event, select restaurants — all with indoor and outdoor dining and many with takeout options — will offer an autumn-inspired cocktail featuring Bacardi Spiced Rum, Cazadores Tequila, or Grey Goose Vodka, with seasonal dishes to match. Plan your trail with the official trail map, which can be found at the
City Paper
booth during the Market Square Farmers Market on October 15 and 22. And, find the event on
Facebook
for even more trail fun.
Check out what our 16 participating eateries are offering.
946 Penn Ave.

Apple Chai Margarita

Cazadores Reposado Tequila, chai tea, Soergel's apple cider, and a cinnamon sugar coated orange slice
Menu pairing

Apple Bacon Jam Burger: Angus burger with caramelized apple slices, bacon jam, maple honey dijon, sharp white cheddar, mixed greens, and served with fresh cut fries
940 Penn Ave.

Brimstone

Cazadores Tequila, Campari, house sour, jalapeño, and blood orange San Pellegrino
Menu pairing

Pollo Diablo- Arbol Chili Glazed Chicken: Chipotle lime cream, pickled white onions, queso fresco, radish, and cilantro
146 Sixth St.

Foliar Than Thou

Grey Goose Vodka, St. Germaine, Aperol, lemon juice, cinnamon honey syrup, and egg white
Menu pairing

Wood-fired octopus with rosemary roasted fingerling potatoes, pickled cranberry, spiced walnut and arugula
301 Fifth Ave. at Piatt Place

Apple Cinnamon Mojito

Bacardi Spiced Rum, granny smith apples, cinnamon simple syrup, mint, and fresh squeezed lime juice
Menu pairing

Fig glazed cedar salmon with risotto
649 Penn Ave.

Warm & Fuzzy

Grey Goose Vodka, pear, allspice dram, cardamom, and Prosecco.
Menu pairing

Braised short ribs
245 Seventh St.

Facundo

Bacardi Spiced Rum, Nux Alpina walnut liqueur, St. Elizabeth allspice dram, housemade sage syrup, fresh lime juice, Fee Bros walnut bitters, and fresh grated nutmeg
Menu pairing

Farmer's Market Pork Ribs:
Potato cakes, beet puree, short ribs, butternut squash, and arugula
139 Seventh St.

Southern Migration

Grey Goose Vodka, Lillet, pineapple juice, lemon, and a Pinot Noir float garnished with an apple slice.
Menu pairing

Harvest Pizza:
Wood-roasted butternut squash chunks, spicy Italian sausage, house-made fresh mozzarella, a creamy butternut sauce, and crispy sage leaves.
144 Sixth St.

Original Sin

Grey Goose Vodka, lemon juice, simple syrup, apple cider, cinnamon, and a lemon rind.
Menu pairing

Fuji Apple Salad: Artisan salad mix, golden beets, dried cranberries, candied walnuts, and thin slices of Fuji apples topped with house made apple cider vinaigrette.
242 Forbes Ave.

Blackberry-Sage Margarita

Cazadores Reposado Tequila, agave, lime, and rosemary salt.
Menu pairing

Crispy Brussels sprouts:
Smoked bacon, bleu cheese, candied cashews, and yuzu mayo.
960 Penn Ave.

Not Your Dirty Chai

Bacardi Spiced Rum, oolong chai tea, irish cream, brown sugar syrup, fall spices, and aromatic bitters.
Menu pairing

Pasquale Parmigiana 28: Pennsylvania Amish chicken, mozzarella, basil, cured tomato, and provolone piccante.
214 Sixth St.

Smocus Pocus

Cazadores Blanco Tequila, mezcal, grapefruit, lime, and rosemary syrup
Fall Frozen Poison Apple-rita

Cazadores Reposado Tequila, allspice dram, apple cider, honey, lemon, apple bitters
Menu pairing

Chicken Tacos and papas bravas
425 Sixth Ave.

Goose Down N'Bound

Grey Goose Vodka, Amaro Nonino, Averna, orange juice, ginger syrup, honey simple, cinnamon syrup, orange twist and a pinch of nutmeg. (Served hot.)
Menu pairing

Meat Ball Sliders:
pork, veal, and hot sausage blend meatballs with pomodoro sauce, provolone, mozzarella, arugula, and fresh challah buns.
435 Market St.

Harvest Cocktail

Bacardi Spiced Rum, pear, maple, lime, and sparkling wine.
Menu pairing

Fall Chicken: Maple buffalo, sage aioli, cheddar
431 Market St.

Not Your Mama's Apple Pie

Bacardi Spiced Rum, Apple cider, apple juice, Bacardi 151, cinnamon, whipped cream, and garnished with a cinnamon stick.
Menu pairings

Rizogolo:
Gooey rice pudding made in house.
Tyrokafteri:
spicy feta dip served with warm pita.
501 Grant St., inside the Union Trust building

Pittsburgh Is A Zombie Town

Cazadores Reposado Tequila, Maggie's Farm 50/50 dark rum, BLY Silver 105 Proof rum, grapefruit juice, cinnamon syrup, apple acid, and nitro muddled sage.
Menu pairing

Sweet potato waffle:
Fried chicken breast, Maggie's Farm Rum barrel aged syrup, and crispy sage.
947 Penn Ave.

Easy As Pie

Grey Goose Vodka, cream, pumpkin pie purée, maple syrup, with a graham cracker rim.
Menu pairing

Chocolate chip and pumpkin bread pudding with a housemade salted butterscotch caramel sauce.
---