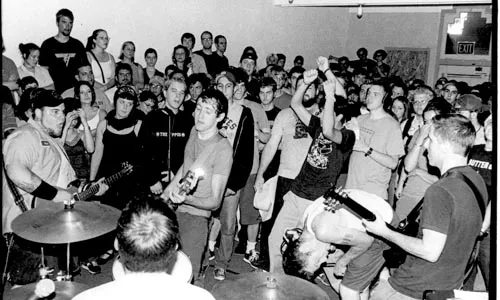 In the film Stand By Me, Corey Feldman plays Teddy Duchamp, the loyal friend who'll do almost anything for a dare. His Pittsburgh punk-rock namesakes, who hold a reunion show Sat., Oct. 13, began in the same spirit -- on an inspirational whim among a group of tight compadres. "I saw a guitar hanging on the wall in a pawn shop in Mount Oliver," recalls TDA guitarist and songwriter Mike Rock. "So I jumped off the bus and bought it. I figured I would just write some stuff and teach myself to play."
Rock was living in a house teeming with local musicians. Jason Jouver (now in Don Caballero) played guitar in Liquid Brick and Creta Bourzia, while roommate Stephen McMillen had been in Paris Green and Irwin. Rock would organize gigs, design posters and sell merch, but couldn't quite get up the gumption to form a band himself.
Then came a shock: the 1998 death of Rock's close friend Jon Dollinger, who had been in Empire Builder with a mutual buddy, bassist Todd Ladner. "Jon had been trying to convince me to play with him, but I was very insecure about it," says Rock. "I realized that if I ever was going to do it, it should be now. So I made a goal for myself to get a band together by the end of the year, and we played on New Year's Eve, right before midnight, at our house."
Teddy Duchamp's Army, which also included Brian Garbark (Jumbo) on drums, became one of Pittsburgh's most respected straight-ahead punk bands, alongside the likes of Anti-Flag and Punchline. During the band's five-year existence, Wilkinsburg-based punk collective The Mr. Roboto Project became its home away from home, hosting a number of packed TDA shows. "It was a great time in the Pittsburgh scene," Rock enthuses. "That was when Roboto was at its peak with the most touring acts coming through, and it was getting write-ups in Maximum Rock 'n' Roll and Punk Planet."
Another Roboto mainstay was the band Pikadori, whose guitarist Joey Vesely was documenting local sounds through his Hope Records label. Other than a CD-R demo which made the rounds, the only official TDA release came out on Hope, recorded at the underground mecca Plus Minus Studios.
One big switch in the lineup occurred: Jouver left as frontman and was replaced by fellow studio engineer Andy Wright (Anti-Flag, Human Investment, Disco Crisis). One of Wright's more memorable lines on the EP was "I can't afford a Moog, so I'll pretend to be one," which fell in line with the self-contained, DIY aesthetic the band was maintaining: Ladner was screen-printing the T-shirts, Wright and Jouver handled the recording, and Rock handled the booking duties.
TDA completed a couple of cross-country tours after the EP came out, and stumbled into a label bidding war. "Well, it was more like a talking war," jokes Rock. The band was already in discussions with Anti-Flag's A-F Records, he says, when reps from Eyeball Records and Triple Crown Records came to see the band and offered deals.
They were set to record for Eyeball Records in March 2003, but the project was ill-fated. Ladner left the band and Jake Reinhart stepped in to play bass; the deal-breaker came only three weeks before from the studio date, when Garbark announced his departure to concentrate on school. "That left me and Steve as the only original members," explains Rock. "It wouldn't be the same band anymore, so we just called it quits at that point."
Now Rock's brother Dan is commemorating the TDA's 1998-2003 years with a CD on his imprint on his Lock and Key, 1998-2003, which compiles two demo sessions, the EP, and some live songs from WRCT with both Wright and Furness singing.
But why recreate the Teddy's experience live? Other than the sheer fun of it, they're raising funds for Jouver's dog, 11-year-old Loki (topic of the first-ever Teddy's song), who nearly died due to a growth in his colon. Jouver had to borrow money from parents and friends, and sell off some of his gear, to pay for the $4,000 in treatment.
Though there aren't any other plans for TDA, Rock is still proud of the most rewarding musical period in his life. "When it comes down to the whole DIY ethic, I felt that project really embodied that. It was never like we were trying to push the limits of music. It was just about, 'Let's play some rock and roll and have a good time and hang out.'"
Teddy Duchamp's Army with Allies, The Code, Kim Phuc and Modern Rifles. 6 p.m. Sat., Oct. 13. Belvedere's, 4016 Butler St., Lawrenceville. $6. All ages. 412-687-2555