If you'd just moved to Pittsburgh in the past two weeks, you might think you'd stumbled into a hotbed of civic disobedience. In less than 10 days, local activists have generated headlines -- and a few headaches -- with a series of high-profile protests:
-- During a July 16 demonstration, four members of the group Northside United were arrested outside Del Monte's North Shore headquarters. The building is owned by Continental Real Estate, which is seeking to develop an amphitheater and hotel nearby. The building has also been the site of an effort to unionize building custodians.
-- On July 23, five hymn-singing protesters allied with the Pittsburgh Interfaith Impact Network -- a group of religious activists -- were arrested outside Continental's offices in Homestead.
-- The next day, 100 members of the United Food and Commercial Workers and the Service Employees International Union filled the hallway outside Mayor Luke Ravenstahl's office. At one point, a city worker chained and padlocked the office's front door.
The image of a padlocked government door became an instant visual metaphor, widely televised and circulated on blogs. And already, the demonstrations have breathed new life into an effort to overhaul development subsidies.
But the new tactics also suggest how far the movement has to go.
For nearly two years, activists have sought a community benefits agreement (CBA) similar to one instituted for the new hockey arena in the Hill District. CBAs require developers to pledge well-paying jobs and other benefits to communities if they want government aid. But Continental refuses to negotiate a CBA. Meanwhile, Mayor Luke Ravenstahl has removed from the city Stadium Authority -- which controls the land Continental seeks -- the two members who seemed most sympathetic to activist complaints.
"We got to the point where we didn't have a lot of options," says Barney Oursler, a July 16 arrestee. And it's still unclear what the future holds. "I wish I had the magic dust to repeat what happened in the Hill."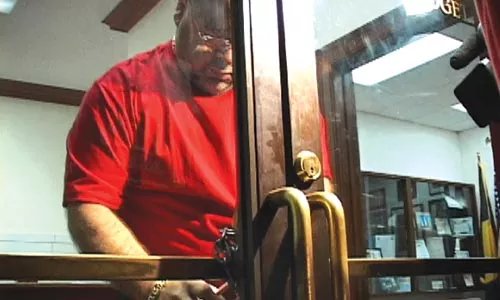 Ask Pete McQuillin, one of those arrested July 23, why he volunteered for the task, and he says, "Somebody had to do it. We weren't getting enough traction, and we've gotten no help from the mayor. But I don't quit."
Neither does Mayor Ravenstahl, says his chief of staff, Yarone Zober. "Our job is to create jobs [and] promote economic development," Zober told reporters July 24. New jobs and tax revenue, he said, "are community benefits."
Zober warned that some developers were already saying, "I'd much rather go to Millvale or the airport corridor" because of those seeking CBAs. He noted that the mayor had met with union leaders previously, and that future protests will "get the same response they already have, which is a fair and open hearing. And if they disagree with the mayor's position ... everybody's going to have to respectfully agree to disagree."
Gabe Morgan, SEIU's director for Western Pennsylvania, acknowledges that "we've talked with the mayor and Yarone a lot." But demonstrators came to the mayor's office, he says, because "Nothing seems to be changing, and our members felt it was time to demand some change."
The unions have a somewhat different agenda than those demanding a North Side CBA. The unions want to overhaul government-subsidized development across the city, so that tax breaks would require tenants to pay wages higher than the minimum and offer other benefits.
"The chief promoter of poverty-wage jobs in the city is the city," Morgan says. If tax dollars lure a hotel that doesn't pay union-scale wages, he adds, then hotels that are unionized are hurt. So are their employees, whose tax dollars may be financing the competition.
"Our goal isn't to create havoc," says Morgan. "We didn't come to attack the mayor. We just want him to change his policies."
In fact, even as Zober spoke to reporters, city-council president Doug Shields was inviting demonstrators into council chambers for an impromptu town meeting. That gathering was followed by a July 27 public hearing on development concerns.
At least in the short term, the confrontational tactics have paid off. And for now, Morgan says, the focus will be on "working with the part of government that seems willing to work with us."
Of course, the confrontational approach also carries risks -- namely, of attracting the wrong kind of attention.
The Del Monte protest, for example, drew a derisive report from KDKA-TV's John Shumway, who made much of the fact that protesters told police in advance that they wanted to be arrested.
"Like a perfectly executed play on the Benedum stage, it's a one-take masterpiece," Shumway reported.
Shumway focused so much on the stagecraft, in fact, that he didn't explain the choice of set. Janitors in the building have been trying to organize a union for months. Workers get $8.25 an hour and no health care or other benefits, says Justin Cunningham, one of the custodians. "A bus pass is $75 a month, and I have rent of $460 a month," he says. "I'm not sure if anyone else is doing the math, but I am and it's not working."
Shumway "is a real smart man," says arrestee Oursler, with a trace of irony. Police were notified in advance, Oursler says, because "I don't want cops thinking we're going to threaten them, or damage property."
In general, says longtime activist Oursler, "media coverage of our efforts has been really straight-up." And within an hour of the arrests, the building's cleaning contractor, St. Moritz, agreed to recognize the union.
But even if the message gets through the media, sometimes it doesn't connect with the public. The evening after its members were arrested in Homestead, Pittsburgh Interfaith Impact Network staged a North Side rally. Only 100 people attended, a turnout Oursler acknowledges was smaller than hoped.
The rally was spirited: PIIN organizers dubbed the North Shore site "Holy Ground," and marched to the proposed Continental site chanting "North Side, not North Shore, put those benefits in our doors!" Still, Oursler admits, the rally probably wasn't "scary to the powers-that-be."
The Hill District CBA got more traction, he suspects, because of its unique history: Building the Civic Arena decimated Pittsburgh's black community, and has served as an emblem for thoughtless development ever since. "The North Side has been even more screwed than the Hill," Oursler contends. "But it happened in different stages" -- through construction of road projects like I-279.
Still, he says, "nonviolent civil disobedience has gotten the media's attention, and council's too."
And if that attention flags again, don't be surprised to see more arrests on the evening news. As Cunningham puts it, "No one in the public eye likes a spectacle."