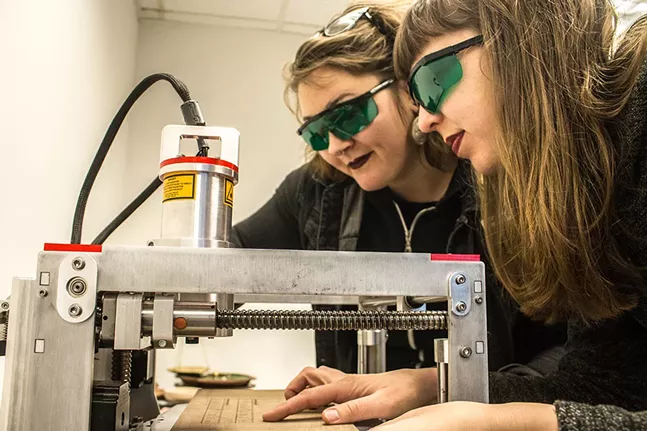 In 2017, Erin Gatz (formerly Oldynski) and Louise Larson founded
Prototype PGH
, a feminist makerspace set up in the old Blumcraft building on Melwood St. in Oakland. Created as a response to Pittsburgh's male-dominated makerspace culture, Prototype has worked to build gender and racial equity in tech and entrepreneurship by providing affordable access to high-tech tools and equipment, running workshops that prioritize the experiences of women, and cultivating a gender-inclusive professional support network.
Now Prototype is hosting its first fundraising event with ART ALL DAY.
Taking place on Sun., April 28 at The Frame Gallery on the Carnegie Mellon University campus, the event will showcase the work of local entrepreneurs and help the organization raise critical funds to support its current programs and expand its services, says Prototype board president Delvina Morrow in a press release.
ART ALL DAY features DJ Stephanie Tsong of the monthly queer dance party Jellyfish, as well as readings from local writers Taylor Grieshober, Hannah Eko, Kelly Andrews, and Sam Mitchell. There also be a raffle for various artwork by local artists Steph Neary, Lizzee Solomon, Jayla Patton, Mary Tremonte, Christina Lee, and more.
"This event is the perfect opportunity to network with makers and creatives in Pittsburgh while supporting the mission and work of Prototype PGH," Gatz states in a press release. She adds that 100 percent of the funds raised will go toward Prototype's day-to-day operations, programs such as the new Women's Work incubator, and workshops.
To ensure that anyone can attend the event, tickets are offered on a sliding scale similar to Prototype's membership model, which is subsidized based on an individual's yearly income.
To learn more about sponsorship opportunities, or to get involved, contact Gatz or Morrow at hello@prototypepgh.com.
ART ALL DAY
.
12-3 p.m. 5200 Forbes Ave., Oakland. $15-50. prototypepgh.com