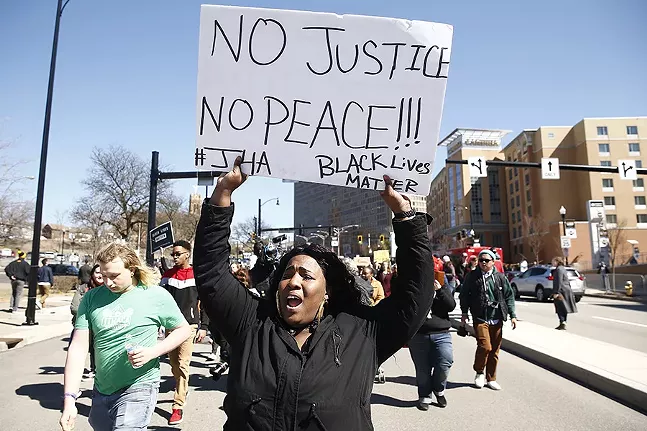 Protests and community action continued Saturday afternoon and evening in reaction to the acquittal of former East Pittsburgh police officer Michael Rosfeld
Friday night
. After a four day trial and four hour deliberation, the jury acquitted Rosfeld of all charges in the killing of 17-year-old Antwon Rose II.
A community solidarity service was held at 2 p.m. on Freedom Corner in the Hill District, featuring several speakers, including state Rep. Ed Gainey (D-East Liberty) and Antwon Rose Sr., father of Rose.
Gainey spoke passionately to the crowd, his voice booming without a megaphone. He emphasized teaching friends, peers, and children the complications of the criminal justice system.
"If we feel that there are different rules in this country for different races, then we can never unify," said Gainey.
State rep. Ed Gainey speaks passionately to the crowd pic.twitter.com/gAcTA3duie

— Pittsburgh City Paper (@PGHCityPaper) March 23, 2019
In highlighting the specific burden on the shoulders of Black men bearing the consequences of police violence, Gainey urged the crowd to protect and educate their Black sons as much as possible. "We gotta raise a nation of sons that become conquerors to dismantle, destroy, and reconstruct the whole criminal justice system," he said.
Hill District native Bomani Howze also spoke on the importance of justice. "We seek a very special type of justice, the type of justice that allows our young boys to know there will be a heavy price to pay, a consequence like no other, if you shoot a boy in the back," Howze said. He told the crowd that just by showing up, they were proving that justice "will continue to roll like a mighty river."
Leonard Hammonds II condemned District Attorney Stephen Zappala, blaming him for the direction of the case. "I want this to go on record: Zappala's gotta go," he said, prompting an echo chant from the crowd.
Rose Sr. closed out the speaking portion. He told the crowd that he was grateful for the support from the city and the organizers, but that he still had difficulty expressing himself over the loss of his son. "I don't have a lot of words cause I'm really still stuck."
After the speaking concluded, a crowd of around 400 people marched down Centre Avenue, periodically stopping at intersections for chanting, singing, and moments of silence. At the corner of Centre and Washington Place, the protesters formed a large circle singing, "What side are you on, my people? What side are you on? Antwon Rose was a freedom fighter and he taught us how to fight." The song repeated throughout the protest.
"Antwon Rose was a freedom fighter and he taught us how to fight" - the crowd sings at the corner of Centre Ave. and Washington Place pic.twitter.com/kkf70ggnkn

— Pittsburgh City Paper (@PGHCityPaper) March 23, 2019
Outside the Allegheny County courthouse, the crowd again formed a circle, this time to call out and pay respects to Black victims of state violence, including Sandra Bland, Philando Castile, Harriet Tubman, and Rosa Parks.
Throughout the march, protesters used chalk and spray-paint to mark sidewalks, light-posts, and other property with #J4A (Justice for Antwon).
When the protesters made their way to the corner of Smithfield Street and Sixth Avenue, they stopped and formed a circle while activist Brittney Chantele read aloud "I Am Not What You Think!," a poem Rose wrote in a high school English class. "I see mothers bury their sons/I want my mom to never feel that pain," he wrote.
Police were present throughout the march to guide traffic and block streets, appearing on bikes, in cars, on foot, on motorcycle, and on horse. As the crowd continued up Sixth Avenue, a row of 10 police officers mounted on horses stood stationary on the plaza of the U.S Steel Tower. There was no significant interaction between the police and the protesters.
The crowd marched past PPG Paints Arena, which is currently hosting the NCAA Divison I Wrestling Championships. They marched past Duquesne University. They stopped to hand out water and snacks. They kept marching down Forbes Avenue and eventually headed into Market Square, chanting again, "What side are you on, my people?" to onlookers from restaurants and bars.
After gathering for a final speech in the square the crowd dispersed around 4:30 p.m. The protests continued in Oakland on Forbes Avenue starting at 5 p.m.