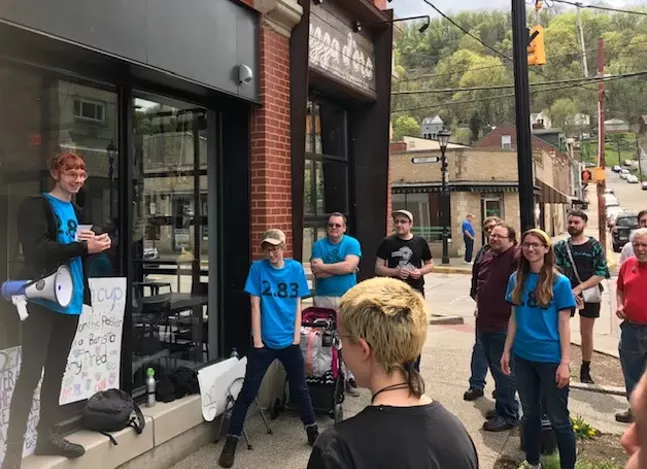 On April 15, Tazza D'Oro closed up shop for a week. The move was announced as a temporary hiatus on the Millvale coffee shop's Twitter account. The
tweet
indicated the store would re-open on April 23.
But on that day, instead of opening its doors, Tazza D'oro was met with protests from former workers and labor advocates, responding to the news that all four employees at the Millvale location were fired as part of the temporary hiatus. The group of 30 at the rally called for severance for the fired workers for and Tazza D'Oro owner Amy Enrico to step down from store management duties.
Emily Love spoke at the rally, and said the whole situation was a "pretty huge injustice."
Love worked at the Millvale location since 2017 (Tazza D'Oro also has a location in Highland Park, and two on the CMU campus). She said she was hired to be full-time or near full-time, but she ended up working 28-30 hours a week, at $10.50 an hour with no benefits. Most other
Millvale
workers had the same situation.
Love said Tazza in Millvale was poorly managed and at times, it wasn't clear who was managing the store during some shifts. According to Love, the work conditions got so bad that employees started discussing the potential of taking labor action against management. She said she believes the store's closure was a
direct result of their conversations
. She said Tazza management told her and her coworkers that they could re-apply for positions at other locations.
"Before this firing, we were already struggling," said Love. "They tried to intimidate people into quitting. They want us to stay quiet, and we are not going to stay quiet."
Tazza D'Oro issued a statement to
City Paper
indicating that the store was having financial struggles.
"Closing our Millvale store has been the most difficult decision in my 20 years of owning Tazza D'Oro," reads the statement. "It has been incredibly challenging to build the Millvale business while keeping the store financially viable the last two years. We are currently evaluating all options for restructuring, including reopening in the future."
Tazza D'Oro rejected the notion that employees were mistreated by management.
"We appreciate our employees' contributions. When we closed the Millvale store, we encouraged our employees to apply for open positions at one of our other locations. Our financial commitment to Millvale goes beyond this store. Our offices are in Millvale and we prepare our food here. We believe in the community and look forward to being part of Millvale's continuing revival."
But this isn't the first time the coffee shop has been accused of
violating workers' rights
. In May 2018, three cases were filed with the National Labor Relations Board from workers who were fired by Tazza D'Oro.
Jordan Romanus of
Restaurant Opportunities Center
Pittsburgh was at the rally to support the Tazza workers. He said the
NLRB cases
were filed by former workers who were fired following complaints about working conditions at the coffee shop during a staff meeting. In June 2018, Tazza settled with those former employees for a combined total of more than $20,000, according to Romanus.
Adelaide Smith also spoke at the rally. She worked as the coffee equipment specialist for Tazza and spent time at all four locations. She started two years ago, then went on medical leave last October. Before she was ready to return to work, she said Tazza management told her position was terminated.
"The environment was chaos," said Smith.
Smith said it was normal for management to work employees 10 days straight and it was difficult for workers to call out sick. She said the equipment often malfunctioned and that management would blame baristas for poor coffee, instead of the faulty equipment.
Bobbi Linskens of ROC spoke at the rally and said "never have we had so many workers reach out to us," concerning the working conditions at Tazza. She backed the former employees' demands for severance pay. Linskens said she hopes the Tazza owners will meet with the workers and come to a "fair and equitable solution."
Tazza did not indicate if and when the store would re-open.