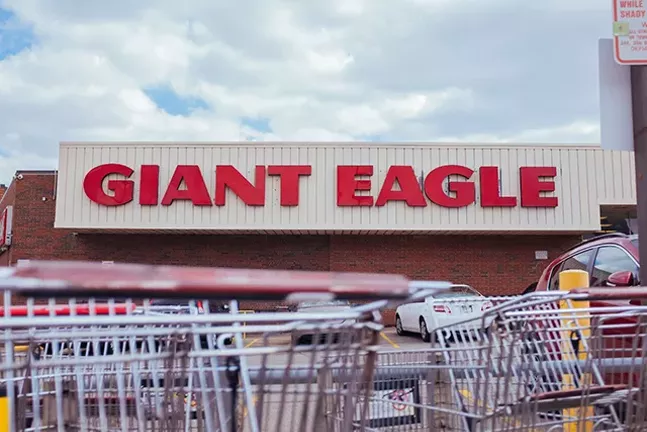 On March 13, Phil Bishop, vice president of Echo Realty, presented a redevelopment proposal for the Shakespeare Giant Eagle shopping center at Penn and Shady. Councilwoman Erika Strassberger introduced the project to an audience of about 200 in the Parish Hall of Calvary Episcopal Church. This was the second major community presentation of the project, and the reaction to very preliminary studies was mostly adversarial.
Echo, which is essentially the real estate arm of Giant Eagle, plans to demolish the existing strip, though the adjacent historic church and chiropractic office would remain. The new scheme would place a one-story grocery store along Penn Avenue with 38,000 square feet of space, down from the current 54,000. Approximately nine retail storefronts of various configurations would face Shady and turn the corner to Penn. Above these, five additional floors of construction, rising to 70 feet, would house 200 to 250 apartments, mostly at market rate. The 10 percent of "workforce development" apartments, though not currently priced, would be affordable to a family of four with a $75,000 annual income. A parking garage bordering Aurelia Street and the Village of Shadyside would provide spaces for 584 cars.
Echo put itself at a disadvantage by presenting preliminary massing schemes instead of rendered architecture. Apartments are orange, the store is blue, retail is beige, and the garage is grey. But the presentation materials give zero sense of the potentially mitigating architectural qualities of the project —the residential and commercial contexts, on-the-street experiences of the designs, uses of landscape or the very meager open space. Bishop referred to more developed drawings by Strada architects, but he did not present them.
Then again, no amount of detailing or rendering could hide the fundamental difficulties of this scheme so far. It reflects real estate's desire to stuff the site with revenue-generating functions and little else. One commenter decried the failure to consider "quality of life."
And there were plenty of other complaints. Commenters repeatedly complained about traffic in a scheme which will attract many more cars to already-congested streets, while restricting access. "We're studying that … meeting with the Department of Mobility and Infrastructure," Bishop said.
But not all complaints were suitable critiques. Much of the room, measured in a few comments and plenty of crowd response, had a repeated bias against rental units. A millennial-age speaker who advocated up for additional workforce development units was actually booed by the crowd.
Similarly, with a rough count of three African-American people in a self-described open meeting for neighbors of a shopping center where a large percentage of patrons are Black, Pittsburgh's de facto segregation appeared to be in its ugly full force.
Cassandra Osterman, a graduate architect speaking as a meeting attendee, asked if the developers planned any meetings as design charrettes, with participants having a chance to make tangible suggestions for function and design of the development on paper, similar to the recent process for the ShurSave development in Bloomfield.
Bishop responded that this meeting was the opportunity for input, but the team might come back with a scheme that proposes development without housing. Councilwoman Strassberger expressed willingness to have "as many conversations as necessary."

But that just makes this seem like a frustrating continuation of the process starting a few years ago when Giant Eagle representatives proposed a scheme GetGo gas station on this site. The plan was quashed in part by neighborhood protest, and the same fate seems to await this proposal. Long-time Shadyside resident Judy Palkovitz declared that she had never before felt compelled to protest a project before Pittsburgh's Zoning Board of Adjustment. "But I'll do it if I have to."
And this proposal should fail. Not just because it is overstuffed and underdeveloped, or because it displeases one neighborhood demographic. This project and others like it need to structure meetings involving all stakeholders to gather all representative views. That input needs to lead to alternative schemes, not just one-at-a-time presentations of under-cooked real estate formulas.
It's great when neighborhood input has the weight to veto a bad project. But if that input isn't fully representative of people and process, then it is a bitter victory. A well-orchestrated charrette process would give this redevelopment a chance to solve its fundamental failures of inclusion and design.
Have our architecture coverage sent directly to your inbox by signing up for our Arts+Entertainment newsletter here.