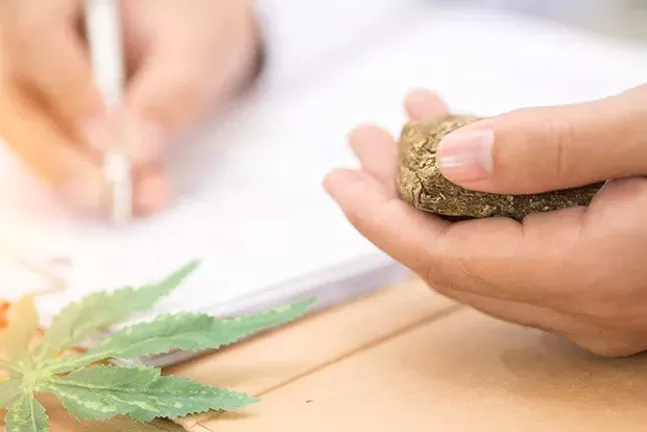 Forthcoming regulations from the Pennsylvania Department of Health could give university-connected research hospitals and their affiliated medical-marijuana companies an unfair advantage in the state's medical-marijuana industry. Several of the current phase-one permit holders across the state tell
Pittsburgh City Paper
it's an advantage so big, that it could put them out of business.
"This thing was put in the original bill and sold as research," says one individual who was awarded a phase-one permit last summer, speaking of Chapter 20 of the Pennsylvania Medical Marijuana Act. The permit holder spoke on the condition of anonymity, fearing retribution for speaking out. "We went through a lengthy process, but under the law [known as Chapter 20], these academic medical-research centers have close to a 100 percent chance of winning. And the way these regulations are being written in their favor, they could put us all out of business."
Last June, the state issued 12 grower/processor permits to applicants through a competitive application process. A week later, the state granted permits the same way to 27 dispensaries, each of whom could open three locations, although these permit holders were restricted from placing more than one dispensary in a single county. All applicants, which numbered in the hundreds, were graded on a number of criteria and given a rating out of 1,000 possible points. Sales have just begun at some dispensaries, and the last grower/processor was just recently allowed to begin operations. As phase one of the program is beginning, industry insiders say the addition of Chapter 20 licensees is going to make running their businesses harder, just as they begin to get their businesses off the ground.
"If I had known that this is what Chapter 20 would become," the anonymous permit holder tells
CP
, "I probably never would have invested my money into getting a license, because this is an unfair way to do business."
In March 2016, state Rep. Katharine Watson added an amendment that would allow for the state's academic research facilities to partner with a permit holder, known as a "Clinical Registrant" (CR), to conduct research. In June 2017, when the state health department released the first draft of its temporary regulations governing Chapter 20 for public comment, it was very strict on how these entities could operate. Chiefly, they had to be actively engaged in a research project and were unable to sell commercially.
But by last month, all of that had drastically changed. The last set of draft regulations seemingly puts up to eight institutions — there are eight permits available, but nine eligible academic institutions — and their Clinical Registrants in the same business as the phase-one permit holders, but not on a level playing field and, potentially, without a competitive process. Sources with knowledge of the Chapter 20 process tell
CP
that several of the institutions have already contracted with an entity to be their CR, and some of those entities failed to score high enough to get a permit during the competitive application process. According to the draft regulations, the CRs will have to go through an application process, but phase-one permit holders worry that it won't be the same process they went through.
"They say it will be competitive, but if a hospital like UPMC, Jefferson or Drexel are already aligned with a preferred CR candidate, is there much doubt that that group won't get the permit," a permit holder says. "We're willing to talk and negotiate this stuff, but nobody has come to the table."
Under the last set of draft regulations, which several sources have confirmed is close to the final regulations, Clinical Registrants would get several privileges that the phase-one permit holders would not get.
First, phase-one permit holders are allowed to open three dispensaries in the same medical-marijuana district and only one per county. But Chapter 20 licensees can open six dispensaries anywhere in the state, and they can have up to three locations in one county. For example, while the phase-one permit holders (and presumably phase-two permit holders when they are awarded) can have one location in Allegheny County, UPMC's Clinical Registrant could open three. Under the most recent draft proposal, there are also no limits on how close they can be to other dispensaries.
Under the proposed regulations, the eight permitted academic institutions could each put three dispensaries in the same county, which could mean one county could have more than 25 dispensaries (including the phase-one permit holders).
Second, when it comes to what products can be sold by CRs, the original draft regulations allowed for a CR dispensary to "provide medical-marijuana products for research studies at no more than six separate locations as approved by the department." However, in the most recent draft, the dispensaries are allowed to sell products commercially at six of their own dispensaries.
Finally, if research was the entire point of Chapter 20 originally, it's questionable how important it will be in the final regulations. In section 1210.31, the only requirement for a CR to have its permit renewed is that it be conducting research in at least one of its dispensaries, apparently meaning that the other five can sell commercially with no research product required.
The changes aren't sitting well with phase-one permit holders.
"We think everyone should be held to the same standards and go through the same process," says Andrew Blasco, executive director of the PA Cannabis Coalition, which represents the state's phase-one permit holders. "Current regulations are very particular in where phase-one permit holders can locate their operations. These new proposed regulations have very few geographic restrictions.
The phase-one permit holders aren't allowed to double up, why should the CRs? If they wanted to, they could put them right beside other dispensaries. It's just not a good, optimal health-care strategy."
The day after
CP
's interview with Blasco, he sent the following statement: "To clarify my prior comments, the industry is 100 percent supportive of high-caliber clinical research into the potential of cannabinoid-based therapies. Our industry association is working hard with existing permittees, the Commonwealth, and other stakeholders to ensure that Chapter 20 is a robust clinical research program.
"We recognize that the regulatory process is still evolving and has not yet been finalized. We appreciate the transparency and collaboration of the Commonwealth in developing these regulations, and hope this cooperation will continue until they're final and the program is rolled out."
The permit holder who spoke to
CP
doesn't blame the Department of Health for the current situation, but rather blames the "hundreds of lobbyists" who have been involved in the process since the beginning of the medical-marijuana debate. The DOH, they say, has been fair throughout. But, they say, once the temporary regulations become final, there will be little anyone can say about how the process is conducted.
Indeed, major changes to the regulations occurred when state Rep. Watson and state Sen. Mike Folmer (R-Lebanon), who was crucial to the passage of the state's medical-marijuana law, wrote a letter to the Department of Health. The letter sent on Feb. 13, and obtained by
CP
, dealt with the "scope of distribution of medical-marijuana products developed by Clinical Registrants." Prior to the letter, draft regulations only allowed CRs to sell to growers/processors and its own dispensaries.
However, the working group that was assembling the regulations came to a compromise that would allow CRs to sell to other CRs, a total of 48 additional sites. It also permitted sale of a particular research product to all dispensaries as long as the product was effective. However, Watson, the amendment sponsor and Folmer — referred to in the letter as "the acknowledged leader of the Commonwealth-wide movement to make medical marijuana a reality" — wrote that "Clinical Registrants are medical marijuana organizations and are therefore allowed to sell medical marijuana products to any dispensary." However, Watson and Folmer agreed to the compromise "given the compelling need of patients."
But not everyone is sold.
"This whole process doesn't make sense," concludes the permit holder who spoke to
CP
. "Why do researchers need their own growers and dispensaries, when we already have this infrastructure that can provide them what they need? If I truly thought that we needed these Chapter 20 grower/processors and dispensaries to make a successful state-wide program, I wouldn't say a word.
"But the way they're setting this up, we're all going to cannibalize each other, and that's not going to benefit us or the patients.