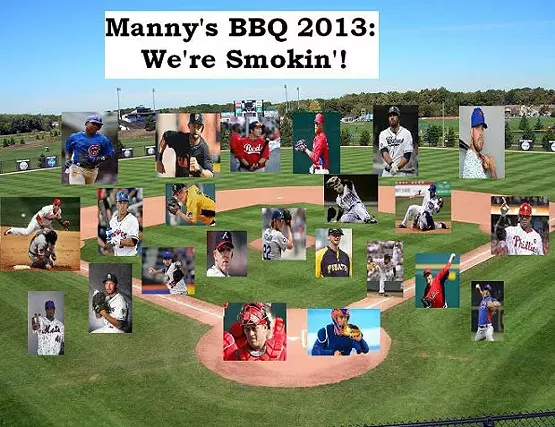 There's a great scene in the Will Ferrell comedy Stepbrothers where Nancy (Mary Steenburgen) asks her new stepson Dale (John C. Reilly) what he's been up too lately.
Dale: "I manage a baseball team."

Nancy: "Little League?"
Dale: "Fantasy League."
Now, I know that if you don't play fantasy baseball, you're not laughing right now. But I also know that if you do play fantasy baseball, you're also not laughing right now because you're never going to read this. You're reading Baseball Prospectus and Ron Shandler's 2017 Baseball Forecaster preparing for your upcoming draft(s).

You're also not laughing because you didn't realize it was a joke. To the serious fantasy-baseball manager, fantasy baseball isn't like a job — it is a job. It's a time-consuming, part-time job that you can spend more time on than your actual job.
In fact, since I started writing these words 15 minutes ago, I have received the following emails:
* "I'm debating the merits of trading Addison Russell."

* "Moore and Hill somewhat on the block, although I'm probably going to keep both. Same with Cozart."
* "I have interest in rafael, julio and gabrielle Iglesias [sic].
I belong to a 12-team, National League-only league based out of Chicago made up mostly of Cubs and Cardinals fans called the Ernie Broglio Memorial League. Broglio was a pitcher for the St. Louis Cardinals and coming off an 18-win campaign, when he was traded during the 1964 season for the speedy Lou Brock. Long story short, Broglio sucked, Brock became a Hall of Famer, and the trade has regularly been seen as one of the worst in baseball history.

A couple of friends got me into the league in 2011, and I took over the league's worst franchise, The Dirty Danish Dongs. I quickly changed the name to Manny's Barbecue after Manny Sanguillen's PNC Park sandwich joint. I have since turned the once-disgraced franchise around, making money in the past two seasons. But success hasn't come easy. The league is stacked with guys who know the game and who spend day and night working on this stuff.
We have all negotiated trades in the middle of the night, at work, on vacation, at weddings, at family picnics, from foreign countries, on the toilet, in the car and God knows where else. You find yourself constantly monitoring games, checking stats, tracking prospects and keeping on top of all major-league transactions. My wife hates the time I spend on the league and the amount of money I drop on draft weekend in Chicago (six weeks and counting) for beer, deep-dish pizza and Italian-beef sandwiches. After I draft my team, I even make up a crappy-looking "media guide" poster of my squad in Microsoft Paint.
While I'd love to tell you more about the league, I just got a trade offer for Starling Marte that I need to look over.