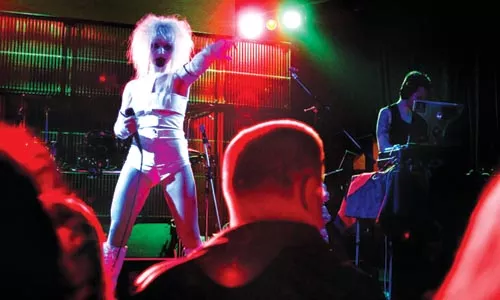 Go ahead -- accuse Pittsburgh industrial duo Prometheus Burning of being obsessively intrigued by the macabre and arcane. Just don't saddle them with the "powernoise" label. ProBurn vocalist Nikki Telladictorian -- also a performer in the alterna-burlesque troupe Bridge City Bombshells -- doesn't think the term retains meaning.
"We've been calling ourselves 'renegade electro,' operating from the fringe and defying definition," Nikki says. Unfortunately, the industrial scene has become a homogenized subculture, she explains: "What was supposed to be 'anti-pop' has become predictable, taking what worked for artists in the past and replicating it, rather than pushing the envelope."
Initially inspired by '80s and '90s industrial -- Skinny Puppy, Coil, Front Line Assembly and the Wax Trax roster -- Nikki and her partner Greg Van Eck, a network admin by day, established a reputation based on three CDs, a remix album and a 12-inch (some on New York and California labels such as Hive and Crunch Pod).
ProBurn is stoking the flames with its new double CD, Displacement Disorder, which comes smartly packed in a DVD box with a booklet, stickers, pin and postcards. The music is pounding, brutal and caustic, with elements (despite the powernoise denial) of both abrasion and beat. "We're not trying to be dance music," Van Eck says. "It's rhythmic, but more intelligent and intimate, hopefully trying to make people feel, think and question."
The emotions expressed in the vocals and programming emerge from some dark places. Van Eck was unemployed for a year and a member of his family endured cancer, while Nikki received death threats on her blog, which she reworked into lyrics. "It was someone who was intimidated by our music and wanted to deter me," she recalls. "I decided to spew it back at them and send a very clear message that I'm not afraid."
The second disc is a side project called Four Pi Movement, named after a shadowy offshoot of the Process Church (Skinny Puppy's Ogre claimed to be a follower) which supposedly involved Son of Sam killer David Berkowitz. In contrast to ProBurn, Four Pi is all "hardware-based," using modular synths, effects, violin and modified devices influenced by Throbbing Gristle. "There's no duplication with any recorded tracks," adds Nikki, "because it's all improvised."
With the demise of goth-industrial clubs, the duo organized a DIY event for its release party this Sat., July 24 at Belvedere's, as well as events at venues around the country. Van Eck recruited two out-of-town acts -- New York's I, Parasite and Chicago's Surachai. Meanwhile, Nikki assembled a representation of the "atrocity exhibition" (a term appropriated from a J.G Ballard novel) common in industrial culture: visual oddities from Morose & Macabre; decorative bone items by Biilzebub; horror-influenced sculpture by Paul Collins (who produced ProBurn's "Flesh Addict" video); and serial-killer portraits by Cheryl Adamson.
Grisly, perhaps, but effective. "Hopefully, we're stirring it up," adds Van Eck, "causing a ripple in the monotonous bullshit."
Prometheus Burning CD release with I, Parasite, Surachai, DJ Hiem and DJ TFS. 9 p.m. Sat., July 24. Belvedere's, 4016 Butler St., Lawrenceville. $10 ($12 at the door). 412-687-2555 orwww.prometheus-burning.com