Through a partnership with Community Human Services, Project Silk also provides help finding housing and employment – and just over half of the 323 unique visitors to the space reported at least one of those needs, according to an abstract posted on the American Public Health Association website. 
"I assess [its success] by looking at the fact that kids are coming in and are getting tested [and] getting other services, [but] HIV is only one of the issues," Silvestre says.
"We're talking to kids who are homeless, kids who may have been abused," adds Silvestre, emphasizing the range of social support Silk offers.
But the space isn't staffed just by people with academic or social-work experience. Roughly half of its 11 employees come from the ballroom community itself (though all of them have public health-related experience), according to Friedman, now Project Silk's director. That includes Brookins, who does both HIV prevention and mentoring work.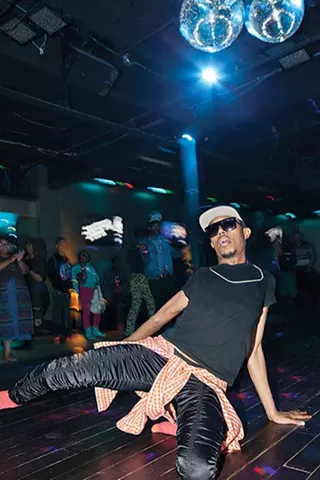 "Houses have this really familial structure to them," Friedman says. "One of the things we wanted to do is really build on that."
"It's not just about, 'Oh, we need to tell someone to use a condom.' It's a lot more complicated," Friedman adds. The challenge, he says, is "How do we make it feasible and acceptable to those in the community?
'One foot on the street and one foot in the clinic'
Chazie Bennett crashes to the ground, and in unison, the room lets out a collective "OH!"
Bennett springs back to his feet and struts down the platform where dozens of voguers are watching. "Hey — hey-hey — hey REV-LON!" the crowd yells, clapping to the beat.
"Ready for the rhythm are you ready for the ... Ready for the rhythm are you ready for the," the emcee is rapping continuously into the microphone, playing off the beat that fills Cruze Bar.
The judges are perched in front of the stage facing Bennett. He collapses back to a crouch and his feet slide in opposite directions, his legs alternately kicking out from under his body. He momentarily appears to be balanced on nothing but the air under him. Sweat drips from his forehead — one of the few signs this isn't at all effortless.
"Start over — I don't even know what I'm judging," one of the judges interjects. Bennett collapses into a heap on the ground, a wave of frustration crosses his face. But it's only momentary: This is just a kiki ball.
Kiki balls are supposed to be lower-pressure events. The prizes here are gift cards, nothing like the $7,500 in cash prizes that can be scored at balls in bigger cities. Sponsored by the Pittsburgh AIDS Task Force — which holds a kiki ball every two months and offers HIV testing at them — these are mostly for fun.
"It's kind of just a way to kill politics" and drama, says Dalen Hooks, the overseer of the House of Ebony and a staff member at the Pittsburgh AIDS Task Force.
But drama is often unavoidable. A few hours into the event, an argument erupts among a few judges, which Bennett explains as "drama going on between the houses." And there are significant rifts in the ballroom community. Last year, a Project Silk "town hall" meeting — called to discuss the past and future of the community — devolved into a fight.
Such tensions are a real challenge for Project Silk, which as the West End Health Center's Dr. Lane puts it, has "one foot on the street and one foot in the clinic." The same social connections that help build the mission also complicate it.
"When we were doing HIV screenings at Project Silk, we were finding kids who knew they were HIV-positive, but weren't getting care anywhere," Lane says. Part of the problem, she says, is that young people "don't have a sense of mortality." But there's also "just a lot of misinformation that people with HIV are dirty or bad people."
More than a year ago, Lane says, an Instagram account went up that showed the faces of certain members of the community and claimed some were HIV-positive, among other accusations. It has since been taken down, Lane explains, but incidents like that play off a profound sense of stigma.
"There are people in the black gay community who would die before they let anyone know" they are HIV-positive, Lane says.