The performance and house cultures are intertwined — and the houses themselves are like college fraternities or sororities, with regional chapters in cities across the country. And the houses become part of its members' identity: Participants often substitute the house name for their own last name, and travel to each other's cities.
At competitions, houses provide a cheering section for their members: Early on, Brookins noticed that house members had "the whole family yelling and cheering them on." Meanwhile, "Being a 007 — meaning I wasn't in a house — I had my friends cheering me on, but it was like, 'I want to be in one of those houses.'"
Houses provide support off stage as well, with house "mothers" and "fathers" caring for "children" often discarded by their biological parents.
Younger members "come to me for advice, whatever they're going through," says McDowell. "It's good that they can get advice on how to be gay."
That support is part of what draws people to the scene. John Easter grew up in Erie, where being gay was "a big taboo." And then, as a freshman at Pitt taking a course in gender, race and class, he saw a screening of Paris Is Burning. Watching the film, Easter recalls, "I was sort of jealous" of the support offered by the houses (Easter would later join House of Krayola) and the voguing itself.
"You can be a character; it involves dancing and it connects you to other gay people," says Easter, who today works at the Pittsburgh AIDS Task Force. "It's not like you against the world."
Brookins, too, needed that refuge. His own mother was addicted to drugs — "I was there physically, but emotionally I wasn't," Kelly Brookins says today — while his father was absent.
"I was dying for family — to feel like I had family again," Brookins says. "And when I found the ballroom scene, it was like, 'This is the road to take so I can be who I want to be.'"
A few months after his first ballroom performance, he joined a house, the House of LeBeija, and grew close to house mother Lucky LaBeija.
"I couldn't talk to my mom about sex," Brookins says. "I couldn't talk to my mom about wanting to fight somebody." But with Lucky, "I could talk about anything I wanted."
And when Brookins was outed by a family friend, his mother kicked him out, beginning a stretch of periodic homelessness. "I was mortified, devastated," his mother recalls. Brookins began relying on his new family, which "gave me a place to stay. I was able to eat."
But life in Brookins' adopted home was troubled, too. For one thing, he says, "People were catching HIV before my eyes."
'It's almost turning into a national scandal'
"It's pretty clear [...] that young black men who have sex with men have been ignored in HIV-prevention efforts," says M. Reuel Friedman, a University of Pittsburgh public-health researcher who has spent nearly two decades working on HIV prevention.
What's less clear, though, is what to do about it.
Though African Americans make up only 12 percent of the population nationally, they accounted for 44 percent of new HIV infections in 2010, according to the Centers for Disease Control and Prevention. Especially troubling are HIV rates among young black gay and bisexual men ages 13-24, who account for twice as many new HIV infections as their white and Hispanic/Latino peers, CDC data show.
"If black gay American men could be turned into a country of their own, they would have the highest HIV rates in the world," says Ron Stall, director of the Center for LGBT Health Research at the University of Pittsburgh. "What hasn't happened is a unified, carefully constructed public-health response. It's almost turning into a national scandal."
Stall cautions that these high HIV rates are not the result of riskier behavior. In fact, he says, research suggests that black gay men are actually more conservative than their white peers.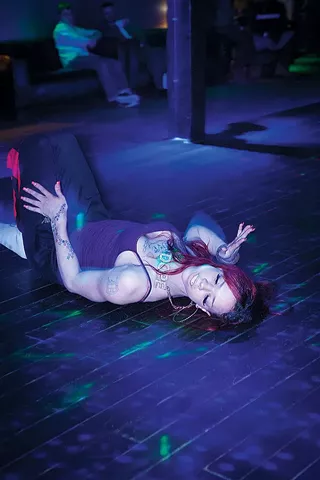 "You have to be a saint as a gay black man to be HIV-negative," agrees Stacy Lane, a West End Health Center doctor who often works with the LGBT community.
There isn't much research on why the disease is so prevalent within the black community.
"There's a lot we don't know," says Anthony Silvestre, an investigator at the Pitt Men's Study, a longstanding effort to understand HIV infection. But he cites a range of likely factors: poverty, homelessness, discrimination, stigma and lack of access to education and health care. Another factor is that the odds of infection are higher simply because the pool of possible partners is smaller, and has a higher infection rate to begin with.
Brookins himself worked as a "dancer," a job in which he'd take his clothes off for cash. ("If somebody tells you they've never sex-worked — shame on them because they're lying," he says.) And living on the margins often brought elevated risk.
"We never had nowhere to go," says Brookins. "We didn't have access to condoms, so we had sex without because we didn't have money to buy them."
"There were other agencies that didn't treat us that well," says Brookins, noting there wasn't much outreach to the black gay community. "We felt like it was about time we had something specifically for us."
In high school, Brookins had been involved with the Young Adult Roundtables, an effort by the state Department of Health to involve youth in HIV prevention, especially in high-risk populations. It was a venue for expressing frustrations about the lack of resources available to young gay black men. Along with Terrance McGeorge — a friend who'd convinced Brookins to go to his first ball — Brookins began to imagine a space where the ballroom community could hang out, feel safe and compete all they want ... and where you could get an HIV test, condoms and access to other services.
They'd talked about the idea with Friedman, who'd also participated in the Roundtables, and who "kind of became an uncle to me," Brookins says. Together, they proposed a unique approach to public health, which they called Project Silk.
The premise of Project Silk — so named for the "web of social support we're trying to build," Friedman says — is simple: If you're trying to communicate a health message, "people respond much better to their peers," Silvestre says.
Project Silk opened its doors in February 2013, with a $1.3 million "demonstration" grant from the CDC that passes through the state Department of Health to Pitt. The funding recognizes a problem that "for 30 years, no one has been able to fix," says Silvestre, the principal investigator of the project. And it makes people "more willing to consider new approaches" — starting with the space organizers rented on Penn Avenue Downtown.
Anyone from the community can drop in to the eighth-floor space, which is furnished like a living room — save for the HIV-prevention posters and condoms. There's warm lighting, couches, a TV, faux hardwood floors and a full-length mirror propped against the wall. Four nights a week, Silk offers space for voguing, but also mentoring, testing and connections to other health services.