The cases at Eliza Bowman's bakery are full of alcohol. But there are no bartenders, cocktails, or highballs at the small Point Breeze shop — it's all in the pastries.
At Prohibition Pastries, Bowman incorporates craft spirits into her sweets (save for a few, such as her Grandmother's sticky bun recipe). The shop opened two and a half years ago, after a short stint in the Pittsburgh Public Market running the first version of her bakery, Eliza's Oven.
The solo baker comes from a "very Irish" background, "which means everything has a little bit of whiskey in it," she laughs, and her bakery reflects that heritage. Prohibition Pastries has made a name for itself with Bowman's boozy takes on classic English and Irish recipes.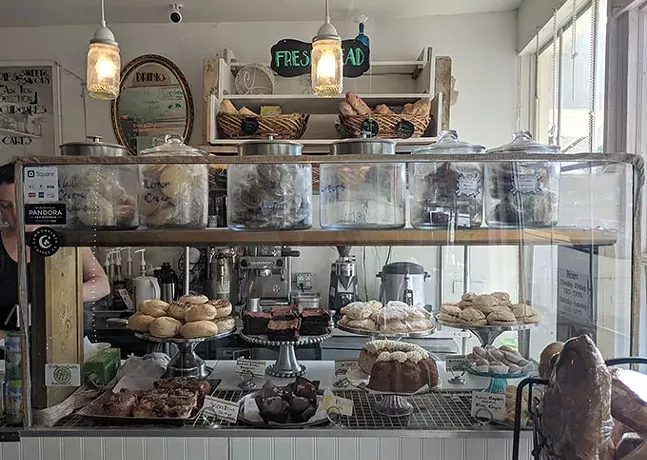 Though Bowman infuses her recipes with alcohol, don't expect a buzz from these treats. Vanilla extract, the baker notes, contains about 30 to 40 percent alcohol; she is simply substituting the extract with actual spirits. By baking with booze, she draws out flavor without the side effects. Biting into a barleywine pretzel (made with East End Brewing's barleywine style ale), tastes like sipping a malty, sweet beer.
Baking with alcohol requires persistence; Bowman chalks up her successes to relentless trial and error. Some recipes, like for bread, are made for alcohol. It's already a wet dough and doesn't need fat for texture. She can do a complete swap of alcohol for the liquid a recipe calls for, and the dough will still be balanced.
Cake, on the other hand, is trickier. A cake needs fat. Bowman has had to develop loopholes in order to add alcohol and keep the intended texture. Even a small addition of a hazy IPA, which contains more yeast than the average brew, can make a cupcake explode in its tin. Cookies present an entirely different set of issues because there's no liquid in the batter. Bowman resorts to alcohol extracts — like a simple syrup — to make spirited cookies.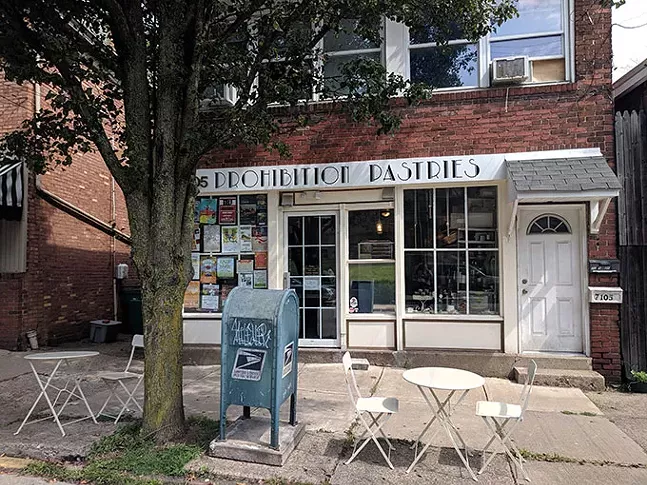 On any given day, there's a fully-stocked bar baked into the shop's pastries. Bowman always has a few staple items — a chocolate and stout combination, a wine olive oil bread, beer cheese hand pies, and something with whiskey — on the menu, but otherwise, the pastry and spirit list rotates. She's constantly exploring new combinations (lime and IPA and anything with gin or wine are her favorites).
Prohibition pastries are available in the East End store, a handful of local stores, and at the Bloomfield and Lawrenceville farmer's markets.