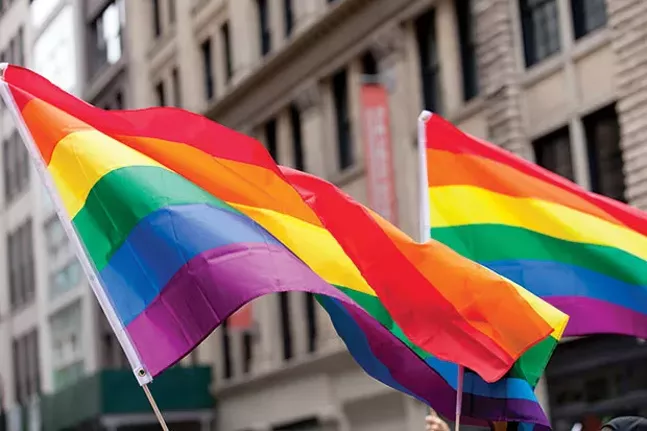 Some of the fastest growing towns in the Pittsburgh area lie just across the Allegheny County border in counties like Butler and Washington. Townships like Cranberry and Peters have enjoyed influxes of several thousand new residents over the years. These areas are very attractive to new residents thanks to their modern amenities, newly constructed homes, low taxes and good school districts.
But towns outside of Allegheny County also lack something important to LGBTQ residents: civil-rights protections that prevent people from being evicted or fired merely for identifying as LGBTQ. And the "No Way No Gay" campaign believes this lack of protections could seriously hurt Pittsburgh's chances of landing Amazon's second headquarters, also called HQ2.
The campaign was established in February to encourage Amazon to choose a region with robust LGBTQ protections. Pittsburgh and Allegheny County have passed non-discrimination laws for LGBTQ residents, but no community outside of Allegheny County in the greater Pittsburgh area offers such protections.
Amazon employees have pressured the tech giant to consider LGBTQ protections when selecting the HQ2 location. The Seattle Times reports that Amazon vice president of public policy Brian Huseman issued a memo assuaging employees' concerns that Amazon is committed to LGBTQ rights. "[We'll] continue to join the business community in efforts to oppose laws that discriminate or encourage discrimination, no matter where HQ2 lands," wrote Huseman in the memo.
No Way No Gay spokesperson Conor Gaughan believes this is a bad sign for Pittsburgh's HQ2 bid, since communities like Cranberry and Peters, popular suburbs for people who work in the city but choose to live elsewhere, don't have LGBTQ protections.
"Amazon employees shouldn't have to sacrifice their civil liberties on their daily commute to and from work or send their kids to schools where they aren't protected from bullying based on their sexual orientation or gender identity," wrote Gaughan. "When it comes to big and innovative companies looking to make major investments, this presents a competitive disadvantage to those cities in states without protections."
The past several years, Pennsylvania state Rep. Dan Frankel (D-Squirrel Hill) has introduced a bill in Harrisburg that would provide all LGBTQ Pennsylvanians non-discrimination protections. However, that bill has been held up in state Rep. Daryl Metcalfe's (R-Cranberry) committee. Metcalfe, who consistently expresses anti-LGBTQ views, wrote on Facebook in April that he blocks "all substantive Democrat legislation."
Gaughan acknowledges that both cities of Pittsburgh and Philadelphia are very LGBTQ friendly, but he writes that without a statewide LGBTQ non-discrimination law, any city in Pennsylvania has a slim chance to land HQ2.
"It is clear that the failure of state lawmakers to protect LGBTQ citizens is jeopardizing the chances that either Philadelphia or Pittsburgh will land the bid and the estimated 50,000 new jobs that come with it," wrote Gaughan.