Slim Forsythe points to a 1951 picture of his dad, Frank, on the set of Duquesne Showtime, a local variety show sponsored by Duquesne Pilsener. A singer on the show, Frank is dressed in a white suit with fringed epaulets, identical to that of the "Prince of Pilsener" featured in much of Duquesne's advertising art.
As Slim points out, the outfit isn't the only similarity between Frank Forsythe and the Prince of Pilsener: One version of the fictional prince is nearly identical to the young singer, leading Slim to believe the logo art was modeled after his father.
"I've been telling anyone who would listen about this for the past 30 years," says Forsythe.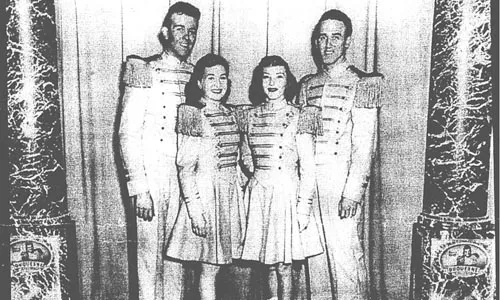 In July 2010, Forsythe's girlfriend was reading the Pittsburgh Post-Gazette's business section, and pointed out to him that Mark and Maria Dudash were reviving the Duquesne brand, and brewing the beer in Latrobe.
"He called us up at home," says Maria Dudash. "And a lot of people were calling around then, and you don't talk with everyone, but Slim was so engaging, and his story was so interesting.
"He caught my interest at sentence one, and kept it until sentence 500."
Forsythe and Jimmy Nied decided to have an event at Nied's Hotel celebrating "the return of the Prince of Pilsener"; it was timed to coincide with the Sept. 25 release of the brewery's second batch. With help from The Beagle Brothers, Forsythe premiered a song about an older man returning to Pittsburgh, lamenting that he can't get Duquesne "on this sad, lonesome train."
"It just blew our minds," says Mark Dudash; they had no idea a song was even in the works.
The Dudashes decided to make the song Duquesne's theme, and they've kept in touch with Slim as friends. "He's never asked us for a penny for the song," Mark Dudash continues. "He just has a genuine interest in the product and his father's history with it. What I love about Slim is that it's never about Slim, it's about everyone else."