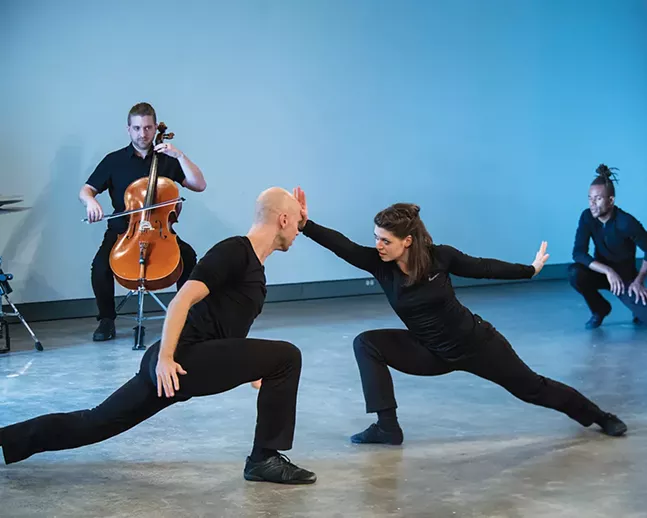 Attack Theatre opens its 24th season, dubbed "The Year of Music," with a slew of events —beginning with a Season 24 Kickoff Party on Friday, Sept. 14. The following two days, it joins forces with City of Asylum in presenting jazz saxophonist, poet, and composer Oliver Lake's Stoop is a Verb at Alphabet City.
This free, spoken word/poetry/music/dance program highlights the cultural landscape of the North Side. Joining dancers Simon Phillips and Michele de la Reza are actors Monteze Freeland, Adrienne Wehr, and Kelsey Robinson. Lake and a small jazz ensemble will accompany the performers as his lyrics are recited by Robinson.
"This season we are celebrating the importance that live music has had and still has as a collaborator in our creative process," says de la Reza, Attack Theatre's co-founder.
Attack Theatre's longest-running dance series, Some Assembly Required, returns with an intimate, interactive production that involves the audience in the dance-making process by using artistic works.
It heads to the Associated Artists of Pittsburgh 106th Annual Exhibition, held at the SouthSide Works, for two shows on Sept. 22, and moves to the Braddock Carnegie Library the next day. There, it will highlight the library's Art Lending Collection. Live performances by cellist Simon Cummings and percussionist Ian Green will accompany the dancers. "Some Assembly Required is an opportunity for fans and newcomers alike to have an almost one-on-one experience with the dancers, and be actively involved in the creative process," says de la Reza.
Rounding out a busy month are: I am Jonah, a collaboration with Temple Sinai, on Sept. 19; Thrival Festival, on Sept. 20; and the global premiere of "Finding Another," a hoverboard-riding, augmented-reality duet. Details for all are found at attacktheatre.com.
Dance Developments
Pittsburgh Ballet Theatre has increased its ranks of soloists, adding Masahiro Haneji, William Moore, and JoAnna Schmidt for the 2018-19 season. Additionally, Pittsburgh natives Tommie Kesten, Jonathan Breight, and Caitlyn Medicino headline a group of six new corps de ballet dancers. The others are Christian Garcia Campos, Colin McCaslino, and Yu-Chieh Chao. (Previous dancers Olivia Kelly and Daniela Moya are no longer with Pittsburgh Ballet Theatre, and longtime soloist Alexander Silva has retired.)
The Pillow Projects presents The Invisible Jazz Labs, its continuing series in which scientists and improvisational artists come together. Admission is $10-15 at The Space Upstairs in the East End.
Follow featured contributor Steve Sucato on Twitter @ssucato.