Presidential candidate and presumptive Republican nominee Donald Trump gave a speech to more than one hundred supporters at a private event in the Mon-Valley town of Monessen, and only said the words "Islamic" and "immigration" once during the 35-minute speech.
It seemed to be a clear move by Trump, known for speaking off-the-cuff about many issues, including claiming Mexican immigrants are "rapists" and backing a ban of Muslims into the U.S., to appear more presidential. In fact, Trump even appeared to be using a teleprompter during his speech, something he rarely does. (One of the last times Trump was in the Pittsburgh area,
he rambled about former Penn State football coach Joe Paterno
, seemingly unaware that Paterno passed away years ago.)
But his Monessen speech lacked any rambling and was focused on a singular issue: trade. Trump mentioned the North American Free Trade Agreement and the potential
Trans Pacific Partnership
more than a dozen times each. He said if elected president, that he would enact a seven-point plan, including withdrawing the U.S. from TPP and renegotiating NAFTA to "get a better deal." And, if that isn't possible, then he would pull out of NAFTA altogether. He also said he would go after China, calling the Asian country "cheaters" in the global market.
"We need to make America independent once more," said Trump. "We need to stand up to trade cheaters."
Trump's speech broke down agreements and terms like NAFTA, TPP (which is more than 2,000 pages) and gross domestic product in a Cliff-notes, TED-talk manner. He even referenced "section 201 of the Trade Act of 1962," which gave the President authority to alter trade deals and reduce tariffs if the President determines trade deals are unduly burdening and restricting foreign trade.
Trump claimed that trade deals over the last 20 years have hurt the average American worker. "We lost our way when we stopped believing in our country," said Trump. "Trillions of our dollars and millions of our jobs have flowed overseas." He also claimed his trade deal would revitalize down-on-their-luck towns like Monessen and said he would bring back mining jobs to Appalachia.
But, the crowd tucked into the Alumisource aluminum factory was mostly subdued during the speech. They clapped during pauses, and a short "I like Trump" chant broke out for a few seconds, but rowdiness was conspicuously absent. (The loudest cheer may have came when Trump randomly mentioned "radical Islamic terrorists," but ended quickly has Trump continued to detail his trade plan.) The crowd also seemed to differ from the usual Trump followers, who tend to be more of a blue-collar, camouflage-cap wearing group. One lady dressed in shiny black high heels and a glossy blue dress said "ciao, ciao" to her friends as she exited the factory.
Some of his supporters hinted that Pennsylvanians can expect to see this trade-policy-focused Trump in the run-up to the November election. "There is going to be more of shift to trade, not focusing on immigrants and the Muslim ban," said Zane Podsobinski of Pittsburgh. "Make this more of a swing state."
But, outside the aluminum plant was a group of Trump supporters that weren't allowed into the private event. They chanted "build that wall" as the crowd exited the plant. One of Trump supporters in the crowd was a Monessen woman named Lisa Povirk. She said she thinks some of Trump's policies, like banning Muslims, are a bit extreme and expressed interest in hearing some of Trump's more detailed policies.
"What stinks is some of the time we don't get to see that side of him," said Povirk.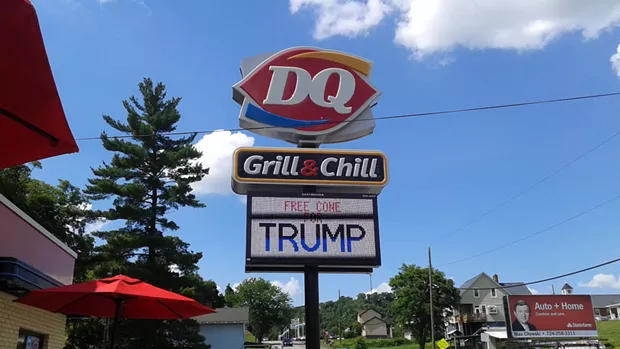 Another group of Trump fans also were hoping to meet the business man. The Dairy Queen on Route 88, just outside Charleroi, advertised a "free cone for Trump" on the store's electronic marquee. Store manager Rachelle Davanzo said it's rare for presidential candidates to visit the Mon Valley, so she thought she would try "something fun" to attract Trump to the restaurant. Trump never showed, and Davanzo said she received calls of support and protest because of the sign. But ever the nonpartisan, she said if presumptive Democratic presidential nominee Hillary Clinton schedules a visit, they will offer her a free ice cream cone too.