Video by Ashley Murray
With only hours until the polls throughout the Keystone State open, Democratic presidential candidate and Vermont U.S. Sen. Bernie Sanders made one final push for his candidacy. In front of a crowd of hundreds at the Fitzgerald Field House on the University of Pittsburgh campus, Sanders specifically addressed young people as the "future of this country."
He said that young people understand that the economy needs to change, if the younger generation is to avoid the distinction of becoming the first American generation to have a lower standard of living than their parents' generation.
"Young people have told me 'how is it that when we have done everything we were told to do by our parents and teachers, why are we still $30,000 to $40,000 in debt?'" said Sanders. "We can do better as a country."
And Sanders challenged the mostly young crowd to fight back against a system that has left them out of the growth returning to the U.S. "I am here to challenge you to support me in taking on these hard issues."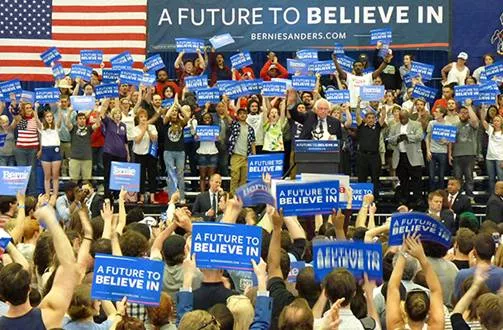 The crowd was significantly smaller than the more than 8,000 who showed up to the
last Sanders rally
in Downtown, but the rally at the Pitt campus was also held during the school's spring finals week.
He pointed to the popularity of football in Western Pa. and contrasted it with our government, saying "democracy is not a spectator sport" and challenged voters to get involved.
'[The government] does not listen to people if they are not involved. Your job is to be heard."
Sanders outlined his plans to create free tuition at public universities and to allow student-loan debtors to refinance their loans. He also said he would reverse the NAFTA trade policies if elected president. Sanders highlighted his environmental policies, including his plans to tax carbon emissions and ban fracking.
"I know it is a controversial issue around here, but we need clean drinking water, and if we are going to preserve clean drinking water, we have to end fracking."
Sanders also brought up helping the black community, particular those in inner cities. He mentioned his meeting with victims of the Flint water crisis and the other black communities in Detroit, Chicago, Milwaukee and Baltimore (he failed to mention any Pittsburgh or Pennsylvania black communities, however). Sanders said that help in African-American communities could be provided through more attention on affordable housing.
"People are paying 40 to 60 percent of their income on housing ... We need to give those people the tools to rebuild affordable housing," said Sanders.
Sanders also mentioned that he has met many black community members who wonder "how we can invest trillions in the Iraq War and not invest in inner cities in America?"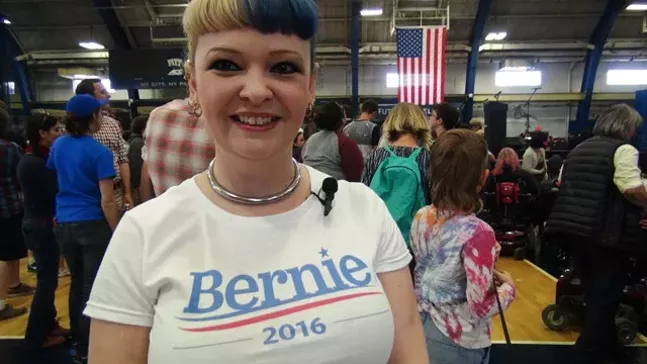 Heather Cruz, wife of a retired U.S. Army soldier who is now a contractor in Kabul, Afghanistan, sported half blonde-half blue hair at the rally and was decked out in Bernie swag.
"Quite honestly I believe he is the best chance for getting things turned around in this country the way they need to be done. I've been a supporter of his since he announced he was running."
A bit oddly, U.S. Senate candidate and Braddock Mayor met with students outside the rally, but did not speak.
Fetterman publicly endorsed Sanders
back in January, but Sanders has yet to return the favor.
Sanders ended the rally with some of his trademark populist optimism. "If we have a large [voter] turnout tomorrow, we will win Pennsylvania. Let's have the largest turnout in Pennsylvania history tomorrow."
Ashley Murray contributed to this report.