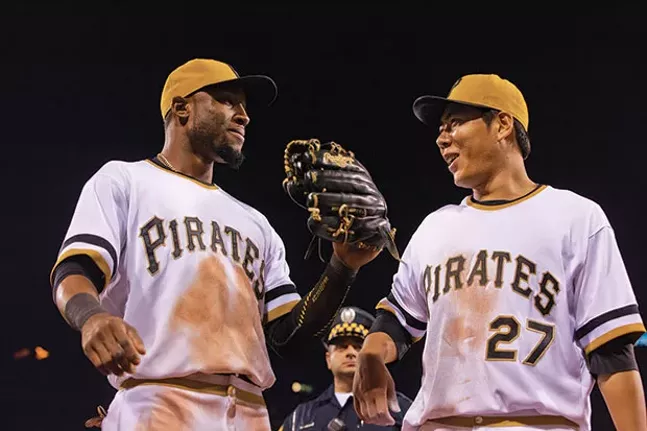 The Pittsburgh Pirates stormed out of the All-Star break this past weekend by taking two out of three games from the St. Louis Cardinals. Josh Bell hit a walk-off homer on July 14, and on July 16 Adam Frazier hit a walk-off single to score shortstop Jordy Mercer.
As of press time, the Buccos were 44-48, and in fourth place in the division behind Milwaukee, Chicago and St. Louis. But the Pirates are just seven games back, and anything can happen in this currently mediocre-as-shit Nationl League Central.
Between drug suspensions, visa denials and a weaker-than-normal bullpen, this season has been nerve-wracking. There's no telling what's going to happen in the second half of the season, but here are my predictions.

• Andrew McCutchen, who broke out of his offensive slump in the past six weeks or so, will pull a Johnny Cash-like move and take out a full-page ad in newspapers to address the fans and pundits who thought his career was over and that he should be traded. Instead of a middle finger, like Cash used, McCutchen will be photographed performing an expertly executed crotch chop under the headline "Trade This!"

• In an effort to win back fans following his suspension for performance-enhancing drugs, Starling Marte will write a Dr. Seuss-like children's book called Green Eggs and PEDs. The New York Times best-seller will feature prose like: "I will not take them in a box, I will not take them in Blawnox. I will not take your PEDs, I've learned my lesson … probably."

• Pirates third baseman Jung Ho Kang, currently unable to enter the country after receiving a suspended prison sentence for his third DUI offense, will use a false name to enter the country and rejoin his team. That name? Cal Ripken Jr.

• As the trade deadline approaches, the Pirates will make a huge move. After two seasons, Bacon Burt will be removed from the team's pierogi race because everyone agrees that a pierogi with hair on it is disgusting.

• Deciding that money is no object, the Pirates will acquire Todd Frazier, Sonny Gray and JD Martinez to make a run at the postseason. I will wake up and realize I was dreaming, go back to sleep and instead have a more pleasant dream about kittens wearing life jackets and riding sea turtles.

• An autographed John Jaso game-worn dreadlock will sell at auction for $38,000 to benefit Pirates Charities.


• Pirates minor-leaguer Steven Brault's ERA will fall to 1.84 by Aug. 3. The Pirates will still claim the time's not right to bring him up from Indianapolis.


• The band Chicago, set to play a concert after the Aug. 4 Pirates game, will decide to show its devotion to the hometown Cubs. Pitcher Gerrit Cole will miss his next start after founding band member Robert Lamm uses his keytar to hit Cole on his throwing arm.


• Jameson Taillon will remain free of injury for the rest of this season and the next 10. After all he's been through, he deserves it.