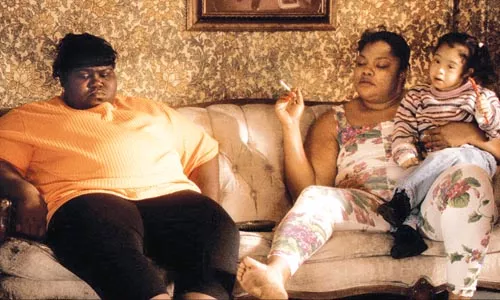 Clareece Precious Jones is not here. That's how she says she feels, trudging through her hopeless life of misery and neglect. The Harlem teen is friendless, obese and illiterate. She daydreams of marrying her math teacher, or starring in a BET video. Tossed out of junior high for being pregnant with her second child, she finds no refuge at home: Her emotionally and physically abusive mother rules that roost.
This is the world of what will surely be this season's most talked-about movie character. Lee Daniels' drama, Precious: Based on the Novel Push by Sapphire, follows Precious for a year or so, as she gradually gains self-respect, purpose and forward momentum. Key to this progress is her transfer to an alternative school, where under the tutelage of a caring teacher, Blu Rain (Paula Patton), she finds her footing.
Feel-good inspirational film? Not quite. It accentuates the positive, but Precious' story is mired in so much institutional negativity that the big picture is depressing. At the film's end, a dedication appears on screen: "To the Precious girls everywhere." Because, yes, girls like Precious are everywhere, and there isn't a movie coming to transform their circumstances. Even for this Precious, there is only a different long, hard road.
Precious isn't a perfect work. Its translation from a first-person novel leaves gaps, and some characterizations feel underdeveloped or movie-ish. I'm still mulling over exactly what I thought of the film, and while that may make for a waffling sort of review, I also think that's not a bad thing.
Because this film forefronts so many hot-button issues -- such as child abuse, generational poverty and identity -- in such open-ended ways, it's sure to have viewers debating what it all means. Though the story is set in 1987, the questions Precious raises are wholly relevant and worth talking about. (Discuss: Has the welfare system, which Precious' mother openly scams, trapped Precious in an inescapable cycle of poverty? Should such institutions have done more to protect her? If not, then who?)
Undoubtedly, the first thing viewers will be chattering about is Mo'Nique's raw performance as Precious' abusive mother. It's initially showy and distracting -- you'll be thinking, "Damn, that's Mo'Nique?" -- but the comedienne owns the film's most devastating scene.
Newcomer Gabourey Sidibe has a tougher role, as the actress has much inner life to convey through Precious' numbed inertia, barely audible mumble and expressionless face. Director Daniels fills these gaps with such cheats as Precious' dream sequences and voiceovers, but Sidibe holds her own, drawing us in, compelling us to look. Precious is the invisible girl in her own life, who silently pleads: "See me." And we do. Starts Fri., Nov. 20. AMC Loews, Manor