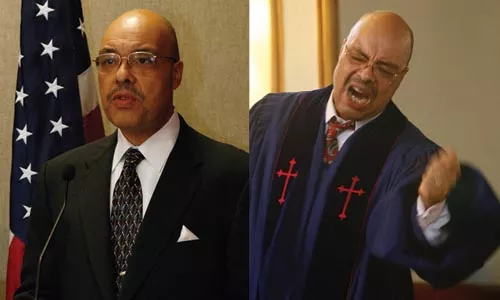 It's a Sunday at the Nazarene Baptist Church in Homewood, and the Rev. Ricky Burgess is ready to preach.
Sitting in his wooden chair behind the altar, he begins clapping with the choir, his blue robe flowing with the rhythm of his hands. Soon, he stands and swings his arm in unison. As the music trails off, Burgess steps forward.
In churches all around Pittsburgh, ministers are beginning their sermons with parables from the Bible, or humorous anecdotes. But Ricky Burgess isn't just a minister: He's the Pittsburgh city councilor representing District 9. And he begins his sermon with current events, reminding his congregation of the shooting that killed 56-year-old Sharon Stewart on the porch of her sister's Beltzhoover home.
"It's bad when you can't sit on your porch," Burgess says. "I believe that we can stop this, but it's going to take all of us."
At the outset, Burgess' voice is calm, deliberative -- the reserved tone he often displays in city council. But gradually, his pace quickens and his voice amplifies. After 10 minutes, he is shouting with a passion rarely seen in public on the fifth floor of the City-County Building.
"We don't get involved with social issues unless they directly affect us personally!" he thunders before a congregation of 75. "Drugs are destroying our community. Many of our young men are in the prison system. Our children are having children! ...
"As the church goes, so goes the community!" he adds. "If you think things are bad now, let the church close the door!"
The problems outside that door are obvious to everyone: Many of the storefronts near Nazarene Baptist are vacant, offering little but memories. Last year nearly half of the city's homicides took place in the police zone that encompasses the church ... and less than 12 hours after Burgess finishes preaching, 23-year-old Eric Frazier will be shot and killed in nearby East Hills.
Burgess, too, has lost loved ones to gun violence. And just as he brings policy concerns to the pulpit, he has resolved to bring his moral compass to the public sector. He has made crime reduction the central issue of his first nine months in office.
But Grant Street is a long walk from Frankstown Avenue, and the reverend must reconcile the district's needs with the demands of politics.
By the end of his 35-minute sermon, Burgess has preached to every corner of the room. He's delivered words in front of and away from the mike. He has gesticulated and hopped up and down.
"When you get mad, I want you to get Holy Ghost angry!" he roars. "I want you to get so angry that you just can't take anymore. And then roll up our sleeves and begin to build the kingdom of God here on earth."

The kingdom has been a long time coming in the ninth district -- an x-shaped cut of the city that also includes Garfield, East Liberty, East Hills and Point Breeze.
Burgess is a native son: Born in Homewood in 1957, he says he's "lived through the community's demise [and] through its heyday. I was there in the '60s when it was a different community."
But it was already fraying. As more African Americans, some of whom had been displaced by the Civic Arena, moved into neighborhoods like Homewood, many whites moved out. At the same time, investment dried up. The drug trade grew.
Against a backdrop of mounting violence, Burgess decided to pursue the ministry in the early 1980s, while he was teaching a graduate-level course in communications.
"I've lived this," Burgess says. "My mother-in-law was shot and killed. My brother-in-law is serving 20 years for a gun charge. My cousin was shot and killed. My wife's cousin was shot and killed."
And the minister has much in common with his flock. The Pittsburgh Police Bureau's Zone 5, which largely overlaps the district, is Pittsburgh's deadliest beat. In 2007, almost half of the city's homicides -- 26 out of 57 -- took place within its boundaries.
"I had the son of one of my [church's] members shot 11 times," Burgess says. "I had another one of my members, who grew up in the church, shot and killed. I've done those funerals. I've talked to those families. I know them intimately.
"The violence [and] the lack of economic development are the two twin heads of the hydra that [are] destroying the inner-city African-American community," he says. "I believe that we must use all resources we can to eradicate these twin terrors."
Burgess's 2007 council run wasn't his first attempt to help his community. Aside from being a reverend, Burgess has taught college courses and served as the director of a local nonprofit that provides family counseling and job training. "I've tried to do it in the religious circle," he says. "I tried to do it in the nonprofit world. I've done it in the education world."
The 2007 campaign wasn't his first political bid: He ran unsuccessfully for the council seat 12 years ago, when he lost to Valerie McDonald-Roberts. In 2007, McDonald-Roberts' successor, Twanda Carlisle, pled no contest to charges that she directed public money to friends and private accounts.
Carlisle is now serving time in prison -- though before being sentenced she ran for re-election. Burgess bested her and the rest of an eight-candidate field during the Democratic primary.
In some circles, Burgess' ascension has raised occasional doubts about how much his faith dictates his politics. In June, Burgess was the only vote against a mutual-commitment registry -- a list created to help unmarried domestic partners (including GLBT couples) have their relationships acknowledged. Burgess refuses to comment on the vote even to this day.
"I was really pissed at that and I let him know," says Joni Rabinowitz, a Democratic committee member in the 14th Ward, adding that she's been mostly pleased with Burgess' actions on council. "I thought he would be on the edge, but I didn't think he would vote against anything."
Still, Burgess says the jobs of pastor and politician have much in common.
"I believe that council people should be ethical and spiritual," he says. "What's similar is that [both positions] try to meet the needs of the community and the people, whether those are spiritual needs, whether those are practical, physical needs. In many ways they're actually very, very similar."
"Within the black community, the black church has always been on the forefront politically [and] economically," says Pastor Michael Smith, of Destiny International Ministries, a non-denominational church in the East End. "That's just the role of the black church."
Destiny itself is pursuing a development project in the district, and Smith says that the black church's active role in social issues "goes back through slavery. We don't have the 1964 Civil Rights Act being passed without Reverend Martin Luther King."
Black Pittsburghers face different challenges now, but Smith says he and other pastors are working with Burgess on ways to reduce violence.
"The unity is there, we just need a strategy for the unity," Smith says. "We just need a strategic leader to take the unification to the next level. ... Rev. Burgess holds that position and we're ready to do it."
But succeeding means paying careful attention to the realities of big-city politics ... even when the city you're trying to build is the New Jerusalem.

When Burgess took office in January, his district's needs were high, but the bar of expectations had been set low. Carlisle's scandals had hurt the district, and ethics disputes were also brewing between city council and Mayor Luke Ravenstahl.
"Once you enter that arena, the rules of politics pretty much kick in and you'd better be a student," says Joe Mistick, a Duquesne University law professor and Democratic Party insider who once worked for former Mayor Sophie Masloff. "I've been fascinated by the way [Burgess] is handling things."
One of Burgess' first moves struck a powerful contrast with Carlisle. Each councilor has control over roughly $75,000 in funds that can be spent in the district annually. (Burgess's district also has a little under $150,000 left over from previous years.)
Carlisle's use of the money -- paying friends as "consultants" for work of dubious value -- was particularly egregious, but questions about whether politicians use the money to reward pals are almost inevitable. So this spring, Burgess announced that he was placing a philanthropic organization, the POISE Foundation, in charge of parceling out the money.
"Council members distribute those funds based on their own input, their own consideration," he says. "What I've tried to do is remove the politics of that process, so that a person does not have to agree with me politically in order ... to receive funding."
Burgess has instructed POISE to award grants for programs focusing on economic development, crime prevention or education: "I believe those are the three most pressing areas of need," he says. But otherwise, he's keeping his hands out of the process.
"We are trying to make this as transparent a process as possible," says Mark Lewis, president of POISE. District 9 organizations seeking money must apply for it, with Lewis and three staffers taking first crack at their requests. The final decision will be made by the foundation's 12-member board. Lewis says Burgess and board members must disclose any conflicts of interest they may have with applicants.
Nonpartisanship does have a price: POISE will charge a 5 percent administrative fee on the funds (though that amount "doesn't cover our costs," Lewis says). And some of Burgess' rivals have doubts about its wisdom.
"I don't think that was fair to the community, that he would take our taxpayer dollars and give it to a foundation to distribute," says Ora Lee Carroll, who ran against Burgess last year and who is the executive director of the East Liberty Concerned Citizens Corporation. "Deep down in my heart, I don't think everybody is going to be treated fairly."
Burgess assures that he hasn't ceded power entirely. "[A]fter the first year, if I don't think the process is fair ... I have the ability to change that," he says. But as the arrangement with POISE suggests, Burgess is walking a careful line between political factions, sometimes removing himself from disputes entirely.
When Burgess took office, city council was sharply divided between a pro-mayoral faction -- headed up by Jim Motznik, and including Tonya Payne, the only other black representative on council -- and a pair of dissenters, Bill Peduto and council President Doug Shields. Early on, Ravenstahl critics hoped that Burgess, along with fellow newcomers Patrick Dowd and Bruce Kraus, would help form a five-member majority that could challenge Ravenstahl on good-government issues.
It hasn't played out that way. Burgess has voted against Ravenstahl on a couple of ethics questions: a proposal to limit the number of city officials allowed to take home city vehicles, and a proposal to reform campaign financing by capping the size of donations. But Burgess has not publicly questioned the mayor's ethics, as Shields has done.
"I believe the mayor acts in what he views is the best interest of our city," Burgess says. And rather than dwell on such disputes, "I tend to look more toward the future and how we can work collaboratively together."
Burgess and Dowd were, in fact, recently appointed to the Pittsburgh Contracting Best Practices Commission, a commission Ravenstahl created after allegations that politically connected firms were winning work from city authorities.
"Over the last nine months, I would argue that council has in fact moved away from the sort of block mentality" of pro- and anti-Ravenstahl factions, says Dowd. "My position has been, I'm not for the mayor and I'm not against the mayor."
Dowd points out that he and other council members (Burgess included) filed a lawsuit to protest a permit that was granted to Lamar Advertising for a Downtown digital billboard.
"We stood against the mayor on that one," and joined with Kraus, Peduto and Shields in doing so. Dowd says. But when Shields and Peduto sought to be reimbursed with city money for their legal expenses, Burgess absented himself from the controversy.
Dowd, who paid for his own expenses out of pocket, opposed the move; city solicitor George Specter argued that it would be an impeachable conflict of interest for councilors to vote to reimburse themselves for legal bills. Burgess alone sat out the ensuing debate, leaving his chair conspicuously vacant.
Whether he did so because of a real fear of impeachment, or just a desire to not get bogged down in the fray, he came out of the fiasco with his credibility intact on both sides. And that leaves him better positioned to serve his district.
As Dowd says, despite previous differences, "the mayor and I announced some initiatives. Councilman Burgess and the mayor announced some initiatives."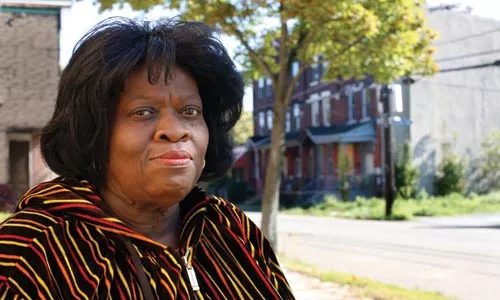 Burgess says that legislating is a "creative tension," a balance between city-wide and district-specific issues, though the two are not necessarily mutually exclusive.
And there is also "long-term versus these temporal events that come up," he says. "The point is not to be so distracted by these temporal events that you cannot systematically do the long term."
"It seems that he has taken a posture that a reverend would take," says Duquesne's Mistick. "He seems to be able to see both sides and is patient in his desire to see progress."

For Burgess, the key to making that progress is lowering crime. He has a long-term vision of bringing business and people back to neighborhoods like Homewood, but he says that can't occur without violence reduction.
His answer is the Pittsburgh Initiative to Reduce Crime, a program he is rolling out with Ravenstahl and David Kennedy, the director of the Center for Crime Prevention and Control at the John Jay College of Criminal Justice in New York.
Kennedy's theory is that the overwhelming majority of urban crime is caused by "an extremely small population." Kennedy says that these people are generally locals who have not been given a clear message from the community that what they are doing is unacceptable. He also says a good number of them would leave crime behind if they thought there was another way.
Once that population is identified, the next step is to determine what part of the community those people respect and will listen to -- whether they be ex-offenders, religious leaders or community elders.
In the program, representatives of the violent-offender group are called in (through probation or parole programs) and given the message that any future homicides will be met with a swift reaction from law enforcement. They're told to spread the message, along with the news that legal alternatives, such as job training, are available.
At the program's Sept. 19 unveiling in the City-County Building, Kennedy said that if you can make it clear to "the handful of violent groups" that "there's a way out for them -- and people can lend an honest, serious, meaningful hand -- then many of them will take it."
Kennedy has designed similar programs elsewhere, most notably in Boston. Ravenstahl's office credits his approach with a 70 percent reduction in gun violence, and a two-thirds reduction in homicides in Boston in the mid-'90s.
"I really believe [this initiative] is the cornerstone of all the things that I've been doing since I've come to council," Burgess says. "We are hopeful ... that PIRC will dramatically reduce crime in Pittsburgh and homicides in Pittsburgh, as similar movements have done across the nation."
Burgess has been stumping for a Boston-type plan in Pittsburgh since his campaign. He made an election promise to have an anti-crime agenda ready within his first 100 days in office. He missed that mark by about five months, but says the extra time allowed him to work with Ravenstahl to create a program that would be city-wide.
"It's taken a little longer than I thought," Burgess says. "I could have released some community-wide initiative, but to be honest with you, I don't think it would have been as successful, because crime simply moves from neighborhood to neighborhood."
But there have already been 19 homicides in Zone 5 this year, and launching a crime-prevention program is the easy part. The real test will come when all the agencies that have pledged support for the measure are asked to deliver.
"Where this stuff goes wrong," Kennedy says in an interview with CP, "it goes wrong because there are a lot of moving pieces. It takes really steady focus to keep those pieces active and properly meshed with one another."
By some media accounts, a similar initiative in Baltimore fell out of use because city, state and federal agencies couldn't get on the same page. The same problems that may have plagued Baltimore are familiar to the Pittsburgh area: county officials battling mayors, mayors warring with council, council members attacking one another.
Disputes between the mayor's office and council have similarly tripped up progress on Pittsburgh initiatives as well -- which is why Burgess may be wise to avoid getting caught in the disputes raging in the City-County Building.
In his crime-reduction initiative, Mistick says that Burgess "staked out a position with which neither side can disagree." He adds that Burgess "seems to have just staked out a position that he thinks is right, you know, morally right," and it would be hard for anyone on Grant Street to question his motives or his commitment. Indeed, the mayor backs the plan and council voted 8-0 in support of it.
Burgess is taking a similarly nuanced approach to economic development. In a district with few economic resources, and one that Burgess says has received "the least amount of services" in years past, there can be no other way.
"I have a community that does not have resources and it doesn't have the capacity to receive those resources," he says. "It has one bank. It has almost no businesses, no restaurants to speak of. ... It doesn't have the business structure or the infrastructure to actually make stuff happen."
The answer, then, is to "create artificially some capacity of the community to get it up to a speed in which it can then begin to regenerate itself."
Burgess advocates building from "strength to strength," which in practice means growing new businesses and housing from two jumping-off points: the Wal-Mart being built in the East Hills, and Bakery Square -- a mixed-use redevelopment of the closed Nabisco plant on Penn Avenue.
Both of these developments have been controversial. Wal-Mart's anti-union stance and low wages have made the company a constant target of criticism, and Bakery Square is getting tax subsidies without signing a "labor peace" agreement for a hotel on the project.
City law usually requires that hotels receiving tax subsidies must not fight attempts to unionize the staff. But in 2007, officials with the city's Urban Redevelopment Authority determined that this hotel was exempt, because the subsidies were paying for street-level improvements, and the hotel only occupied the upper floors of a new building.
As Burgess points out, "Both of these developments, the Bakery Square and the Wal-Mart, prior to my becoming a representative, were up and running."
But Sam Williamson, of the hotel and apparel union UNITE HERE, says he hoped to convince Burgess to use his influence as a councilor-elect to pressure Bakery Square's developer, Walnut Capital, to be more labor-friendly.
Through aides, Williamson says, the union asked Burgess "to lobby council to delay the [public financing] until the community issues had been resolved." Burgess, however, "lobbied council in the opposite direction."
Burgess insists that there's little he could have done to change the fact that Bakery Square was coming in. He steers the conversation back to his work with vocational and career-training programs. "We want jobs, certainly, that people can live off of and raise families off of," he says. But, "the demands of the community mean that we need jobs, period."
Inevitably, the new development on Penn Avenue has prompted charges of gentrification as well, building as it does from an East Liberty renewal that, in turn, extended some of the upscale retail from nearby Shadyside.
"I don't think that his economic plan is friendly to the African-American community. I think it's more friendly to whatever brings dollar signs in," says David Adams, who ran against Burgess as an independent last year. "I don't want to see another community come into ours and call it economic development."
Burgess says it doesn't matter what you call Wal-Mart or Bakery Square: "Given that they are the two major developments in my community, it makes sense to build on these activities."
But the accusations reflect the double-bind politicians representing poor communities often find themselves in. The need for investment is great, but when it comes, many residents feel as though they are excluded from it -- some because they will be priced out, and others because they wanted in on the action.
As the head of the district, Burgess is learning that it isn't always easy to explain his vision. "Some people who listen to me, they're focused on very narrowly tailored ideas," he says. "So oftentimes, we're talking apples and oranges."

Ask Burgess about the surprises he's encountered in office, and he'll say one of the biggest is "the amount of people that call me and want things.
"People call and they have a need -- whether those needs are specific to the city or not, does not stop them from calling," he adds. "They call and really expect needs to be met even if it has nothing to do with the city."
But some say they just want to see Burgess get off the sidelines.
North Point Breeze residents have complained that Burgess has taken a laissez-faire approach to the controversy over a proposed UPMC Western Psychiatric Institute & Clinic crisis-resolution center. Residents worry that the center, which would allow short-term stays for people with mental-health crises, could attract some unstable clients to their sidewalks and parks.
Cheryl Hall, chairwoman of the North Point Breeze Planning and Development Corporation, says Burgess was indifferent to residents' calls about the project. "If you're our representative, and we have this concern, doesn't it behoove you to be aware?" she asks.
Burgess says he held a community meeting on the center so that people "would be aware of UPMC's plans and involvements." But he says that being a councilor didn't give him any say over the transaction: "A landlord entered into an agreement with UPMC, and UPMC has a right to lease that property from a private individual."
Elsewhere in the district, Burgess has been accused of being too involved in a development proposal -- the purchase of the vacant Lemington Elementary School building by Destiny International Ministries. In August, Pittsburgh Public Schools sold the building to Destiny, which plans on turning the structure into a church, daycare center, theology academy and private elementary school complex.
Jacque Fielder -- the chair of the 12th Ward Democratic Committee and the mother of one of Burgess's competitors in last year's primary -- says that members of the community (including some who may have had an interest in purchasing the building) were not told in advance that the district was selling the school.
Much of Fielder's displeasure is directed at the city school district for not advertising the building's availability. But she questions whether Burgess may have helped grease the skids for Destiny: At a public meeting, she says, Destiny International Pastor Michael Smith said "he was in collaboration with the Rev. Ricky Burgess the whole time.
"I am concerned about those that we elected in office, who know about these sales, and don't properly notify the community," Fielder adds.
Smith accuses Fielder of "hyperbole, embellishment ... [and] lies," and says he only mentioned Burgess's name in reference to his having worked with the councilor on violence reduction.
School-board member Randall Taylor -- who represents the area and who also briefly ran against Burgess last year -- says the school district didn't do a good enough job of notifying the community about the building's availability. "We just didn't get it right with this process," he says. "In my opinion it won't ever happen again." But Taylor says he's not aware of Burgess getting involved in the sale.
"It wouldn't make a difference anyway," Taylor adds.
For his part, Burgess says that Smith asked him to write a letter of reference to the school board, which he did. "That's the extent of my involvement," Burgess says. "I did not lobby the school board personally. I did not go to any community meetings.
"It's probably just a coincidence," he adds, "but most of those people who tend to criticize me are the same people who ran against me or had family members who ran against me."
Still, he acknowledges that over the summer he did less community outreach: "We kind of had to curtail some of our community events because [enacting] this crime-prevention strategy has been job one for us." And political rivals aren't the only ones complaining.
In August, a strongly worded press release from the Association of Community Organizations for Reform Now painted the reverend as unreachable -- despite the fact that ACORN's political action committee endorsed Burgess in 2007.
While announcing a plan to clean up an abandoned lot in Homewood, the release added, "Residents have called the 311 line repeatedly without result. Some have even called City Councilman Ricky Burgess' office. But the city has taken no action."
ACORN challenged Burgess "to come and see the problem" during the Aug. 23 clean-up. He did not show up. "He didn't even send representatives," says ACORN organizer Andre Mobley.
"He has never met with ACORN since he was elected," says Maryellen Hayden, ACORN's head organizer in southwestern Pennsylvania. "Quite frankly, he has some explaining to do to those members who have not had a meeting with him yet."
Burgess maintains that he responds to all constituent calls -- but it isn't easy. Some days the phone rings off the hook, aides say.
There's a bin in Burgess' office filled with returned postcards: Roughly one-third of a mailing of 17,000 postcards for a town hall that came back undeliverable. "The transient nature of the population and the housing in the district makes it difficult," Burgess says. And as hard as he has been working, he says, "it's getting worse."

But this isn't the New Jerusalem, not yet. And as Burgess proclaims to his congregation at the Nazarene Baptist Church, the Lord's work isn't for the timid.
"When I have a problem, and I'm struggling with the worries of the world," Burgess trumpets, putting vibrato into his words, "God won't send an angel because angels can't really understand. Angels have never had a troubled marriage. Angels have never had a wayward son. ... Angels never had folks talk about them. Angels never had enemies attack them. ... So I'm so glad, God won't send an angel."
Instead, the preacher cries out, "He'll send my Messiah and my Christ. And I'm so glad!"