As I write this column, polling places aren't scheduled to open for another 18 hours or so.
But as sure as I'm sitting here, I'm confident of two things coming out of this election: Hillary Clinton will be the next President of the United States, and the race for the White House in 2020 will begin on or shortly after Nov. 9. I should note, however, that in case of an improbable Trump victory, I have made contingency plans, which include buying a gun and getting a lobotomy, so I can fit in with life in 'Merica under our new president.
Of course, I'm kidding; I probably won't buy the gun.
But one thing that isn't a joke is the earlier and earlier start to our presidential-election cycle. It seems like Barack Obama wasn't even sworn in yet in 2012, when candidates from both parties were "exploring" the possibility of a 2016 run. To be honest, I hate it. We're rapidly approaching the time when people will start running for public office two or three election cycles ahead. It would be like Ted Cruz announcing tomorrow that he was running for the White House in 2028.
But I'm trying to turn my hate into something constructive. Rather than bemoan the early start to our election cycles, I decided to jot down a short list of power couples I'd like to see join forces and run for president and vice president in 2020.
Bill Peduto and Darlene Harris
An idea so grand, we had to put it on our front cover this week. We debated who to push for the mayor's running mate and decided his most vocal critic, Pittsburgh City Councilor Darlene Harris, was perfect because, quite frankly, it made us laugh uproariously. After the election campaign we've just gone through, who doesn't need a chuckle?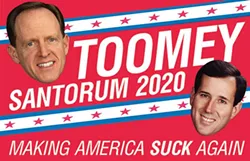 Pat Toomey and Rick Santorum
In this day and age, everybody wants to talk about making policies that are "progressive" and good for "all Americans." But sometimes I think regressivism hasn't really been given a fair shot in this country, at least not on the grand scale these two could enact. Toomey and Santorum would lead the way on destroying social services, taking governance of a woman's health choices, and making sure that everyone pays their fair share as long as they earn less than $200,000. Plus, I've been needing someone to tell me to pull myself up by the bootstraps, a phrase that the Political-Correctness Police have banned just because it's "racist" and "narrow-minded."
Joe Sestak and John Fetterman
This one isn't a joke as much as it is a scenario that will never come true. Both men ran for U.S. Senate this year and were beat by Katie McGinty. But the thought of two political figures who adhere to a pretty strict progressive agenda would be like a Bernie Sanders candidacy on steroids. Sestak, a former Navy Admiral, pissed off his own party when he ran against and beat Republican-turned-Democrat Arlen Specter six years ago. He's a policy wonk and a realist who's not beholden to party hacks. And Fetterman made hay earlier this year during his Senate run. He was able to get out in front of a national audience, and people liked what he had to say. I'm telling you — this is the progressive dream team that no one has dreamed up yet.
Blak Rapp Madusa and Jasiri X
If the success of Bernie Sanders taught us just one thing, it's that progressive Democrats are looking for real change in their candidates. Candidates who really care about the environment, women's reproductive-health issues, the gender pay gap, living wages, infrastructure to help areas that need it the most and, most importantly, elected officials who care about the wave of social injustice that has gripped our nation. When I thought of this movement and who would lead it, I immediately thought of Blak Rapp Madusa and Jasiri X of 1Hood. They are two of this region's, and probably the country's, most insightful activists, and they are already in the fight. Both use their music as a platform to draw attention to the top-down, institutionalized racism that leads to problems like police violence and poverty. In fact, the more I think of it, I'd vote for this ticket anytime. The 1Hood Party definitely needs to happen.