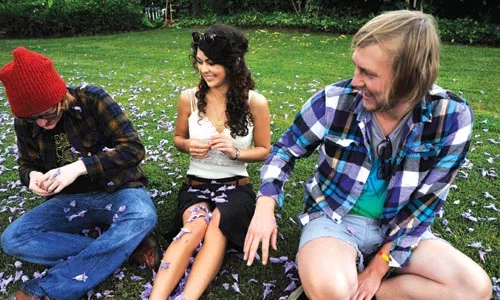 The summer after Port O'Brien singer Van Pierszalowski left eighth grade, he was on a fishing expedition off the coast of Alaska's Kodiak Island with his father when he nearly fell to his watery demise. It was nearly 2 a.m., dark and stormy, when the wave hit. "When I was falling, there were a few seconds there when I was thinking, 'Alright, I've had my time,'" Pierszalowski says, more than a decade later.
Pierszalowski's leg caught on a buoy, saving his life. While he says his annual fishing trips haven't informed his writing thematically, many Port O'Brien songs sound downright haunted. The Northern California collective's latest release, 2009's Threadbare, plays like a circle of ghosts in a campfire sing-along -- slow, catchy (and often hummed) melodies float along over pensive guitars and weighty drums. The album is an echo chamber of Pierszalowski's and bandmate Cambria Goodwin's meditative vocals and slight touches of piano and strings. It's as gorgeous as it is unnerving.
Pierszalowski says that the songs gain serious aggression on stage, because "Threadbare is incredibly hard to replicate live. We don't have money to get epic strings. We play more of the raucous songs in a more rocking way," he says.
Rocking or swooning, Port O'Brien's songs come from calmness: Pierszalowski often writes while out at sea. "It's very reflective," he says. "There are no distractions. No Internet or TV or cell phones or friends or girlfriends. I can just play guitar."
Port O'Brien, with Portugal. The Man and The Dig. 8 p.m. Sat., March 20. Mr. Small's Theatre, 400 Lincoln Ave., Millvale. $12. All ages. 412-821-4447 or www.mrsmalls.com