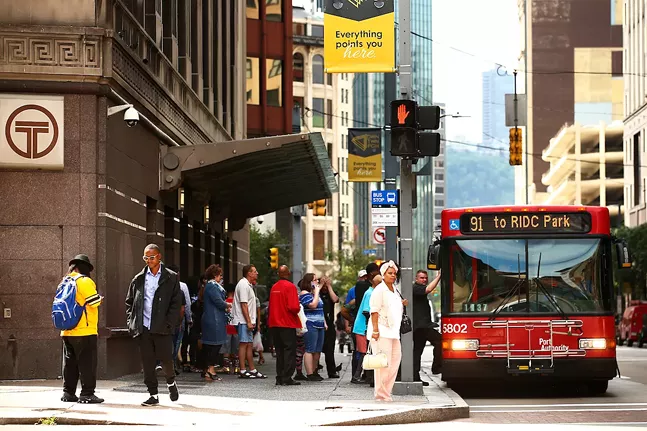 The Port Authority is planning on consolidating stops on the 88-Penn and 48-Arlington bus routes, and it's asking for input from riders on which stops they want to keep. It's part of a larger plan to
consolidate stops
across Port Authority routes to "reduce the number of stops to improve on-time performance, reliability, and our riders' overall experience."
A press release states that starting next week, signs will be posted on stops that have been proposed for elimination (and can be viewed
online now
), but comments on the consolidation proposal will be accepted through Feb. 7, 2020. The eliminations are set for March 15, 2020.
To submit comments, concerns, or otherwise provide input on the proposed stop consolidations, riders can
take a survey
on which stops along the 48 and 88 routes they want and/or need to keep.
"Proposed eliminations are based generally on proximity to other stops, usage, and customer safety, although each stop has its own unique characteristics and is evaluated on a case-by-case basis," states the press release. "Port Authority's goal is to reduce the number of bus stops while maintaining access to schools, places of worship, senior centers, healthcare facilities, community centers, libraries, other important buildings, and key connection points."
Earlier this year, when Port Authority announced bus stop eliminations on the 16-Brighton and 51-Carrick buses, it received backlash from riders and community members who felt their needs were not heard. In particular, a stop in front of the Northside Common Ministries, which operates a shelter, food pantry, and other services, was eliminated in favor of a stop farther down the street. While still close, Northside's executive director Jay Poliziani told the
Pittsburgh Post-Gazette
that the stop was important for his many clients who use wheelchairs, walkers, and carry heavy groceries from the food pantry.
After hearing from community members, Port Authority announced in November that it would
cancel plans
to eliminate the Northside Common Ministries stop, as well as four other stops on the 16 and 51 routes, out of a total of 72 proposed stops.
After complaints about the first round of bus stop consolidations, transit advocacy group Pittsburghers for Public Transit
wrote on its
website about how Port Authority could improve its consolidation process, citing a need for more transparency, talking to riders, and clearer communication about the changes. PPT also emphasized that, while Port Authority tends to prioritize routes with safer sidewalks and better amenities, this can have unintended consequences.
"It should go without saying that Pittsburgh and the surrounding municipalities need to invest in safe sidewalks, bus stop amenities, and crosswalks, and that would go a long way to ensuring that our transit system is accessible for all," writes PPT. "However, it's also important that Port Authority does not use those lack of investments as a reason to penalize their riders in the short term."