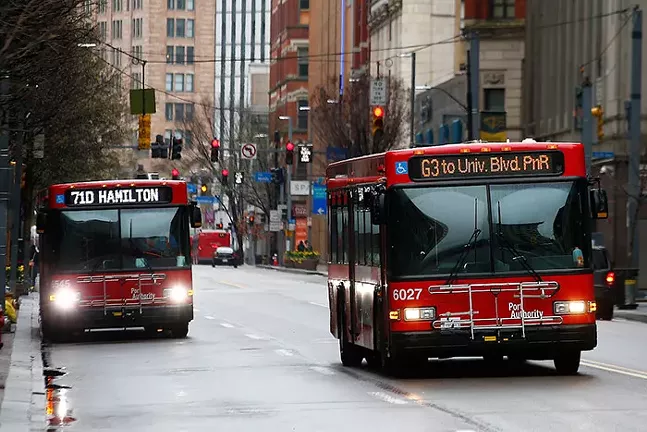 UPDATE, 6:00 p.m., Fri., April 10:
Starting on Monday, April 13, the Port Authority of Allegheny County will be limiting how many people are permitted on buses and light rail vehicles, as a way to ensure proper social distancing during the coronavirus pandemic.
The limits are:
10 riders per 35-foot bus
15 riders per 40-foot bus
25 riders per articulated 60-foot bus and light-rail car
When a vehicle reaches the maximum capacity, operators have been instructed to not pick up any new passengers until others exit. Standby vehicles will be sent to pick up passed-up riders, if available.
"First and foremost, we're asking riders who don't have to be on our vehicles to stay home," said Port Authority CEO Katharine Kelleman in a press release. "There are a lot of essential workers keeping our region going right now and it's important that they have a seat. Please stay off transit unless you're heading to or from an essential job, or you're traveling to the grocery store or pharmacy."
Port Authority is also strongly encourage transit users to wear face masks, including
homemade masks
, while on-board. Kelleman acknowledged these restrictions will be hard on people, but said they are necessary to "help our community get through this so we can get back to serving you normally as soon as possible."
Original story, posted on March 25, 2020:
As of today, March 25, Port Authority of Allegheny County is changing its boarding and fare-collection policies in light of the spread of
coronavirus.
Bus riders will now board and exit only through the rear doors of buses, as a way to keep proper six-feet social distancing from bus drivers. Front door boarding will still be used, but only for passengers who need the bus to be lowered, to use the ramp, or require priority seating.
"We are committed to the health and well-being of everyone in our community, and it is our belief that this small measure will go a long way," said Port Authority CEO Katharine Kelleman in a press release. "While we continue to discourage anyone from going out who doesn't have to, those who still need to are encouraged to use proper hygiene and maintain your distance from each other."
With most bus riders now skipping the front door, where the fareboxes are located, riders will now only need to show their ConnectCard or other fare product as they board through the rear doors. Cash fares will no longer be collected on buses.
Bus riders will simply show their ConnectCard or other fare product to the operator as they board through the rear doors; cash fares will not be collected due to the restriction. Light rail riders will continue to pay at onboard and offboard fareboxes.

— Port Authority PGH (@PGHtransit) March 25, 2020
Port Authority spokesperson Adam Brandolph recognizes that many bus riders, like those who pay in cash or have money stored on ConnectCards, will essentially get free rides while under this coronavirus policy.
"We are prioritizing the health safety and well-being of our operators and passengers over the fare revenue at this time," says Brandolph.
However, light-rail riders will continue to pay fares, with cash or ConnectCard, at onboard or off-board fareboxes. Brandolph says that light-rail operators are enclosed in a plastic enclosure that limits contact with light-rail riders. Onboard light-rail fareboxes are also farther away from drivers, as compared to onboard bus fareboxes.
Transit advocates at
Pittsburghers for Public Transit
are hailing the decision. PPT has gathered signatures from more than 250 riders calling on this change, which is in line with demands from the
International Amalgamated Transit Union
.
"Port Authority has demonstrated its commitment to its workers and the public through these important precautionary measures, even as ridership has dropped precipitously in recent weeks while residents have been sheltering in place," reads a statement from PPT.
Good illustration from @Pgh4PubTransit of the changes taking effect today on Port Authority buses. pic.twitter.com/qmq3U3bTOn

— James Santelli will not be making a COVID-19 name. (@JamesSantelli) March 25, 2020
Due to coronavirus closures, Port Authority saw a 50% drop in ridership in recent weeks. This led the agency to
cut service by 25% in response
to falling funding. Port Authority receives about 25% of its revenue from fare collection.
On March 18, Port Authority enacted a temporary Social Distancing Policy on its fleet of buses, light rails, and inclines. The policy is in response to the coronavirus pandemic, which has spread across the globe and is transferred relatively easily by human-to-human contact and through infected surfaces.
Port Authority will be ensuring transit riders will keep at least six feet apart while on-board vehicles, and priority seating areas will remain unused in the upright position unless needed.
One of the most effective ways to stop the spread of coronavirus is to drastically reduce interactions with other people. As of today, Allegheny County has reported
88 positive coronavirus cases
and 13 of those people have been hospitalized.
Two people have died
in Allegheny County due to coronavirus.
"Port Authority continues to encourage customers use common sense hygiene practices to limit the spread of germs and illness, like washing your hands or using hand sanitizer immediately after riding the bus or light rail vehicle; changing your seat if you notice someone near you who appears to be sick; sitting down if possible so you can avoid holding on to poles and straps; and staying home if you are sick," reads a press release.
According to the Port Authority, the temporary policies will be in place until Pennsylvania and Allegheny County lift their states of emergency.
A social distancing policy for Port Authority comes a time when it might actually be easier to implement. Brandolph says there has been a "significant decrease" in ridership since the announced coronavirus closures. He says the authority has also had to spend significantly more on cleaning buses and light-rail cars much more frequently, and paying staff overtime.
PPT is
calling on federal officials to provide emergency funding
to transit agencies like the Port Authority to help them stem revenue losses and maintain service for essential workers who rely on transit.
If federal COVID-19 bill passes as reported with $25 billion for transit, there will be immediate relief. The funding is a lifeline in the crisis and buys agencies time.

We should prep for a scenario where it gets agencies through several months but not the whole crisis.

— TransitCenter (@TransitCenter) March 25, 2020
Reports indicate that the U.S. Senate will pass a multi-trillion dollar funding bill that includes $25 billion for public transit agencies across the country. Transit Center, a public-transit foundation based in New York, estimates that $25 billion in funding should help agencies out for several months, but likely not the entire pandemic, depending on how long it lasts.