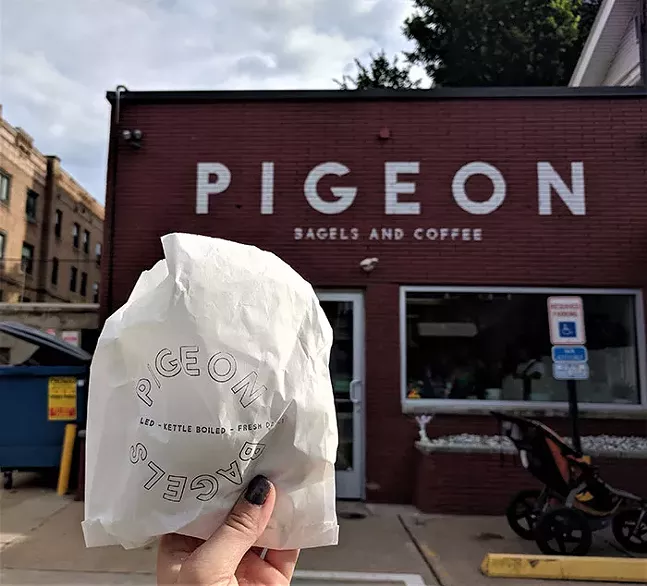 Gab Taube, owner of Pigeon Bagels, finally has a kitchen of her own. This week, the popular bagel shop officially opened the doors of its new storefront in Squirrel Hill.

Pigeon Bagels was started by Taube in 2017 (Taube means "pigeon" in German). For two years, she ran the pop-up shop and wholesale bakery from the kitchen of A'Pizza Badamo. It was a late-night production; Taube and her team started making the hand-rolled, boiled, and baked the bagels before the sun was up.
Now the shop has a small, red brick building to call home.
Pigeon Bagels' brick-and-mortar location serves the same, beloved pop-up menu, but now, everything will be fresh and hot from the oven.
There's a selection of bagels — plain, sesame, poppy, garlic and sea salt, and everything — and a wide range of spreads to top them off with (plain, herb, beet, fig & honey, and tofu). Five bagel sandwiches make up the remainder of Pigeon Bagels' menu. There's lox, topped with onions and capers, vegan carrot lox, whitefish with cucumber and microgreens, veggie, and hummus with avocado, cucumber, and microgreens.
Coffee and other drinks are supplied by Redhawk coffee. Taube's new storefront is also Kosher certified.
Pigeon Bagels' permanent home means that Taube will stop doing pop-ups. However, the baker plans to continue wholesale deliveries. Neighborhood coffee shops and markets outside of Squirrel Hill will still have access to Taube's from-scratch bagels.
Pigeon Bagels on Hobart St. is open from 7 a.m. to 2 p.m., Wed.-Sun.