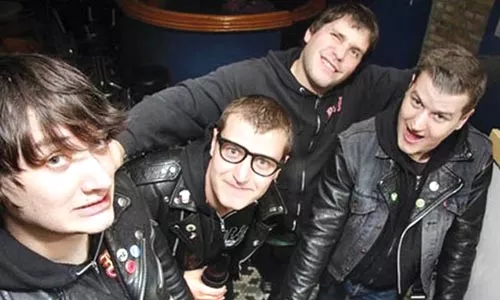 Great rock doesn't need to be complicated. Three chords, propulsive rhythms and catchy melodies are sufficient, an ethos Teenage Bottlerocket understands. Inspired by The Ramones and Green Day, the Laramie, Wyo. quartet makes punchy pop-punk suffused with enthusiasm and cockeyed wit.
"I was listening to nothing but Fugazi and really weird, complicated music," recalls frontman Ray Carlisle. "I grew up or something and wanted to strip it down."
Carlisle started Teenage Bottlerocket in 2001 with his twin brother Brandon on drums, after the dissolution of their band Homeless Wonders. After 2003's Another Way, they recruited guitarist Kody Templeton from similarly-minded Wyoming punkers The Lillingtons.
The band released a couple of albums for Red Scare before signing with Fat Wreck Chords for last year's terrific album, They Came From the Shadows. The band toughened up the sound, thanks to its first real studio budget, and tightened the songwriting.
The album includes an ode to indolence-inducing dead-end jobs, "Call In Sick," and "Bigger Than Kiss," where they work in a half-dozen KISS song titles and aver, "Gene Simmons looks kinda cool, but Paul Stanley kinda looks like a jag / Ace Frehley can play guitar but he ain't no fucking Kerry King."
The band broadens its palette with a thrash rager, "Fatso Goes Nutzoid." But mostly, it sounds like that old-school Cali-punk roar that gets you bouncing off the walls -- which sounds about right for a Teenage Bottlerocket.
The band performs Mon., Oct. 25, in a show presented by frequent City Paper contributor Manny Theiner.
Teenage Bottlerocket with Cobra Skulls and The Menzingers. 7 p.m. Mon., Oct. 25. Garfield Artworks, 4931 Penn Ave., Garfield. $10-12. 412-361-2262 or www.garfieldartworks.com