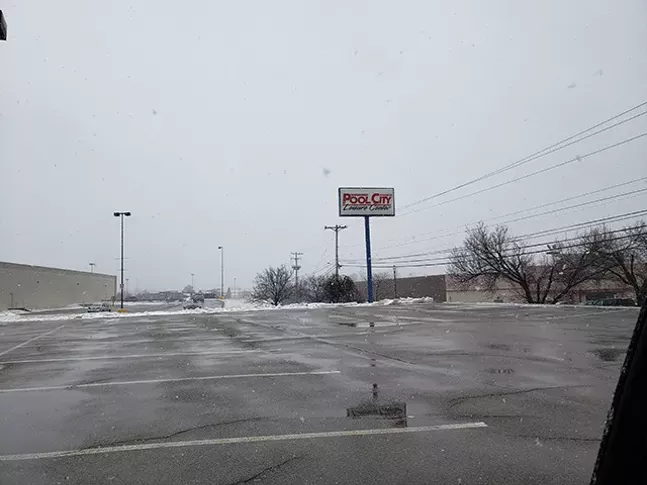 I grew up in Pittsburgh but went to college and worked elsewhere for about ten years. I am now 38 years old. Thanks to math, I figured my life has afforded me roughly 24 to 28 years to figure out what the hell they sell at Pool City.
I've seen their commercials my entire life, but never really grasped the business model. From advertisements alone, you'll see Christmas ornaments, billiards tables, outdoor furniture, and, of course, swimming pools for sale. They use sexy language like "close-out, truckload, and clearance;" words that are music to a Baby Boomer's ears.
The more I investigated Pool City via their website, the less I understood. Ostensibly, the company is technically called Pool City Leisure Center. They have a Yahoo email address, none of their online products include prices, they're located by a BoRics, which makes perfect sense, and they sell a product for your jacuzzi called Spazazz Grapefruit Grapefruit Orange Crystals. (If you or a friend have used any Spazazz product, please slide into my DMs.)
The only way to solve this mystery was to go to a Pool City Leisure Center and take as many pictures as possible, and scour them for clues.

Pool City carries an abundance overstuffed couches flush with cup holders and cushy comfort, as one would expect. What I did not expect to find was Pool City's fondness for getting drunk. Almost every item they sell is staged with empty bottles of booze and drinking glasses.

Let my photo captions walk you through a magical journey of drinking and sitting, as you sing to yourself:
We'll begin
With a spin
Traveling in he world of my creation
What we'll see
Will defy
Explanation
Pool City Leisure Center knows how the people of Western Pennsylvania relax. We're not getting off work and hitting the Three Rivers Heritage Trail. Our Appalachian roots demand that we go home, drink an entire bottle of Goldschläger, and hit the massage chairs.