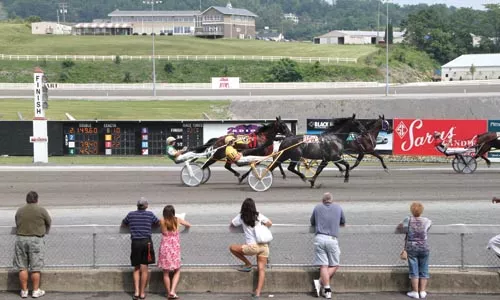 The two gamblers lean eagerly on the racetrack rail. One holds a beer, the other a racing program.
"I hope you're right about this race," the smaller of the two men says as his companion takes a long pull on his beverage. "I usually like to study a little more before I bet."
His friend waves him off.
"You're fine," he says. "It's like a rule around here: When in doubt, always bet on Palone."
Dave Palone is a living legend at the Meadows Racetrack and Casino in Washington, Pa. In this race, Palone is guiding a 6-to-1 shot, Dr. Flamingo, from a sulky, the two-wheel cart the horse pulls. And when he finishes a solid third -- in the money, as they say at the track -- the larger man gives his friend a playful shove. "I told you to bet him, didn't I?"
In his 27-year career, Palone has won 13,476 races and earned purses totaling more than $84.4 million. He's the Sidney Crosby of harness racing.
"Actually, if Sidney Crosby continues on this great track for another 20 years, he'd be Dave Palone," says Daniel Tufano, chief administrative officer for the Pennsylvania State Horse Racing Commission.
But while Palone has never been racing better, he still thinks dark clouds could be on the horizon.
"I ran the fastest mile ever at the Meadows last week with a horse named Fred and Ginger," says Palone. "But nobody really knows that outside of the horse-racing community."
Palone's situation perfectly parallels that of the horse-racing business. From a financial standpoint, racing is burning up the track. In dire trouble just a few years ago, it was saved by the legalization of slot machines: By state law, 12 percent of all slots revenue is earmarked to support the horse-racing industry. The Meadows itself operates 3,750 slot machines not far from the track where Palone plies his trade.
"We weren't at extinction, but we were close," says Kim Hankins, executive director of the Meadows Standardbred Owners Association, a trade group that advocates for horse owners, drivers and trainers.
But legalizing slots in Pennsylvania allowed local horse racing to start making up lost ground. Prior to slots, daily purses at the Meadows -- the amount of money a jockey stood to win -- totaled about $45,000 over 13 races. Today, says Hankins, purses are up to $170,000. That's enough to support stables here, as well as attract horses from outside the state.
"We'd still be racing horses here without slots," Hankins says. "But for the first time since the 1980s, I can honestly tell an owner or an investor that you can actually make money racing horses here."
But while bigger purses may help pad the wallet of folks like Palone, they've done little to attract any more fan interest in the sport. Which could be a bad omen. Slot machines may have saved horse racing in the short term, but they also compete with the track for the gambler's dollar. Horse racing is a favorite of old-timers; betting the right way takes knowledge and research -- as well as the patience to wait 20 minutes between races. Those are rare virtues for today's push-button slots gambler.
When it came to reaping the benefits of gambling, in other words, horsemen like Palone were the first out of the gate. But it's not clear how they're going to finish.
Horse racing has been in Dane Snyder's blood since he was a kid. He's a fourth-generation trainer who, in the summer of 1973, moved his family from New York to race his three horses at the Meadows. At the time, he explains, "Our stock wasn't good enough to race in New York."
"We fell in love with the place," says Snyder. "There was a 1950s-type atmosphere. I saw all of these trainers that I knew from back when I was a kid. We just decided to make this our home."
The Meadows opened as a harness-racing track in 1963. It's one of three such tracks in the state; another three tracks offer thoroughbred racing, in which the jockey rides in a saddle.
But the Meadows started losing ground in the late 1980s, as other gambling opportunities arose in nearby West Virginia. That wasn't bad news just for Snyder: It hurt breeders who raised the horses, farmers who supplied the feed, clerks who took the bets and drivers like Palone.
"Here at the Meadows alone we had 1,000 jobs tied to this race track and a total of 35,000 jobs statewide tied to the racing industry," says Mike Jeannot, the president of Meadows Racing.
The industry's savior first appeared in Iowa, when the Prairie Meadows racetrack began offering slots, in 1989. That was a catalyst for states like West Virginia and Delaware to subsidize their racetracks with slots, and the idea appealed to legislators here as well.
"You had a lot of legislators get on board who wouldn't ordinarily find the thought of expanded gambling palatable," Jeannot explains.
State Rep. Tim Solobay, a Washington County Democrat whose district includes the Meadows, agrees. "The horse-racing industry provides jobs for a lot of people," he says. "The Meadows was pretty close to extinction and we had to do something. We knew dedicating slots dollars would work because places like West Virginia were growing while the industry here was falling off."
The 2004 law created a "Pennsylvania Race Horse Development Fund," funded with a portion of the revenues earned by every casino in the state, whether it has a race track or not. Since 2006, Tufano says, more than $600 million has been put into the development fund.
According to an April report from the Pennsylvania Gaming Control board, which oversees the gambling business, the horse-racing industry received $235.7 million from slot wagering in 2009.
Of that money, 80 percent has gone to fattening up racing purses, and 16 percent goes toward breeding programs, intended to create better racing stock. The remaining 4 percent funds a health and pension program for the state horseman's association, whose members include trainers like Snyder and drivers like Palone. So far, the fund has received $9.4 million from slots revenue.
Prior to the bill, jockeys had to insure themselves. "Of everything to come out of this," Hankins says, the health and benefits plan "is probably the most important."
But Palone, for one, isn't planning to retire just yet. He plans to stay in the game as long as he's still able to climb into that sulky ... and as long as there's still someone around to watch.
"Things are fine now with our slots money," he says. "But at the end of the day, we've got to find a way to get people to come out to the racetrack."
As you walk around the lower track at the Meadows grandstand, you can't help but notice the large doors that lead into another part of the casino. The doors to the new poker room are locked now, but when they open on July 8, it will usher in a new era of gambling in Pennsylvania. That's the date when Pittsburgh-area casinos are slated to begin offering poker and other live table games.
If experience in places like West Virginia -- which has had table games since 2007 -- is any guide, an onslaught of twentysomethings will soon be piling through those doors. Many will be wearing backward baseball caps and sunglasses to mimic the poker pros they see on TV. They'll bring lots of money and they crave action: Even with a slow poker dealer, they'll play 30 to 40 hands an hour.
"These kids want the fast action of poker, dice and blackjack," Palone says. "They don't want to place a bet and then wait around to see whether or not they're going to lose." They also may not want to bother deciphering the race program, which is densely packed with information ranging from the weight of the jockey to the parentage of the horse, and its performance in recent races.
In fact, while the size of purses has grown in recent years, the amount of money being wagered on racing has actually declined.
According to the Pennsylvania Gaming Control Board, the live "handle" -- the total amount wagered -- amounted to $145 million at Pennsylvania's three harness tracks last year. That's down 13.2 percent from 2008's live handle of $167 million. Compared to 2006's live handle of $197.2 million -- the first year of slot revenues -- the difference is 26.4 percent.
Jeannot says Pennsylvania is not alone in losing handle. "There has been a decline, and unfortunately, even those operators who have slots aren't immune to that." The economic downturn is one factor, but Jeannnot says the industry is looking at other factors, too. "In the last quarter of last year, it really took a nosedive and it's something we're looking at," he says.
One place to look, says an industry expert, is at the slot machines themselves.
Richard Thalheimer has worked with the horse-racing industry, both as a breeder and research economist, for 30 years. In that time, he says, he's watched the business suffer a long decline.
Back in the 1960s, when the Meadows opened, "horse racing had a virtual monopoly," Thalheimer explains. "It was the only thing to wager on for a long time. But now there are a lot of opportunities to gamble" -- and "one is bound to have an effect on the other."
As a research consultant and a former professor in equine business at the University of Louisville, in Kentucky, Thalheimer has prepared a study on the effect table gaming will have on existing forms of gambling in Pennsylvania. And just as slots have pulled bettors away from horse-racing, he says, table games will pull from slots.
"Our studies show that when you introduce table games, slot revenues go down," Thalheimer says. "You will have slot players move to [table games], and a great number of the new customers will be table-game players."
For a place like the Meadows, which offers all three forms of gambling, that's not a bad thing. But Thalheimer argues that "it's bad for the racing industry."
Iowa and West Virginia saw their mix of gambling shift as newer games were added. But for horsemen, the blow was softened because those states provide them with a portion of revenue from all forms of gambling. That's not the case in Pennsylvania.
When planning to divvy up table-game revenue earlier this year, legislators decided not to give the horse-racing business a cut. Hankins said the racing industry did lobby for a share of table-game revenue. But "the state was in such horrible financial straits," he says -- and legislators felt the racing industry had already gotten its share from slots.
Hankins understands that sentiment, but says it wasn't the only hit the industry took. The state also took back some of the horsemen's slots money. "On top of not giving us anything from table games, they dipped into the Pennsylvania Horse Racing Development fund to the tune of 17 percent to help balance the budget," says Hankins. That has resulted in smaller purses, though some funding is supposed to be restored in 2012.
Tufano, of the state's racing commission, says worse may be yet to come. "I won't be at all surprised if they try to get back into it again this year," he says. "If you're an average taxpayer, it's tough to look at 750 to 800 million dollars going to racing while people are losing their jobs."
But is it fair for Harrisburg to renege on a commitment made to the industry -- when that industry's support helped legalize slots in the first place?
State Rep. Solobay defends the legislature's decision. "Even though we originally pass something at certain levels, we have the power to go in and make changes," he says. "Everyone got a haircut last year so we could balance the budget without a major tax increase. I didn't like it: The Meadows is in my district and it's an important part of the region. But I think overall, the cut didn't change too much. Last year, the purses were five times bigger than they were in the lean times. This year they're four times as big, and that's still pretty substantial. ... My hope is that after four years, the funding levels will be restored."
But things could get worse before they get better, Solobay acknowledges. "There's already talk about seeing an additional 10 percent cut in slots revenue next year." Still, he cites research of his own suggesting that "when table games arrive, slot revenue increases. So my hope is that they won't really see much of a funding decrease, because more will be spent on slots."
Not everyone is so optimistic.
"I'm not much into the political end of this thing," says Mark Weaver, co-owner of Weaver Bruscemi Stables. "But they tell us we don't get any money from table games, and then they're somehow allowed to go in and take part of the money that was already allocated to us.
"It worries you that all you've worked for the past four or five years could be wiped out if something more were to happen."
If the loss of that revenue spells danger, even the sudden infusion of cash brought by slots has been a mixed blessing for some. Just as lottery-winners sometimes learn that a big payoff can mean big headaches, the state's racing industry has gone through some growing pains.
For starters, bigger purses have meant more breeders from out of state are interested in competing here. And Pennsylvania horses aren't always able to keep up.
"Some of your horses aren't getting raced as often as you'd like because so many horses are coming here to race," says trainer Dane Snyder. "You like to race a horse three or four times a month, but we're lucky to get them in once or twice a month. So, technically, you're only able to go for half the money."
Snyder admits that "you can't complain too much because without the gaming act, we'd be pretty desperate." Still, he says, smaller operations face new challenges: "You've got to have a better-quality horse to get into the races and some of us who've been here can't quite afford that." Snyder himself is preparing to retire, saying the racing game has "passed me by."
Politicians and track owners alike predicted this problem. In the first two years its slots were open, the Meadows gave preference to local owners, trainers and drivers.
"The idea was for them to get a head start and improve their stock," Hankins says, "so they could compete for the big money once the flood gates were opened to trainers and owners from all over."
Among the local stables that took advantage was Weaver Bruscemi. Since 2003, Weaver says, the stable has gone from a hobby -- "there was no way to make a living at it back then" -- to a serious business. The stable now owns about 120 horses, racing locally and at tracks elsewhere in Pennsylvania and out of state.
Not everyone was equipped to step up their game, Hankins admits. "Some did and some didn't. Those that didn't are still around, but it's pretty difficult for them."
Out-of-state owners, meanwhile, complain the rules are hard on them.
Mike Dowdall, of Ravena, Ohio, rotates his 13 horses between tracks in Ohio and Pennsylvania When he started running his horses 18 years ago, he says, the purses were better in Ohio. Now the money is better here ... but he has little shot at it.
For example, any purse at the Meadows worth $11,000 or less is restricted to horses that were owned or sired in Pennsylvania. So Dowdall's younger horses, who need to work their way up to premiere races, have to pay their dues elsewhere.
"I can completely understand wanting to help out your horsemen during the good times who stayed with you in the bad times," Dowdall says. "But they had a two- or three-year head start to improve their stock and they're still running bottom-of-the-barrel horses because they have these protections. The idea is to create more interest in racing and to do that, you can't let the competition suffer. The best way to help out everyone at the Meadows is to run the best horses."
Palone agrees: "Look, I'm a homeboy: I'm proud of the fact that we are looking after our locals. We can't starve out the small local owners." But, he adds, "There are a lot of guys around here who didn't upgrade their stables. And I think it's important that we work hard to get a good-quality product out on the track."
Ultimately, though, horse racing could struggle if it gets its gambling revenue secondhand -- through slots, rather than people betting on horses directly. Plenty of Pennsylvanians have their own ideas about what gambling revenue could be used for. "It scares the heck out of me that one day a governor will come into office and wonder, 'Why should we support harness racing?'" says Palone. "Maybe he'll start to think that those funds need to be redirected to build schools and libraries."
Indeed, Thalheimer says, "To guarantee the long-term survival of the horse-racing industry, it's vitally important for operators to get people to the track and betting on the horses." Because funding has already been cut and horsemen were left out of table games, "I think it's probably a bit naive to think that you're going to be able to live off of just slots revenue for the rest of your days."
Before slots were legalized, in fact, the betting pool was the sport's only source of funding.
Today, out of every standard $2 bet, according to Jeannot, 80 percent -- about $1.60 -- goes to the betting pool. Of the remaining 40 cents, 1 penny goes to the state, and the rest is divided between the track and the horsemen.
By contrast, for every $2 bet in a slot machine, the racing industry gets roughly 3.6 cents -- and the state's most recent budget took back 0.6 cents of that. And horse-racing will get no money at all from wagering on table games. So to prosper over the long term, the industry will need a lot more people betting on the racing.
"We plan to roll several things out over the next year because we're not just sitting here taking the slot money," Hankins says. "We do believe that the table games will bring in more horse players. Poker players are thinking gamblers, and so are horse people."
The key, industry experts say, is to change horse racing's old-school vibe, and make it more appealing to younger gamblers. The industry has launched an online site, www.trackpackpa.com, targeting a younger crowd. Bearing the motto "The Track is Back," and featuring photos of twenty-somethings, the website highlights special events, features interviews with sulky drivers and offers other features.
"We want people to think of the track as a place to come with your friends, hang out, take it over, make it your thing," says Tufano. "We're going after that younger crowd that doesn't want to do what everybody else does, make this the experience that you want it to be.
"We need young people to come out to watch our races and we're not going to do that by throwing them a racing form and tell them to start handicapping," he says. "If we don't start appealing to a younger demographic, this sport is going to die through attrition."