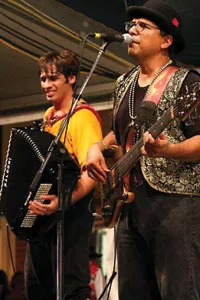 If local appetites for ethnic-party music like Slavic Soul Party are any indication, Polka Freakout's hybrid of European polka and Tex-Mex good times might be just the thing to get the scenesters dancing at 31st Street Pub on Wed., Nov. 28.
If the group's music sounds vaguely familiar, despite the cross-cultural pairing, it's probably because (a) accordions never really sound out of place in Pittsburgh, and (b) vocalist and bassist Bubba Hernandez is a former member of long-running Texan polka-rock outfit Brave Combo, frequent visitors to our fair city.
Along with Hernandez, accordionist Alex Meixner forms the core of Polka Freakout (various friends sit in on rhythm instruments in the cities they're visiting on this tour). The Johnstown native began performing in public at the age of 6, alongside his two sisters, as Meixner Kinder. Now quite grown, he's a teacher and performer on a number of instruments. But it's his specialty in Austrian and Slovenian accordion styles that collides with Hernandez' roots, resulting in what the band's Web site calls "two old cousins meeting for the first time and the glorious party that ensued."
The duo's self-titled debut album, featuring a number of guest musicians from San Antonio, ranges from straightforward polka party-rock to humorous love songs, such as the album-opener, "Uzmi." The ballad "I Remember" has an almost old-Hollywood sound, its sweeping waltz string arrangements bringing to mind Fred Astaire and Gene Kelly; odder ducks like "The Ballad of Thunder Road" border on the profane territory of Weird Al.
Don't expect this duo to make a little birdhouse in your soul -- but do expect, as one of their songs goes, "a heart's grand opening."
Polka Freakout with Ishtar, featuring Phat Man Dee. 9 p.m. Wed., Nov. 28. 31st Street Pub, 3101 Penn Ave., Strip District. $8 ($10 at the door). 412-391-8334 or www.31stpub.com