Ulric Joseph is the Best of Show winner in the 2019 Juried Visual Art Exhibition at the Three Rivers Arts Festival, the first year the North Side artist has submitted any piece to the competition. But, he says, his best artwork was rejected.
"I applied with three pieces," says Joseph. "Two got accepted, and there's a reason for that. Let's just put it that way."
The Best of Show winning piece, entitled "Target Practice," is a 6-by-4 foot oil painting of a young Black boy, hoodie thrown over his shoulder, rock in his hand, arms arched back, ready to throw. Only, with the movement in the piece and the perspective, one is made to wonder if the boy is really the intended target.
This year's Juried Visual Art Exhibition's theme is "Remember Me" and includes 51 pieces by 39 regional artists. The work includes a variety of media focusing on concepts of memory, including paintings, fiber art, photographs, and sculpture.
Joseph's second painting in the show, "I Miss You So Much," shows a Black woman crouched down on her knees before a small lit candle, hands folded together in prayer below her face.
"My work tends to be a little more on the political side," says Joseph, "so it tends to kind of rub people the wrong way sometimes."
His piece that was not accepted, "The Scream," focuses on police violence. Joseph said he wasn't surprised that it didn't get chosen. It shows a shouting Black man, fists clenched, veins popping out of his skin as he stands behind yellow police tape, the text changed to "CAUTION DO NOT CROSS POLICE."
Joseph says the piece was included in a show in Baltimore, and he received a lot of "bad remarks" about his depiction of police. Still, he says, he's honored that two of his works were chosen in the Pittsburgh exhibition, and winning Best of Show was a "complete shock."
Joseph, originally from Trinidad, is a professor at the Maryland Institute College of Art in Baltimore and drives 500 miles back and forth each week from his home on the North Side. He's a father of four, has lived in Pittsburgh for six years, and his wife is the one who encouraged him to apply because he says she knew he's been trying to find opportunities to become part of the city's art scene.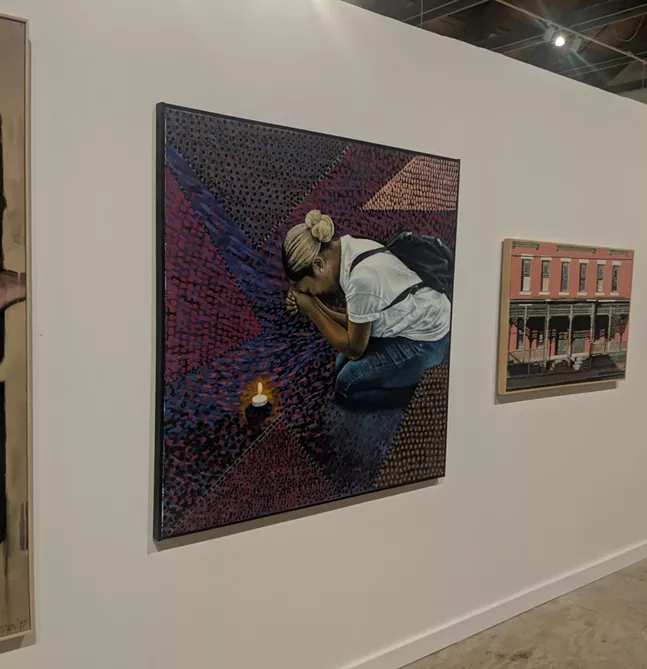 At the opening night of the exhibition, he looks around the room at the large group of visitors, most dressed in business clothes as if they came straight from work.
"These are the people you want to reach out to," Joseph says. "Not the laymen, the people who can affect change. I decided just a few years ago to try to infuse a little bit of meaning into some of my work, and I think it is a good accolade because it shows that people are getting it."
Joseph will receive a $2,500 prize for his Best in Show award. Other award winners, each receiving $500, include: Tyler Gatson, Mikael Owunna, Roman Spartaro, and Jen Brinkle. Jurors for
Remember Me
were documentary and portrait photographer Laylah Amatulla Barrayn, artist Shikeith Cathey, Pittsburgh-based art consultant Jeffrey Jarzynka, and artist Imin Yeh.
A $500 award for People's Choice will be awarded to the artist with the most votes from the general public. Visitors to the arts festival can vote for their favorite piece at the exhibition on view now at the Trust Arts Education Center at 805-807 Liberty Avenue through Sun., June 16.