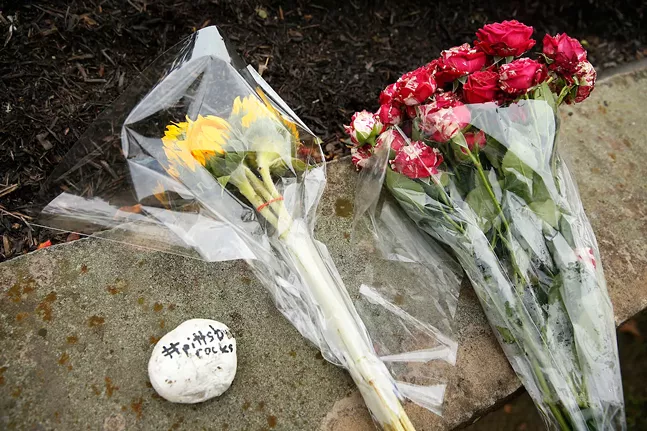 Allegheny County police have released the names of the 11 victims of Saturday's tragic
mass shooting
in Pittsburgh's Squirrel Hill neighborhood.
The victims were shot inside the Tree of Life synagogue and they include a husband and wife, and two brothers. All were between 54-97 years old.
They are listed here:
Joyce Fienberg, 75, of Oakland
Richard Gottfrie, 65, of Ross Township
Rose Mallinger, 97, of Squirrel Hill
Jerry Rabinowitz, 66, of Edgewood Borough
Cecil Rosenthal, 59, of Squirrel Hill
David Rosenthal, 54, of Squirrel Hill
Bernice Simon, 84, of Wilkinsburg
Sylvan Simon, 86, of Wilkinsburg
Daniel Stein, 71, of Squirrel Hill
Melvin Wax, 88, of Squirrel Hill
Irving Younger, 69, of Mt. Washington
Jeff Finkelstein, CEO of the Jewish Federation of Greater Pittsburgh, spoke at today's morning press conference where the names were released. He was dismayed.
"This is an awful awful period for our Jewish communities," said Finkelstein. "And especially when you hear the names."
The Anti-Defamation League has stated that this was "likely the deadliest attack on the Jewish community in the history of the United States." The suspect, Robert Bowers of Baldwin, reportedly said "All Jews must die because they are committing genocide against my people," as he surrendered.
Six people were also shot and injured during the shooting, including three Pittsburgh Police officers.
Last night, several hundred people gathered in Squirrel Hill to
mourn the lives lost
.
Pittsburgh Mayor Bill Peduto spoke at this morning's press conference. He condemned the shooting, but had faith in Pittsburgh's ability to get through this tough time.
"Pittsburgh is a strong town, we are a resilient city," said Peduto. "We have been knocked down before. We will pull ourselves up. We have always done it in one way, by working together."
Peduto also called for gun reform to try to stop future mass shootings. "We should be looking to eliminate irrational behavior," said Peduto. "Our approach should be how do we take the guns, which is the common denominator, out of the hands of those looking to commit these crimes."
Today, the Jewish Federation of Greater Pittsburgh is holding an
interfaith gathering and vigil
at the Christ United Methodist Church in Bethel Park at 2 p.m.
A
Community Gathering of Song and Prayer
, organized by If Not Now Pittsburgh, is also scheduled for today at 4:30 p.m.