It took more than two years to renovate Point Park University's new state-of-the-art Pittsburgh Playhouse, adding the 550-seat PNC Theatre and a 2,738-square-foot soundstage, among other new features. The space opened in October, but this week marks the first production in the new spot, with a stellar program featuring student dancers and four world-renowned choreographers — including Tyce Diorio of Fox's So You Think You Can Dance fame.
With such a lineup of choreographers and works — including BalletMet artistic director Edwaard Liang's calligraphy inspired "The Art of War," Canadian choreographer Aszure Barton's moving "Happy Little Things," Berlin State Ballet artistic director Nacho Duato's "Las Palmeras" and "Chaplin … Then and Now," a re-working of Diorio's Charlie Chaplin-inspired group jazz number from Season 9 of SYTYCD — the production has the potential to be one of the year's best.
Conservatory Dance Company's Winter Dance Concert runs Dec. 7 – 16 at the PNC Theatre in Point Park University's new Pittsburgh Playhouse, 350 Forbes Ave. Tickets are $10-24 and can be purchased by calling 412-392-8000 or visiting pittsburghplayhouse.com.
Hip Hop Nutcracker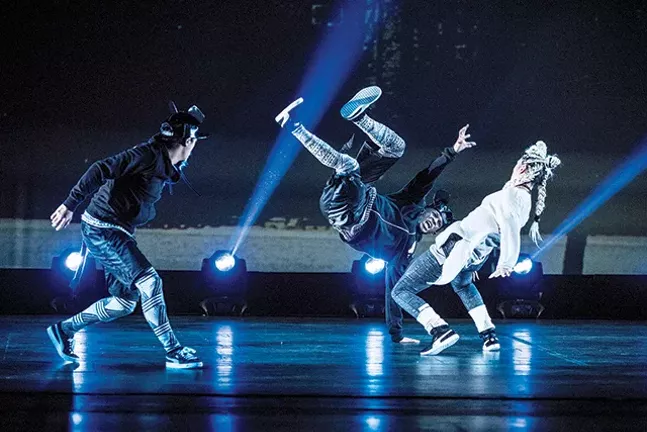 New York choreographer Jennifer Weber re-imagines E.T.A. Hoffmann's classic tale and Tchaikovsky's iconic score in The Hip Hop Nutcracker (2013). The hit production for a new generation of Nutcracker-goers pulls into town for two shows as part of the Cohen & Grigsby TRUST PRESENTS Series, Tue., Dec. 11 and Wed., Dec. 12 at Downtown's Benedum Center.
Set in contemporary New York City and stacked with references to 1980s hip hop, The Hip Hop Nutcracker features a cast of a dozen all-star dancers along with DJ BOO, an electric violinist, and legendary rapper Kurtis Blow serving as master of ceremonies.
A Bessie-nominated choreographer who has worked with New York City Ballet principal dancer Tiler Peck and hip-hop dance star Lil Buck, Weber says, "We tried to stay true to the essence of The Nutcracker story while giving it a hip-hop twist."
In doing so, Weber uses Tchaikovsky's original score to weave a heartwarming tale of Maria Clara's journey from the present into the past and back again to restore the magic in her parents' relationship.
Tickets are $30-75 and can be purchased by calling 412-456-6666 or visiting trustart.org
Dark Fairytale

Dancer/choreographer Trevor Miles teams up with visual artist and VJ Julie Mallis to explore the escalating opioid crisis in XYLO 2. Choreographed by Miles with rapid-fire computer-generated imagery by Mallis, the work-in-progress showing, part of the pair's weeklong KST Fresh Works Residency, is set to an original soundtrack and tells the dark tale of a teenager's first foray into use of heavy narcotics.
8 p.m. Fri., Dec. 7. KST's Alloy Studios, 5530 Penn Ave., East Liberty. Pay What Makes You Happy ticket pricing. 412-363-3000 or kelly-strayhorn.org