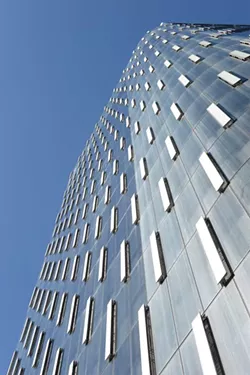 "Best drummer in the world?" John Lennon supposedly replied with incredulity to a question about Ringo Starr. "He's not even the best drummer in The Beatles."

You could have a similar exchange over Downtown's Tower at PNC Plaza, which officially opened last Thursday. Is it the greenest building in the world, as its advocates regularly suggest? Or not even the greenest building in Pittsburgh?
Unlike other structures, where green design is an afterthought, PNC Tower was designed from a blank slate to emphasize sustainable objectives, and its design team is internationally reputed — Gensler Architects, Buro Happold Engineering and Paladino Environmental Consultants.
The building's distinctive shape takes singular advantage of sun and wind in Pittsburgh to jump-start its high-performance passive heating and cooling systems. "It couldn't be [located] anywhere else," says principal design architect Hao Ko. The building's double curtain wall, with its automatic windows, is also key in circulating fresh air and insulating occupants from extremes of temperature — a sophisticated advance on the rudimentary question of operable windows.
The literal crowning feature is a solar chimney, an ancient idea brought to genuinely unprecedented size and precision, through which air heated only by the sun at the building's top works to draw fresher currents along the structure's height without energy-intensive pumps or fans.
Combined with features such as a black-water sewage treatment and a building-wide recycling program, the projected achievements are impressive.
The Tower will operate using half the energy of a conventional office building, earning Platinum LEED certification and making the building a clear frontrunner in Pittsburgh's 2030 District building-assessment program, whose members pledge to cut water and energy use by 50 percent from a baseline by 2030. "I have no doubt they'll reach a[n even larger] 60 percent reduction goal," says Aurora Sharrard, a civil engineer with the Green Building Alliance, whose work will ensure that PNC Tower's energy-use figures will be publically available.
And yet, one day after the PNC opening, here comes a media event at the Frick Environmental Center. Still under construction, it aims to be Pittsburgh's second building to meet the Living Building Challenge, under which a structure doesn't merely reduce water and energy usage, but actually zeros them out on a net basis. "It's going to be very difficult," says Frick Center education director Marijke Hecht, "but we think we can do it." (The Phipps Conservatory's Center for Sustainable Landscapes recently made headlines unequivocally as the world's first building to reach this rigorous standard).
Like the Phipps building, the Frick Center is located in a park-based site, where it can spread out photovoltaics and dig geothermal wells for an additional energy boost with room to spare. And at 15,000 square feet, it is less than one-50th the size of PNC's Tower, whose energy savings, even at only 50 percent, are roughly the equivalent of 26 Frick Environmental Centers. Accordingly, asked about the differences, Sharrard cautions that buildings so distinct in scale, site and function are really an apples-to-oranges comparison.
Skyscrapers, after all, have efficiencies of scale that smaller buildings don't, especially when proximate housing and public transportation are factored in. PNC does and should boast about energy savings and increased employee productivity.
But it hardly makes sense to call flexible lounge and work spaces "neighborhoods," as PNC Tower does, when they are closed to unaccompanied outsiders. And you shouldn't really call yourself a Main Street Bank, as CEO William Demchak did, if you are going to tear down a street full of traditional merchant spaces to build a monolithic glass atrium in their place — a demonstrably unsustainable practice. Indeed, it's odd to call this building "the Tower at PNC Plaza," when its street-level plaza is probably the project's least-considered element.
The indoor space on the building's 26th floor is pretty spectacular, but it's open only to employees and their guests, who are encouraged to stay and look at Market Square rather than going there. Running counter to broader sustainable practices, the building privatizes and deactivates the city.
In the ambition and performance of its passive systems and high-tech controls, PNC's tower seems indeed be the best of its kind. "I think it's worthy of being considered," says Marc Mondor, architect and principal of the Pittsburgh-based sustainable-design firm evolveEA. Given the outstanding design team, it's not so surprising that outside experts agree with many of PNC's claims of excellence.
But "bests" are far better for funny anecdotes than for serious discussions of sustainability, which are more multifarious. Better to be as good as possible, which PNC Tower often is, and to do so in terms that are clearly and openly discussed, which it is frequently not.