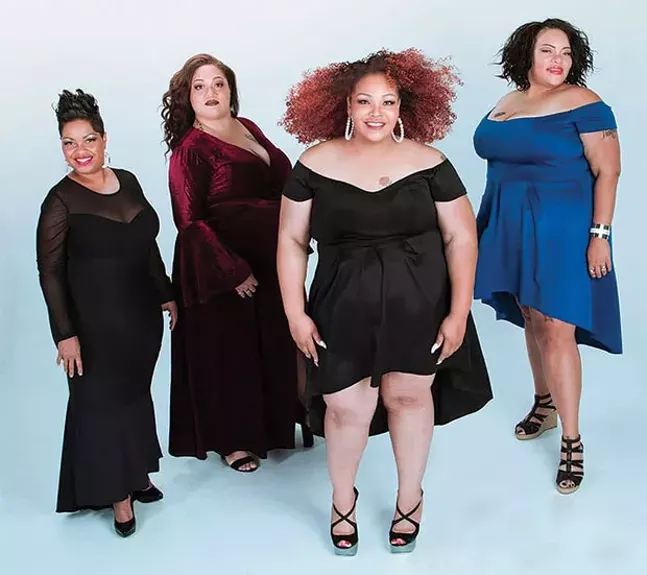 Shateesha Murphy knows the difference between plus-size models shown in mainstream fashion publications and plus-size everyday women.
The owner of online clothing retailer Voluptuous Lady Boutique,
Murphy says plus-size models in fashion magazines are typically a 10, maybe a 12. But there are many more sizes on the plus-size gamut, and that is what her Curvy and Bold fashion show intends to show.
Women from sizes 10 to 26 will be modeling on June 9 at the Teamsters Local 249 in Lawrenceville. Curvy and Bold is all about letting women of all sizes showcase their beauty.

"It's a platform for us to showcase women in a positive, beautiful light," says Murphy. "We can be beautiful too, and in fashionable and stylish clothes."
This is Voluptuous Lady Boutique's second annual fashion show and Murphy says Pretty N Plus modeling agency has helped in securing even more models than last year's show.
"It was such a big success last year," says Murphy. "[It] sold out, and I am hoping for the same this year."
Eight different local boutiques and designers will be featured during the show. Murphy says summer wear will be the theme, including flowy dresses and swimwear. Plus-size dancers will perform and a plus-size singer will show off her pipes.
Murphy wanted everything to be plus-size to provide as many opportunities as possible to raise the self-esteem of bigger women.
"It is so important to me," says Murphy. "As a child growing up, I was teased. So many teenage girls deal with that. I want to remind people you can have some extra meat on your bones and be healthy."
Murphy started her online boutique two years ago and hopes her business along with the fashion show can raise awareness for body positivity. She also wants the fashion show to end stereotypes people have about bigger people.
"You have women coming out and strutting their stuff, and they have bellies, and we are showcasing them," says Murphy. "There are so many different shapes and sizes. Beauty comes in all sizes and fashion comes in all sizes. We are just hoping people come out and get the true experience what is like to be a plus-size woman in fashion."
People who purchase VIP tickets will receive complimentary wine, a free headshot, and a gift bag.

June 9, 5-9 p.m. at Teamsters Local 249, 4701 Butler St., Lawrenceville. voluptuousladyboutique.com