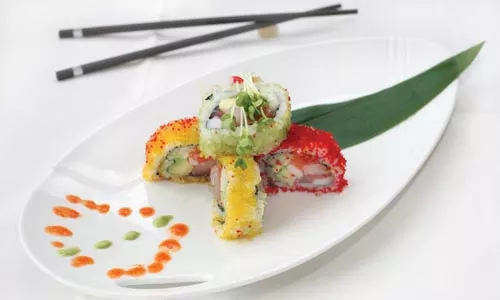 Location: 5996 Penn Circle South, East Liberty. 412-363-7586. www.plumpanasiankitchen.com
Hours: Mon.-Thu. Lunch 11:30 a.m.-3 p.m., dinner 5-10 p.m.; Fri. lunch 11:30 a.m.-3 p.m.; Fri. and Sat. dinner 5-11 p.m.; Sun. dinner 5-9 p.m.
Prices: Appetizers, soups and salads $2.50-9; entrees $12-19
Fare: Pan-Asian
Atmosphere: Asian swank
Liquor: Full bar
It is impossible to write about Plum Pan-Asian Kitchen without writing about its predecessor, Richard Chen. For less than one year, Richard Chen was one of Pittsburgh's very finest restaurants, occupying an exceptionally beautiful, high-ceilinged space -- and with a price point to match. But Richard Chen also distinguished itself by putting a gourmet flourish on Chinese food, a cuisine that had otherwise stuck close to its humble, take-out-counter roots in Pittsburgh. Then, abruptly, Richard Chen closed, a victim of these hard times which have, for so many, redefined the concept of luxury.
Thankfully, the owners of Richard Chen have tried again, in the same swanky space but with a broader, more familiar and down-to-earth menu. Actually, the interior did undergo one major change to accommodate the menu's new orientation: a large sushi bar is now central to the elegant dining room. With so much to choose from on Plum's new pan-Asian menu, we could only sample the sushi, but we can tell you that the sushi list is one of the most impressive in town, and, based on what we ate, the quality matches the selection.
The hot menu consists mostly of well-known dishes, such as lo mein, seafood hot pot, and Thai curries and basil stir-fries. Chinese and Chinese-American dishes are well represented, but even setting the sushi aside, fully half the menu is from elsewhere in Asia -- Thailand, Vietnam, Singapore, Indonesia and Malaysia. Richard Chen's modern, inventive approach to an ancient cuisine has been largely abandoned. What has remained is the elegance of presentation and the quality of ingredients. Furthermore, the traditional dishes we tried at Plum were extraordinary.
We began with a chameleon of an Asian dish: mapo tofu, a spicy stew ubiquitous in China and Japan alike, and available wherever Chinese merchants settled throughout the region. We've had typical versions of this made with ground pork, but Plum's was vegetarian, with mushrooms, peas and carrots mingling with silken tofu cubes in a glossy red-brown sauce liberally flavored with chiles.
To be sure, innovation has not been banished from the Plum kitchen. A special appetizer from the sushi menu, spicy tuna on crispy rice, combined traditional Japanese sashimi, classic French technique (the raw tuna was chopped and served in a small cake a la tartare) and contemporary flavoring to create a dish with a plush texture and a piquant bite. Fresh, bright microgreens were a superb foil to the rich meat, as were a pair of crispy rice cakes. Their flavor was toasty and light, with none of the notes of Styrofoam or corrugated cardboard which frequently mar store-bought versions of this item.
Beijing-style pork was a milder update, featuring large but tender slabs of pork loin coated with a boldly flavored, gingery sauce. Chinese barbecue without unctuous sweetness was a real treat; our only regret was the sparseness of vegetables. What asparagus were present were delicious, but there weren't nearly enough to balance the meat, something we noted in other dishes as well. Certainly, American tastes run to far meatier dishes than are typically consumed in Asia, and Plum does offer steamed vegetable sides. But we don't think that traditional Asian food should be treated like steakhouse fare, with the green stuff strictly optional.
Rendang, a Malaysian-style beef curry (also available with dark-meat chicken, but our server recommended the beef) featured tender chunks of meat stewed in coconut milk and spices, then fried and served in a sauce that was simultaneously heavy in texture and light in flavor, with aromatic notes of lemongrass and galangal. Dense as this sauce was with pulverized spices, Angelique was glad she ordered it with brown rice -- the sauce more than stood up to its heartier texture. Al dente green beans were a sturdy but pleasing vegetable accompaniment.
With its broader, more reasonably priced menu, Plum is an appetizing answer to the question of good Chinese cuisine in Pittsburgh, and a more accessible experience in fine Asian dining than its predecessor. It may even become your favorite sushi spot. In all, Plum hits a lot of high notes without a lot of high prices -- a very winning combination.
JR:
AB: