The patriarchy has a pervasive presence in nearly all music communities. Talented women are often ignored or pushed aside, treated as an afterthought or an exception to the rule. Depending on the pocket of the scene in which you exist, seeing women and non-men on stage can be a rarity.
Such was the truth for musician and consultant Melissa Colaizzi. She spent a lot of time going to benefit shows and fundraisers and was disappointed in the lack of femme representation. Especially since she knew how many talented women in music called Pittsburgh home.
"We needed some kind of event or concert to showcase the amazing women in our community," says Colaizzi. "And if we could tie it to a charity, it would have double the impact."
Colaizzi got to know the work at Magee Women's Research Institute, while performing at a Magee fundraiser herself, so she felt it was a perfect cause for the event.
Just as women face systemic misogyny in the music industry, women are systematically ignored in the medical community at large. In 2016, for example, the National Institutes of Health spent just 13 percent of its $32 billion budget on women's-health research and less than .5 percent was spent on research looking to stem violence against women.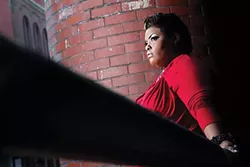 In order to support the crucial but underfunded research for women's-health issues, Colaizzi and a team of event coordinators, all women, hand-picked three very different Pittsburgh acts to perform at the fundraiser.
The Hobbs Sisters are a country duo whose knack for harmonizing and catchy hooks drives the heart of its music. Jill West & Blues Attack bring the blues with West's gritty, powerful voice and sultry timbre. With more than enough charisma to go around and a voice that evokes chills, Lyndsey Smith and her Soul Distribution fill out the night with an enormous soul sound.
In addition to the three acts, WDVE's long-standing rock DJ Michele Michaels will emcee the event.
"It's a tremendous opportunity for women to get together and celebrate each other," says Colaizzi.