"I have a bigger stage than I did when I was Billy Hillgrove in Garfield," the legendary announcer says, about the neighborhood where he grew up. "That bigger stage gives me the opportunity to reach more Pittsburghers, and I hope they respond."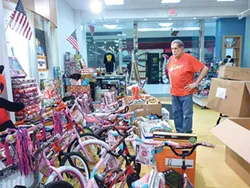 Hillgrove spoke to City Paper at one of the organization's recent fundraisers, where people brought unwrapped gifts and bid on sports memorabilia. A Pittsburgh Steelers ukulele (who knew they made such a thing?) went for $90. Johns emceed and called raffle-ticket numbers.
Of course the organization ends up with extra toys beyond what has been requested. There's a storage unit, Johns says, with nearly 30 big garbage bags of surplus. On Christmas Eve, Johns, Paganico and their families, along with volunteers, deliver them to a low-income housing project not far from Oakmont.

"My daughter separates them according to gender and age, and we put all them toys in the back of Molly's Trolley," Johns says. "We'll have Santa Claus on board. And them little kids know we're comin'. They come out of the woodwork. We give them each whatever, and we always bring extra."
He tells me: "Every child should have a toy come Christmas time. And that's what it's all about, young lady."
The Families
On a recent Sunday, it's youth day at Ebenezer Missionary Baptist Church in the Hill District. A group of young kids and teenagers close the service by miming to gospel music.
Brenda Tate, a longtime church member, sits in her pew and counts the names on her list — 21.
She walks to the pulpit in her Sunday best — fashionable leopard heels and a sharp black hat. "A gentleman in the community that is a retired police officer [is] working to make sure all the children in the communities have some cheer for Christmas. Amen? All we need are the children's names," she says. The crowd answers "Amen."
"I'm a son of the South, and in the black communities we always had these sort of community matriarchs," says Rev. Vincent Campbell, of Ebenezer. "Larger Pittsburgh knows Brenda as a police officer, but inside of the Hill District, everyone knows her as a community matriarch."
Tate, who retired from the Pittsburgh Police last year after four decades on the force, has lived in the same block of the Hill her entire life. In her final year as an officer, she requested her neighborhood beat. She says she prides herself on knowing her community in and out.
"She has been this way as long as I've known her," says Hill resident and Ebenezer member Clara Scott, who asked Tate to add her three granddaughters to the toy-drive list. She says her family does what it can, but that her daughter is a single mother. "Brenda will do whatever she can do help someone."
By last week, Tate had submitted nearly 120 names to Cvetic.
Meanwhile, federal judge Lisa Pupo Lenihan has asked parole officers to keep an eye out for parolees with kids who might need gifts and "to show their clients that they do care about their success as they reintegrate into society." Christine Pritts is thankful for that. Pritts, who's been under supervision since 2013 for her role in a Lawrence County meth-lab operation, has two little girls at home, ages 7 and 9.
"I now live for them. I'm clean, I'm sober," she says. "I work five days a week, I go to school, help them with their homework, take them to their games."
Pritts' 7-year-old gave her a two-page Christmas list — Minions, Shopkins, Paw Patrol, etc.
"I told her, 'You have to narrow it down. Santa cannot deliver all them toys or else he wouldn't have enough toys for everyone else in the world,'" she says.
Pritts says she's "scraped for" a soccer ball for her 9-year-old but says she'll use the toy drive for a few supplemental items for her youngest.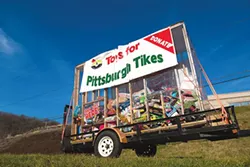 The growing piles of toys (not for sale) in the Global Glorious office also began piquing the curiosity of mall shoppers and passers-by.
One evening last week, a young woman walked in and quietly asked, "Is this a toy drive?"
After learning that she's a single mom with a 4-year-old daughter, Cvetic reached for a small pink bike and handed it to her.
She asked that her name not be published but told CP that her husband died this year doing research in Africa. They didn't buy life insurance because "we were young and healthy," but now everything is "on my shoulders."
"I don't want her [my daughter] to be disappointed on Christmas, so this is truly a blessing," she said.
The Reason
Volunteers are now hurrying to wrap these thousands of toys before the Santas head out on Christmas Eve.
"I was getting my son a Christmas gift, and I planned it so I [could] come here and help," says Tina Jurick, who owns a cleaning company in Trafford and stopped by Global Glorious on a recent weeknight. "When you leave here, you feel good. It gives you a feeling that walking through the mall shopping is never going to give you."
But with worries about a shrinking middle class and stagnant wages, why spend the resources and manpower on something as frivolous as a toy to avoid disappointment one morning of the year?
After all, in the neighborhood where officer Seman will be delivering toys — North Braddock — the median household income is around $28,000.
For some, it's simply about giving.
"Some say that it's all commercialized," says Rev. Campbell. "I don't condemn or get on this 'Let's not commercialize Christmas or share gifts.' I think people are looking for opportunities to do something for someone else because of what God has done for them."
His church is not only collecting names for toys, but is also collecting thousands in gift cards to select retailers for families in need.
It is easy enough to get down on excessive Christmas spending. A Gallup poll reported in November that Americans will spend an average of $830 each on gifts. The National Retail Federation forecasts holiday spending in the hundreds of billions.
But it's not easy for low-income parents who want to see their children ripping open presents on Dec. 25, like other kids in America get to do.
"It's not always about clothes or necessities. It's the magic of getting that toy from Santa. We're told since we're little that Santa makes these toys and delivers them on that night," says Pritts.
Toy-drive volunteers acknowledged that they were tired. But none seemed ready to quit after this year.
"I might have to retire and just do this," Shojaie says jokingly.
And while Paganico has slowed down considerably, Johns is still going strong.
"I've been saying for a lot of years that 'this is it, it's too much work,' and then you just get that one little kid that brings a tear to your eye, and that does it," Johns says. "If it wouldn't be for all the folks involved, there's so many children that wouldn't have a present under the tree."