On Black Friday, an older man in a black-and-red-checked sweater is beside himself, flipping through a four-page Christmas list and literally checking it twice. Hanging his cane on the shopping cart, he hoists a box stuffed with 70 rolls of wrapping paper into it. He opens a roll of sticker gift-tags and begins writing names and sticking them on Pittsburgh-team sports hoodies and talking Frozen Olaf dolls. He assures the clerk that he'll pay for the opened gift tags; he just doesn't want to forget whom he has in mind for each present.
"Every year, energy comes all over me," the man says. He's Jimmy Cvetic, the retired county police detective and Vietnam veteran who founded the Western Pennsylvania Police Athletic League.
The gifts he's tagging are for troubled teens he's taken under his wing at his six boxing gyms, and for kids he's met through his several other programs: a youth police academy, an autism-spectrum program, and his latest venture, Global Glorious Productions, a television show about a police officer who teaches lessons to kids.
But these toys are just the start. There will be thousands more that he and an army of local volunteers will purchase and wrap for kids they don't even know.
From the time kids are little, they are told about a jolly old guy in a red suit who will fulfill their wishes on Christmas morning. He will bring all the latest toys and gadgets — a promise that, in turn, puts immense pressure on parents to deliver.
But maybe mom and dad, or whoever, just don't make enough money to provide anything beyond the necessities. Maybe socioeconomic status — factors like income, education, race and ZIP code — has kept a family stressed.
For those families, there isn't just one Santa Claus, there are many real people — local government officials, churchgoers, law-enforcement personnel and small-business owners — who want to make sure that every kid has something to smile about on Christmas.
While big programs like Toys for Tots tout operations that reach seven million children in 700 communities nationwide, these folks are the cogs in the wheels of locally run Christmas toy drives. Their reasons for doing this vary — from community relations and business exposure to pure kindness. Regardless of motive, they have built a Christmas-toy-drive economy in Pittsburgh, and right now their business is in full swing.
Video by Ashley Murray; Some photos courtesy of Carl Stillitano
The Santas
By 7:30 a.m. on a recent December morning, Javid Shojaie is already giving toy-drive progress updates to a roomful of small-business owners who meet weekly for a networking breakfast. Shojaie, owner of Jaden's Catering, in Monroeville, has a huge glass trailer filled with donated toys in his company's parking lot on Route 22. The mustachioed businessman speaks earnestly. He and other members of the group spent several weekends decked out in Santa and elf suits to attract donations from cars driving past his place.
"This year we raised over $7,400, and we are not done," he tells the crowd. "We collected 38 bikes, over 100 pieces of clothing, gloves, hats, sweatshirts. It's unbelievable how much people have donated. Yesterday I picked up 875 toys at 380 Auction House. The price for the toys was $2,800; he charged me $2000."
The Murrysville discount warehouse (where Cvetic went Black Friday shopping) has been cutting deals for the toy drive.
Shojaie, a longtime friend of Cvetic's, is a whirlwind in his own right. During his busiest season as a caterer, he's hauling around vanloads of toys on a daily basis. Shojaie's daughter Rachel, who is part of the family business, calls her father a "stand-up guy" who loves to give.
So far, Shojaie has delivered more than 2,000 toys back to home base — Cvetic's Global Glorious Productions office, in the Monroeville Mall. This year's goal is to collect more than 4,000 toys.
Of the more than 50 members in Shojaie's group, he says that 90 percent helped collect toys and money for the drive. The small businesses that get foot traffic brandished "Toys for Pittsburgh Tikes" donation boxes. (Cvetic, a gruff, old-school guy whose poems are occasionally published in City Paper, used to call his program "Toys for Naughty Kids," harking back to the bad-boy teenage types he trains in his gym, but he says "political correctness" caught up with him.)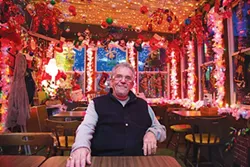 "We [small businesses] are part of the community. They support you. You have to return that support," Shojaie says. "A lady called me and wanted to know how to get on the list. I said there is no list. You just come see me. I walked her to the trailer, and she said, 'I just want two toys for my kids and that's it. This way they appreciate it.' I begged her to take more."
While Cvetic's business connections collect donations, he's galvanized more than 30 police departments, numerous churches, social-service agencies and a federal judge to make lists of needy families they know.
Police officer Greg Seman of North Braddock, one of the departments participating in the drive, said he could fill up his list "in probably five minutes." "It's hard because you want to impact the people who really need it the most, but that's probably more than half of my community," says Seman.
Further north, another small-businessman is preparing for the Sat., Dec. 19, fundraiser for his toy drive. Bob Paganico, owner of Bob's Garage Restaurant and Lounge in O'Hara Township, says his place will be "jam-packed through the roof" for the annual Sausage Spectacular. Two hundred and fifty pounds of sausage will be grilled for sandwiches and sold for $4 each.
"One hundred percent of money goes to the kids," he says.
Christmas spirit appears to be mandatory at Bob's Garage. This small rectangular building on Freeport Road is covered wall-to-wall, floor-to-ceiling in lights, garlands, stockings and ornaments; even a Christmas train goes 'round a track atop the bar.
"He just loves to decorate for all the holidays. He was always that way," says his wife, Trona. Their game room at home, she says, looks like this year-round.
As he sips his coffee at the bar, Paganico, who wears gold-rimmed glasses and a gray goatee, explains that it all started in the '70s, when his customers used to throw money into an upside-down umbrella.
"When we'd get around the second week of December, we'd call an orphanage. They'd say we have a boy age 3, or age 5 to 8. We would just take that money and try to buy them what we thought they might like."
By 1987, Paganico and his good friend, Jim Johns, decided to create a nonprofit called The Spirit of Christmas. Between them, they serve kids on both sides of the Allegheny River — from Pitcairn to Sharpsburg.
"We only had $15 per child to spend," Paganico says in his low, gravelly voice. "Now we spend $50 per child, and each family gets a $50 gift certificate to Giant Eagle."
His eyes well up when he recalls stories of kids he's given to over the years.
"He's a true Santa Claus," his wife says.
Before 9 a.m. on a recent weekday morning, Johns, a Monroeville city councilor, is already at the local Toys "R" Us. The middle-aged clerk, whom he calls "young lady," pushes Avengers action figures, Learn and Groove Leap Frog musical tables, Elsa dolls from Disney, and Barbie in her Malibu convertible, among other toys, across the scanner.
Two buddies help him load a box truck outside; any toy that makes noise sings, rings or dings as it's loaded up. He checks out at $3,400.
The short, white-haired, matter-of-fact guy points to a list from a community center. "They give me children's ages, boys or girls and what the children want. We try to get as close as we can."
Johns estimates that the nonprofit will spend about $20,000 this year.
The bulk of the money is raised at a summer golf outing. They've even recruited the "voice of the Steelers," Bill Hillgrove, as their spokesperson.
"I have a bigger stage than I did when I was Billy Hillgrove in Garfield," the legendary announcer says, about the neighborhood where he grew up. "That bigger stage gives me the opportunity to reach more Pittsburghers, and I hope they respond."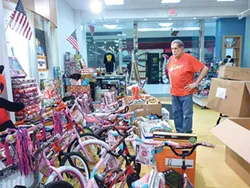 Hillgrove spoke to City Paper at one of the organization's recent fundraisers, where people brought unwrapped gifts and bid on sports memorabilia. A Pittsburgh Steelers ukulele (who knew they made such a thing?) went for $90. Johns emceed and called raffle-ticket numbers.
Of course the organization ends up with extra toys beyond what has been requested. There's a storage unit, Johns says, with nearly 30 big garbage bags of surplus. On Christmas Eve, Johns, Paganico and their families, along with volunteers, deliver them to a low-income housing project not far from Oakmont.

"My daughter separates them according to gender and age, and we put all them toys in the back of Molly's Trolley," Johns says. "We'll have Santa Claus on board. And them little kids know we're comin'. They come out of the woodwork. We give them each whatever, and we always bring extra."
He tells me: "Every child should have a toy come Christmas time. And that's what it's all about, young lady."
The Families
On a recent Sunday, it's youth day at Ebenezer Missionary Baptist Church in the Hill District. A group of young kids and teenagers close the service by miming to gospel music.
Brenda Tate, a longtime church member, sits in her pew and counts the names on her list — 21.
She walks to the pulpit in her Sunday best — fashionable leopard heels and a sharp black hat. "A gentleman in the community that is a retired police officer [is] working to make sure all the children in the communities have some cheer for Christmas. Amen? All we need are the children's names," she says. The crowd answers "Amen."
"I'm a son of the South, and in the black communities we always had these sort of community matriarchs," says Rev. Vincent Campbell, of Ebenezer. "Larger Pittsburgh knows Brenda as a police officer, but inside of the Hill District, everyone knows her as a community matriarch."
Tate, who retired from the Pittsburgh Police last year after four decades on the force, has lived in the same block of the Hill her entire life. In her final year as an officer, she requested her neighborhood beat. She says she prides herself on knowing her community in and out.
"She has been this way as long as I've known her," says Hill resident and Ebenezer member Clara Scott, who asked Tate to add her three granddaughters to the toy-drive list. She says her family does what it can, but that her daughter is a single mother. "Brenda will do whatever she can do help someone."
By last week, Tate had submitted nearly 120 names to Cvetic.
Meanwhile, federal judge Lisa Pupo Lenihan has asked parole officers to keep an eye out for parolees with kids who might need gifts and "to show their clients that they do care about their success as they reintegrate into society." Christine Pritts is thankful for that. Pritts, who's been under supervision since 2013 for her role in a Lawrence County meth-lab operation, has two little girls at home, ages 7 and 9.
"I now live for them. I'm clean, I'm sober," she says. "I work five days a week, I go to school, help them with their homework, take them to their games."
Pritts' 7-year-old gave her a two-page Christmas list — Minions, Shopkins, Paw Patrol, etc.
"I told her, 'You have to narrow it down. Santa cannot deliver all them toys or else he wouldn't have enough toys for everyone else in the world,'" she says.
Pritts says she's "scraped for" a soccer ball for her 9-year-old but says she'll use the toy drive for a few supplemental items for her youngest.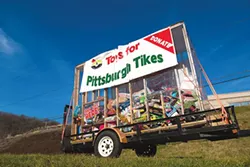 The growing piles of toys (not for sale) in the Global Glorious office also began piquing the curiosity of mall shoppers and passers-by.
One evening last week, a young woman walked in and quietly asked, "Is this a toy drive?"
After learning that she's a single mom with a 4-year-old daughter, Cvetic reached for a small pink bike and handed it to her.
She asked that her name not be published but told CP that her husband died this year doing research in Africa. They didn't buy life insurance because "we were young and healthy," but now everything is "on my shoulders."
"I don't want her [my daughter] to be disappointed on Christmas, so this is truly a blessing," she said.
The Reason
Volunteers are now hurrying to wrap these thousands of toys before the Santas head out on Christmas Eve.
"I was getting my son a Christmas gift, and I planned it so I [could] come here and help," says Tina Jurick, who owns a cleaning company in Trafford and stopped by Global Glorious on a recent weeknight. "When you leave here, you feel good. It gives you a feeling that walking through the mall shopping is never going to give you."
But with worries about a shrinking middle class and stagnant wages, why spend the resources and manpower on something as frivolous as a toy to avoid disappointment one morning of the year?
After all, in the neighborhood where officer Seman will be delivering toys — North Braddock — the median household income is around $28,000.
For some, it's simply about giving.
"Some say that it's all commercialized," says Rev. Campbell. "I don't condemn or get on this 'Let's not commercialize Christmas or share gifts.' I think people are looking for opportunities to do something for someone else because of what God has done for them."
His church is not only collecting names for toys, but is also collecting thousands in gift cards to select retailers for families in need.
It is easy enough to get down on excessive Christmas spending. A Gallup poll reported in November that Americans will spend an average of $830 each on gifts. The National Retail Federation forecasts holiday spending in the hundreds of billions.
But it's not easy for low-income parents who want to see their children ripping open presents on Dec. 25, like other kids in America get to do.
"It's not always about clothes or necessities. It's the magic of getting that toy from Santa. We're told since we're little that Santa makes these toys and delivers them on that night," says Pritts.
Toy-drive volunteers acknowledged that they were tired. But none seemed ready to quit after this year.
"I might have to retire and just do this," Shojaie says jokingly.
And while Paganico has slowed down considerably, Johns is still going strong.
"I've been saying for a lot of years that 'this is it, it's too much work,' and then you just get that one little kid that brings a tear to your eye, and that does it," Johns says. "If it wouldn't be for all the folks involved, there's so many children that wouldn't have a present under the tree."