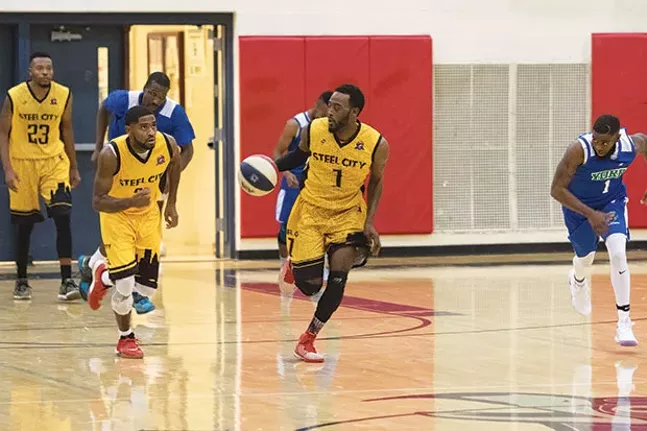 When Western Pennsylvanians think about professional basketball, they're likely to think about the Cleveland Cavaliers or the Philadelphia 76ers (that is, if they think about it at all). But since 2014, local hard-court fans have had a semi-pro team of their own to follow.
The Steel City Yellow Jackets were founded in 2014 by Averill Pippens and Antjuan Washington as an expansion team of the historic American Basketball Association. (The league is officially licensed by the NBA.) The team is in its third season, and after a 132-102 win over the York Buccaneers Nov. 12, has improved to 2-1.
Antonio Reddic, a former standout and state champion with Aliquippa, has been with the team since the beginning. The team has improved in its first two seasons, he says, and a successful season can end only one way — with an ABA championship.
"It seems like this team is more hungry," Reddic says. "I love this team and I loved all three [seasons'] teams, but … this team wants to do something ... instead of just taking it game by game and [waiting to] see what happens."
Pippens — now the team's solo owner, who has led the Yellow Jackets to the playoffs in his first two seasons — compares his coaching style to the high-flying, action-packed days of the Los Angeles Lakers that featured stars like Magic Johnson and Kareem Abdul-Jabbar.
"I like my guys to get up and down the court," says Pippens. "I like to make some jump shots; I like to see some dunks. We also like to play tough, physical defense and not give up 100 points."
There are high expectations for this team as it looks for a third trip to the playoffs. Pippens knows it will be a process, but believes this can be a championship team.
"We are competing for a championship," says Pippens. "We understand that it's going to be a building process, but we have the team to compete and make it to the playoffs, and contend in the playoffs for the championship."
The run continues for the Yellow Jackets Sat. Nov. 19 when they take on the Trenton Cagers at 7 p.m. at the Barack Obama Academy gymnasium in East Liberty. Pippens encourages fans to come out and see the excitement that is Steel City Yellow Jackets Basketball.
"We have spectacular basketball here professionally in Pittsburgh," Pippens says. "Fans need to come out and see some high-flying basketball. It's going to be a highlight reel, so they need to come catch the buzz."