According to the National Oceanic and Atmospheric Administration, there have been seven major winter storms — those dropping at least 17 inches of snow — in Pittsburgh's 200-year history.
The blizzard around St. Patrick's Day in the spring of 1993 goes down as one of the most memorable for Bill Crean. Although a second blizzard, dubbed Snowmageddon, is up there too. That storm dumped nearly 22 inches of snow in 2010.
But there's another storm Crean remembers that isn't on any list or probably in most people's memory. It was around New Year's Day in a year Crean can't recall, when temperatures dropped so suddenly that the city was covered in ice.
"It was warm, everything was slushy and then it just froze over," says Crean. "The temperatures just fell off the charts. Everything was frozen. That was pretty brutal."
As a supervisor for the Pittsburgh Department of Public Works, Crean's a winter-weather veteran, chalking up 33 years with the department. Before Pittsburgh's snow-plow tracker app, before calcium-chloride-treated salt, Crean can remember winters where workers walked behind city plows with shovels full of salt to treat the roads.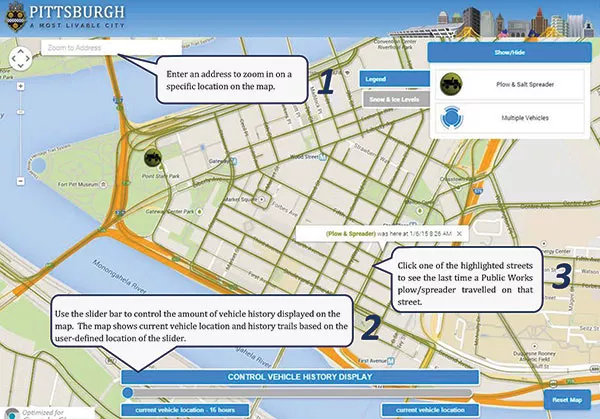 "There was not much mechanical salting then. We had a handful of trucks that had that capability then," says Crean. "We did a lot of salting by hand."
"People are real spoiled," he laughs.
Decades later, Crean stares at a computer screen in his office, examining a GPS-generated map of the city with crisscrossing lines depicting where his vehicles have been. In the 33 years Crean has worked in public works, he's seen a number of improvements to snow-removal machinery and technology. And it's likely that recent tech upgrades are just the beginning.
"The technology helps us save money and manage our [resources] a lot better," says Crean. "It's more efficient for sure."
Some of the developments in the past three decades, like treating salt with a calcium-chloride solution, were a necessity. (Salt is effective only at temperatures above 18 degrees.) But others, like the plow-tracker app, are more public-relations measures.
"I think Plow Tracker gives the public a sense of knowing how their tax money's being spent," says Crean.
But while the app might appear superficial, officials say it does benefit public-works administrators.
"Just from talking to supervisors in our maintenance division, they have all told me the tool is helpful to them as well," says Lee Haller, deputy director of public works. "If they hear that there's a complaint about a specific street, they can look to see if their vehicle was there."
And this kind of technology is leading to other developments as well. The city is currently working on a software system to optimize routes for snow-plow and salt-truck drivers. The system would also upgrade the drivers from pen-and-paper routes to a computerized system.
"For example, if I have a driver who is familiar with the East End because that's where they have always driven snow routes, it's really hard for us to move them to another division … because they just don't know the area," says Haller. "Handing them a paper route that they have to read while they're driving a 10-ton dump truck is not a great idea. So having routes that can be presented on a mobile device in the cab of the truck allows a driver to pick up a route in an area that they're not familiar with, because they're getting guidance."
If tech upgrades can keep his drivers safe, Crean is all for it. While he points out that the department hasn't seen a fatality in the three decades he's been on the job, Crean can tell countless stories of drivers flipping over or falling down hillsides.
"We were pulling somebody out of a ditch once and everything was iced over, and the pickup we had arrived in was parked above us and it just started sliding toward us," says Crean. "So we had to jump out of the way."
Crean is also in favor of technology like solar-heated streets and porous paving materials that soak up moisture because, ultimately, he says, there's only so much preparation his team can do.
"You can be somewhat proactive, but it is a reactionary thing," says Crean. "You plan for the worst and hope for the best. We can throw plows on every truck we own, expecting this 10-inch bomb and then we get an inch-and-a-half — luckily."