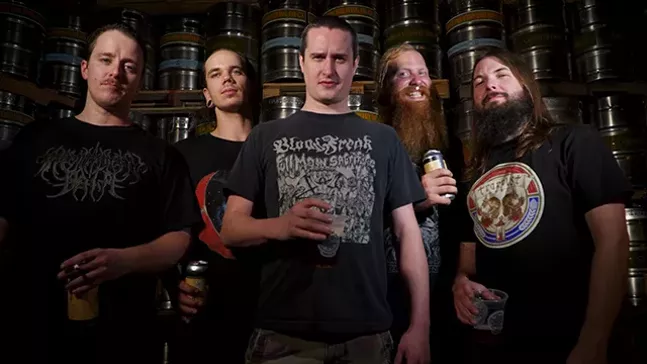 Nobody likes to pigeonhole their music into a single genre, but if forced to, Louis Snyder of Riparian would call it "atmospheric death grind." Hearing the first two tracks from the upcoming self-titled EP, that description makes sense. The music fuses death metal, speed, and some odder, more experimental characteristics to create something smart and unexpected.
Less than a year old, Riparian's lineup is rounded out by guitarist Dan Martin, bassist Brooks Griswold, vocalist Rob Grisly, and drummer Nick Tupi. They performed for the first time in July 2018 after solidifying the lineup with the addition of Martin, whom Snyder feels only enhanced the band's music and writing.
"It's really cool working with somebody that has almost a different way of thinking when it comes to the fret board," he says.
Though still early in its career, Riparian has already caught the interest of Grimoire, an independent heavy metal label with an international reach. Brooks worked with the label before, having released a record with them with his previous band Wrought Iron.
Grimoire co-founder Noel Mueller says signing Riparian was an easy decision. He was immediately on board after hearing a demo of "The Nuclear Unclear," the EP's opening track, adding that he enjoyed the way the band blended "death metal and sludge."
The band trekked to Towson, Md. last September to record with Mueller at his Tiny Castle studio. They completed the record in just two days.
"I actually never recorded with a live band before. So, while drums were playing, guitars were going as well; everybody was playing at the same time except for vocals," says Snyder, who adds that portions of the vocals were finalized locally at Mr. Smalls.
The resulting self-titled EP is fantastic, weaving melodic centerpieces around blasting aggression. Encased by a rather impressive vocal performance that will surely excite extreme metal fans, Riparian have set the bar high for themselves on this impressive debut.
With the release Riparian is excited to introduce their music beyond Pittsburgh's metal scene. "We are going to do our best to get out of town to play some shows … We're hoping to go up to New York [and] Maryland," says Snyder.
"[It] would be cool to do some shows with other Grimoire bands. I feel we can gather up the time to do the shows to do what we got to do," adds Martin.
Accompanied by masterful artwork by Garfield-based artist Jason Angst, Riparian's self-titled debut comes out March 1.
"I think this is something that's going to stick with people. I'm very proud of the work that we put into it," says Snyder.
Riparian EP release show with Post Mortal Possession, Enfilad, and Pagan Youth. 7 p.m. Sat., March 9. Get Hip Records, 1800 Columbus Ave., North Side. riparianpgh.bandcamp.com