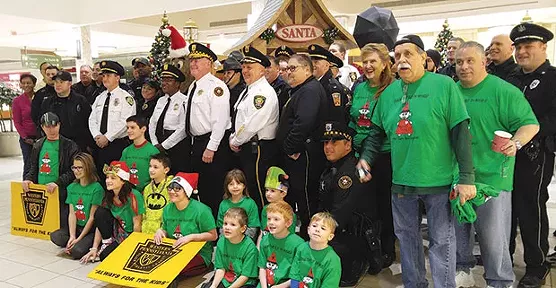 With his handlebar mustache and Pittsburgh accent, Jimmy Cvetic is an unlikely Santa Claus. But through the Western Pennsylvania Police Athletic League's annual toy drive, Cvetic collected an estimated 10,000 toys for 46 police departments to distribute in their communities.
When an editor approaches with a "feel good" story, most reporters are a little wary. But as City Paper editor Charlie Deitch knows all too well, it's hard to say "no" to Jimmy Cvetic. In a world full of fake news and unprecedented cynicism, Cvetic's modest toy drive is a definite bright spot. There weren't any television cameras at the Monroeville Mall event on Sunday, just a few dozen cops and a guy trying to do a little good.
"We do it for the kids," says Cvetic, founder of the WPPAL and a retired Allegheny County Police detective and Vietnam veteran. The group's Stuff a Store event at Monroeville Mall collected more toys this year than ever before. Cvetic came up with a theme for this year's event: "Finding the Elf in Myself."
"It's about finding that voice inside you that wants to do good," he explains. "We all have that little voice that inspires us."
Cvetic started the toy drive 46 years ago, inspired by his own childhood. His father was laid off from his steel-mill job when Cvetic was young, and although he wasn't fully aware at the time, someone donated toys to his family. It made an impression on him, he says, and he always wanted to try to find a way to return that favor.
On Sunday, the police departments came to Monroeville Mall to get the toys donated for their communities; dolls, trucks, games and bikes. Lots of bikes. (And it's a special moment watching a burly police officer wheel a pink girl's Huffy bike out of a shopping mall.)
Acting Pittsburgh Police Chief Scott Schubert, on hand to pick up toy donations for his department, praised Cvetic and the WPPAL's efforts. "We all want to make a difference in the lives of others," he said. "This is a truly special thing you're doing, to allow us to go out into the community. Hats off to you for what you do."
Cvetic has been running Downtown's Third Avenue Gym for more than 40 years. He started the gym partly as a place to teach kids who wanted to learn boxing. He's opened eight other gyms over the years, all with the same goal: keeping kids off the streets and involved in something positive.
"He wants to be able to introduce children to something good, to make them happy, because they're our future," said WPPAL Executive Director Gloria Sztukowski.
The toy drive was a natural extension of Cvetic's work at the gyms.
"It started off very small. We had gifts for kids from the gym. Now we're on the third generation of kids from the gym, so this is really heartwarming to see," Cvetic says. "So many different people came together to make this happen." The goal this year was to bring in 5,000 donated toys, which was easily outpaced.
Cvetic walks with a bit of a limp these days, but says he has no plans to slow down. "Every day of my life is Christmas, it's a way of life for me," he jokes. "And it's our motto: 'Always for the Kids.' If we can make Christmas special for kids who don't have much, that's what we're here for."